Colorado State Capitol
Introduction
The Colorado State Capitol is home to the Colorado General Assembly. The offices of the state's governor, lieutenant governor and treasurer are also located in the building. Visitors can stand 5,280 feet, or officially one mile high, above sea level on the building's west steps. The building's dome offers a panoramic view of the Rocky Mountains. It's even against state law to block the view. Free Capitol tours are available and allow the public to see the Allen True water murals, Women's Gold Tapestry, and Colorado General Assembly Chambers with Rose Onyx wainscoting.
Images
The Colorado State Capitol Building is located in downtown Denver and is on the National Register of Historic Places.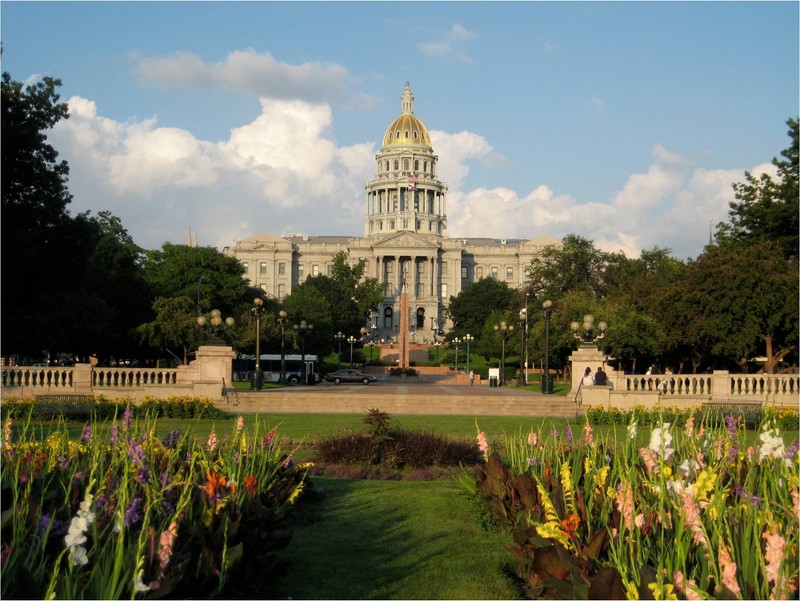 Main lobby of the Capitol building.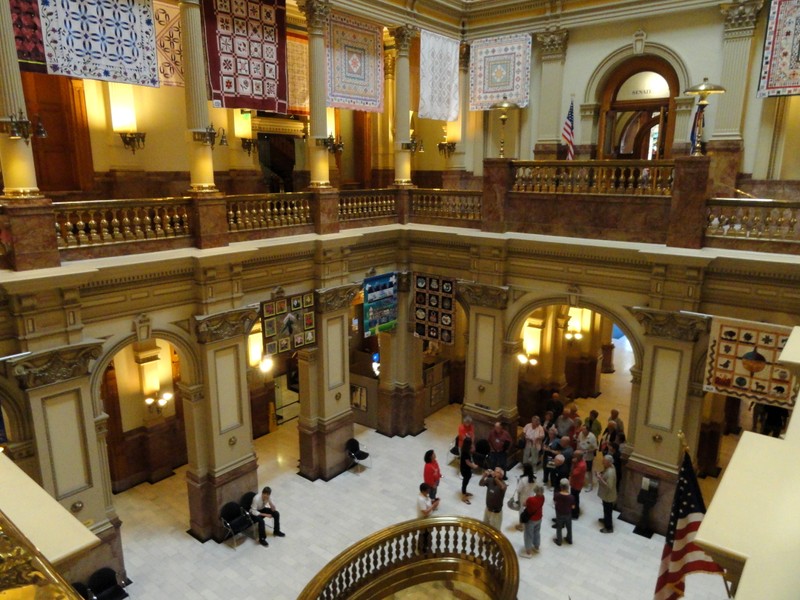 Inside the Capitol Rotunda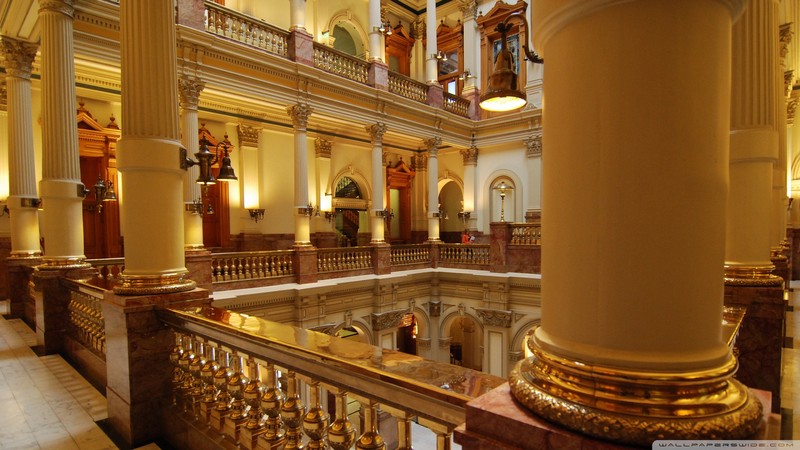 Backstory and Context
The building, designed by architect Elijah E. Myers, is similar to the United States Capitol and as such is in Federal Revival Style. Myers is also credited for designing the Capitol buildings in Michigan, Texas and Utah. Construction began in 1886. It was completed in 1894 at a cost of $2,500,000. The 270-foot dome was finished in 1898. It was initially covered in copper, which didn't age well and began to turn Black. After 10 years, it was decided that gold should be used in order to reflect the gold rush that helped create the state. The dome was regilded in 1949, 1980 and 1991.
The dome was gilded again recently after a piece of the cast iron enclosure fell and inspection crews determined that it was in such disrepair that people were in danger. Funding for repairs came from a number of sources including Colorado State Historical Fund, the General Assembly and a public donation campaign. The latest gilding was completed in 2013. The gold bullion used for the project was donated from a local mine and was valued at the time at an estimated $125,000. It was milled into golf leaf in Florence, Italy. Other repairs on the dome included portions of the cast iron dome enclosure as well as restoring the windows and interior balcony area.
The building, which was built with Colorado white granite, continues to undergo restorations in the House and Senate chambers. Notably, the chandeliers in both chambers are being restored. The inside of the building features Colorado Rose Onyx, a rare rose marble from a quarry near Beulah, Colorado. White Yule Marble, also from quarries in Colorado, was used for the floors.
Other highlights of the building include many stained glass windows, quilts, paintings, sculptures, artifacts, plaques, memorials and portraits of the United States Presidents. The west steps feature the official measurement marking Denver as the Mile High City. Three separate measurements with increasingly modern tools made for three different markers. The 15th, 18th and 13th steps are all noted as being one mile above sea level. The 15th step includes the engraved words "One Mile Above Sea Level." A brass cap was set in 1969 by Colorado State University engineering students on the 18th step. Professional land surveyors, using more modern equipment, added the third marker on the 13th step in 2003. 
The Capitol is part of Denver's Civic Center Historic District, was listed on the National Register of Historic Places in 1974, and became part of a National Historic Landmark District in 2012.
Sources
Bunch, Joey. "Colorado Capitol's $17 million rehab unveils results." Denver Post, December 26, 2013. Accessed May 25, 2016. www.denverpost.com. 
Endangered Places Archives, Colorado Preservation, Inc. Updated 2010. Accessed May 25, 2016. http://coloradopreservation.org/programs/endangered-places/endangered-places-archives/colorado-state.... Greer, Michael. 
"Mile High Marker." Berntsen SurveyLog 15, no. 1. January 2004. Accessed May 26, 2016. www.berntsen.com/Famous-Monuments/Mile-High-Monument. 
Norgren, Barbara and Cynthia Emrick. "National Register of Historic Places Inventory – Nomination Form: Civic Center." National Park Service. 10 December 1973. Accessed May 26, 2016. http://focus.nps.gov/pdfhost/docs/NRHP/Text/74002348.pdf.
Stanley, Deb. "15 Secrets of the Colorado State Capitol." ABC 7 News, May 24, 2015. Updated 17 May 2016. Accessed May 25, 2016. www.thedenverchannel.com.
The State Planning Commission's "Colorado Year Book, 1959-1961." Colorado History Chronology, Colorado State Archives. Accessed May 25, 2016. www.colorado.gov.  
Additional Information