Statue of Jerry West: The Basketball Player Who Became The NBA Logo
Introduction
In 2011, basketball icon Jerry West was honored with the dedication of a bronze statue of him in the plaza of the Staples Center. West's statue is the fifth placed in the plaza since the center opened in 1999, joining the likes of Magic Johnson, Chick Hearn, Oscar De La Hoya and Wayne Gretzky.
Images
The NBA Logo and Jerry West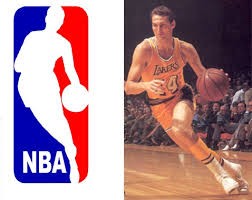 Jerry West when he was playing at West Virginia University.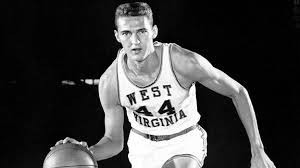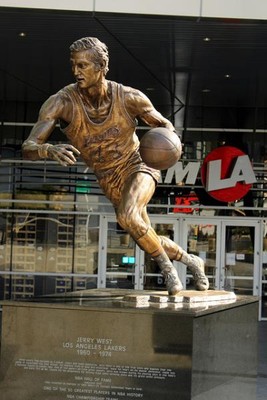 Backstory and Context
Jerry West was born in Cheyan, West Virginia on May 28, 1938. Although after leading East Bank High School to the state championship in 1956 he had his pick of colleges, West stayed true to his West Virginian roots and chose to play college basketball at West Virginia University. After college he was drafted by the LA Lakers and played 14 years in the NBA. He has received many awards and recognitions throughout his career both on and off the court. Perhaps the biggest recognition West has received was having the NBA logo modeled after the silhouette of him dribbling a basketball.
Jerry West was a sharp shooting guard who was known for spending long hours working on his shot and perfecting the quick release he is still remembered for. He spent his entire NBA career playing for the LA Lakers and was named an all-star every year he played in the NBA. He was also a member of the US Men's Basketball Team that won gold in the 1960 Olympics.
Following his retirement from playing basketball, West has been a coach, a scout and a general manager. He won the NBA Executive of the Year award twice, once in 1995 and then again in 2004. In 1980, he was inducted into the Naismith Memorial Basketball Hall of Fame and named one of the 50 greatest players in NBA history in 1996.
Though nearly everyone can recognize the NBA logo, few know that the logo is of a small town man from West Virginia. He worked hard at a young age to develop the skills that he has been praised for throughout his career. And, long after his playing career ended, West continues to contribute to the basketball community.
Sources
"Jerry West American basketball player, coach, and manager." Encyclopedia Britannica. Accessed June 25, 2014. http://www.britannica.com/EBchecked/topic/1102777/Jerry-West. "Jerry West Player Profile." ESPN. Accessed June 25, 2014. http://espn.go.com/nba/player/bio/_/id/4151/jerry-west.
Additional Information