Million Dollar Theatre
Introduction
The historic Million Dollar Theatre is located in the historic Bunker Hill section of Los Angeles, California. The theatre is one of the first movie palaces built in the United States and it is also the first built by famed showman and entrepreneur Sid Grauman. Opened in February 1918, the building features Mission Revival and Spanish Colonial Revival architecture.
Images
An ad from the L.A. Pressed Brick Co. in the August 1918 issue of The Architect touted the Million Dollar as "The Most Beautiful and Elaborate Moving Picture Theatre in the World." 1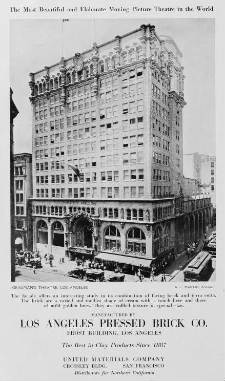 Million Dollar Theatre on opening day.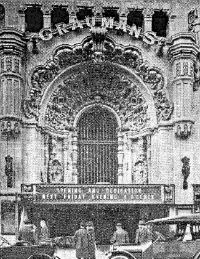 Million Dollar Theatre in 2007.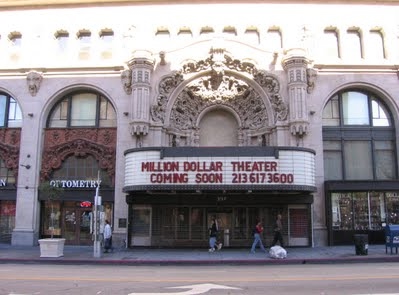 Million Dollar Theatre featured in the movie Blade Runner.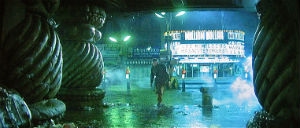 Backstory and Context
Built in 1918, the Million Dollar Theatre was the first of many movie palaces built by showman Sid Grauman in Los Angeles, California. Known at this time as just "Grauman's Theatre", on opening day the movie palace hosted the star-studded premiere of "The Silent Man". The theatre is 60,000 square feet and features seating for 2,345 people. The Spanish Colonial Revival exteriors were designed by sculptor Joseph Mora. The theatre was designed by William Lee Woollett, while the 12 story tower was designed by Albert C. Martin. The building is not only beautiful but one of the most expensive buildings of its time, costing one million dollars, hence the nickname and eventual name change to "The Million Dollar Theatre".
The theatre features a beautiful jeweled dome, hidden lights, and perfect acoustics. Architect Albert C. Martin "designed the office building in an opulent Churrigueresque style for the building's main tenant, the Edison Co." Once the Edison Company had left the space the Metropolitan Water District occupied the office building with a huge office for William Mulholland. Mulholland was the key person responsible for building the city water infrastructure. Today the office space is made up of apartments which feature a large penthouse.
"The Million Dollar was also noteworthy as the first theatre built as part of a "height limit" building, the first clear span balcony in town for a major theatre - largely cast concrete. It also had an orchestra pit extending half way upstage to showcase the players. On July 3, 1922 a pit fire occurred during a prologue (there were no injuries) and the pit was later rebuilt along more standard lines." The theatre predominantly showed films from Paramount Pictures since Paramount became a partner in the building in 1919.
The theatre has been profiled in popular culture multiple times, including the movies "Blade Runner and "The Artist". It was also featured in the video game "Grand Theft Auto V" as the Ten Cent Theatre. Today The Million Dollar Theatre is only open occasionally to the public for special events but tours can be arranged in advance by calling the number provided above. The theatre remains a popular location for both film and television production.
Sources
"About the Million Dollar Theatre." Million Dollar Theater. Accessed June 22, 2016. http://www.milliondollar.la/About-Us.html. Hatheway, Roger. "Million Dollar Theater." National Register of Historic Places, National Park Service. July 20, 1978. http://focus.nps.gov/GetAsset?assetID=9270b620-1f5a-4878-af5d-601217698a22. "Million Dollar Theatre." Historic Downtown Theaters. Accessed June 22, 2016. https://sites.google.com/site/downtownlosangelestheatres/million_dollar
Additional Information