Dossin Great Lakes Museum
Introduction
The Dossin Great Lakes Museum is located on the south side of Belle Isle Park. The museum showcases the story of the Great Lakes and the Detroit River, with a special emphasis on Detroit's role in regional and national maritime history. The Dossin Museum galleries feature models of sailing ships and commercial vessels, plus a wide variety of changing exhibits.
Images
The Gothic Room smoking lounge from the City of Detroit III, a passenger cruise ship. Built in 1912, it sailed the Detroit River and Great Lakes until being retired in 1956.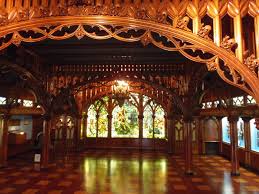 The pilothouse of the S.S. William Clay Ford, a freighter that once sailed the Great Lakes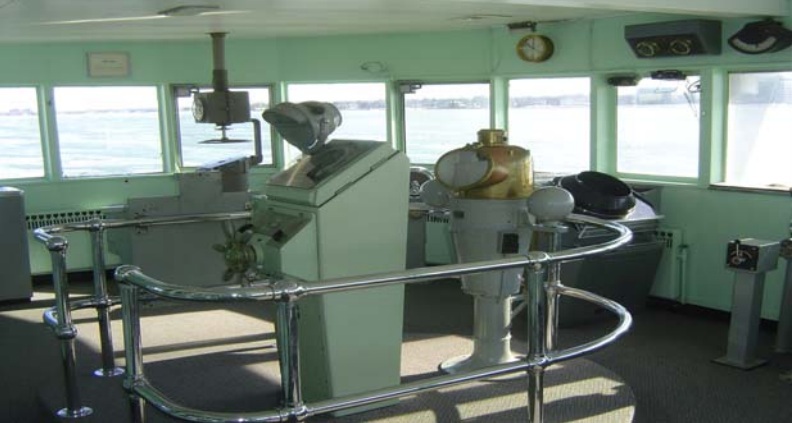 Miss Pepsi, one of the fastest hydroplane racing boats of all time. It was raced by members of the Dossin family until the mid-1950s.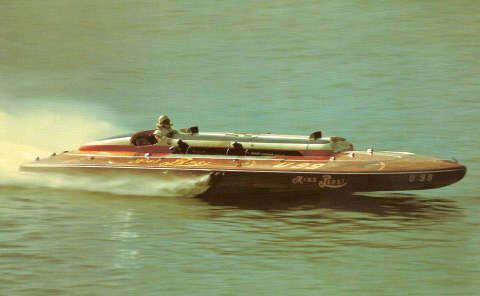 Dossin Great Lakes Museum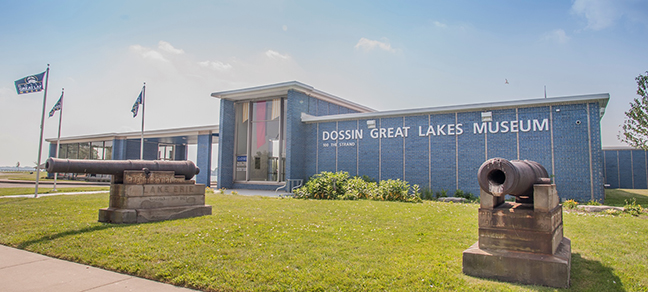 Backstory and Context
In 1948, the historic J.T. Wing, the last commercial schooner on the Great Lakes, was moored permanently on Belle Isle. The schooner would be used to house the new City Maritime Museum. Unfortunately, the J.T. Wing began to suffer from dry rot and termites just a few years later, and the artifacts inside had to be moved before the ship was burned on site. The Dossins, a local family who owned the Michigan Pepsi franchise, donated $125,000 and their racing hydroplane, Miss Pepsi, for the construction of the new museum on the same site. Dossin Great Lakes Museum opened in 1960 as the first museum dedicated exclusively to Great Lakes maritime history.1 The museum is overseen by the Detroit Historical Society and underwent an extensive renovation in 2007 and 2013.
Today, the Dossin Great Lakes Museum features permanent and temporary exhibits about the economic and cultural impact of the Detroit River and Great Lakes waterways on the area. The main exhibits are:
The Miss Pepsi, the championship hydroplane raced by the Dossin family in the 1950s, now housed in its own special pavilion at the museum
The massive bow anchor of the legendary Edmund Fitzgerald, which was the largest ship on the Great Lakes when it was tragically lost with its entire crew in a storm in 1975
The wheelhouse and the charthouse of the S.S. William Clay Ford Pilot House, facing out across the Detroit River, where visitors can "captain" one of the city's most noted freighters
The restored Gothic Room smoking lounge from the S.S. City of Detroit III, a Great Lakes cruise ship built in 1912 and used until 1956, featuring hand-carved woodwork, a chandelier, and a backlit stained glass window depicting French explorer Robert LaSalle greeting Native Americans
The Ship Model Showcase, a collection of famous ships from around the Great Lakes
The newest permanent exhibit, Built by the River, exploring the historic link between Detroit and the river that shares its name2
Sources
1. "Dossin Great Lakes Museum Strategic Plan." Michigan State University Website. Accessed June 15, 2016. http://ced.msu.edu/upload/reports/Dossin%20Great%20Lakes%20Museum.pdf

2. "Dossin Great Lakes Museum Field Trip Guide." Detroit Historical Society Website. Accessed June 15, 2016. https://detroithistorical.org/sites/default/files/pdfs/Dossin%20Pre-visit%20Tour%20Guide.pdf
Additional Information