Standard Oil Station
Introduction
The Odell Standard Oil Gas Station is a landmark not only of the lasting legacy of Route 66, but of the importance automobiles played in the 20th century. It served hundreds of customers looking to refill their car's gas tanks from the 1930s to the 1990s, and is now a member of the National Register of Historic Places, preserving a piece of our nation's automobile history for future generations. It also acts as the Odell Visitor's Center.
Images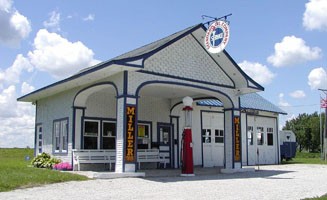 Backstory and Context
The gas station was built along the famous Route 66 in 1932 by a contractor named Patrick O'Donnell. He wanted to create a Standard Oil station that used the domestic style, a gas station style from Ohio that was meant to invite customers in and make them feel at home. He succeeded and began selling Standard products at his gas station, although throughout the next few decades the station would go on to change its product line from Standard to Phillips 66 to Sinclair. As more and more tourists traveled down Route 66 rival gas station began to pop up along the highway running through Odell, but O'Donnell stayed ahead of the competition by adding a two-bay garage to the structure in order to include a repair shop, therefore offering his customers something more. This addition worked well in the gas station's favor since, after a bypass was created in 1946 that caused much of the traffic to move away from Route 66, the Standard Oil Station was able to stay afloat because it also offered car repairs.

O'Donnell owned the station until 1967, when he sold it to a man named Robert Close. He added another business to the station, body work, which helped keep it running for several more years. Close also converted a cafe adjacent to the gas station into a house and moved his family into there, but the house burned down in 1970. In 1999, Close sold the property to the village of Odell. Then Odell, with the help of the Illinois State Historic Preservation Office, the Illinois Route 66 Association, and the National Park Service, restored the gas station to it's original 30's and 40's era look.

The gas station is now a historically preserved monument to the heyday of Route 66. Visitors can come to the station and imagine what it would have been like to be a tourist in the 1930s or 40s, traveling for long stretches down the famous highway, and stopping by at the Standard Oil Station to fill up on some gas or maybe get a bite to eat at the cafe.


Sources
"Standard Oil Gas Station." National Park Service. Accessed June 15, 2016. https://www.nps.gov/nr/travel/route66/standard_oil_gas_station_odell.html "Standard Oil Station." Route 66 Association of Illinois. http://www.il66assoc.org/attraction/standard-oil-station
Additional Information