New Harmony's Atheneum
Introduction
The Atheneum is not a particularly historic building, but within its walls are enough stories from the town's fascinating past to turn it into a proper history buffs dream. Serving as both a visitor's center and museum, the Atheneum has many artifacts of historic New Harmony on display. It derives its name from the Athenaion, a temple in Ancient Greece that was dedicated to Athena, goddess of wisdom. The museum is situated near the site of the original New Harmony settlement, and visitors can just walk there from one of the historic settlement's buildings.
Images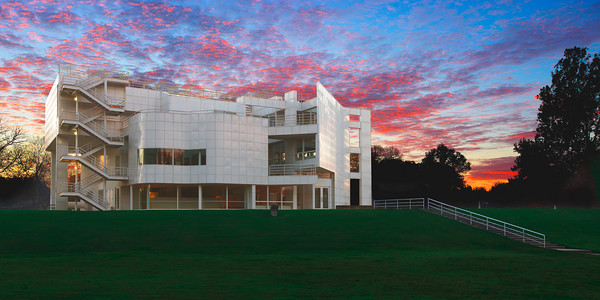 Backstory and Context
The Atheneum was designed in the Modernist style by famous architect Richard Meier and was built in 1979. Throughout the four galleries within the museum are exhibits on the history of New Harmony and the religious group, known as the Harmonists, that built it. There is a model of the Harmonist's Brick Church in the first gallery and another model in the third gallery of the town as it looked when it was founded in 1824. A seventeen-minute film on the history of New Harmony, "The New Harmony Experience," is shown in two hundred seat theater in the museum.

The museum and visitor center is open year-round for guests coming to this quaint and historic part of Indiana. The Historic New Harmony guided walking tours, which tour through the historic district, leave from the Atheneum, so can either use the museum as the starting point of their trip or simply come to it as another stop during their own tour. There is also a gift shop and an observation deck that looks out onto green pasture surrounding the museum.

Sources
"Atheneum Visitor's Center." Visit New Harmony. Accessed June 14. http://visitnewharmony.com/playexplore/46 "The Atheneum/Visitor's Center." Historic New Harmony. Accessed June 14. http://maxkade.iupui.edu/newharmony/atheneum.html