St. Charles Streetcar Line
Introduction
Established in 1835, St. Charles Streetcar Line is among the oldest light-rail services in continuous operation in the world, the oldest in the country, and at 13.2 mi (21.2 km) it is also the largest streetcar line in the United States. St. Charles is testament to the city's, and the nation's, history of street railway engineering. The entire historic St. Charles streetcar line was designated a Mechanical Engineering Landmark by the American Society of Mechanical Engineers in 1984 and was added to the List of National Historic Landmarks in Louisiana in August 2014.
Images
St. Charles Streetcar today (commons.wikimedia.org)
St. Charles Streetcar interior (commons.wikimedia.org)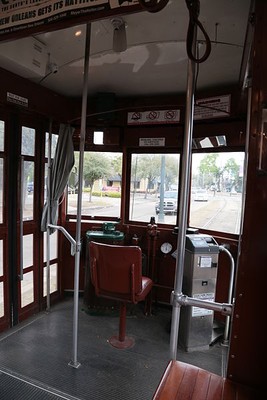 St. Charles Streetcar in 1910s (commons.wikimedia.org)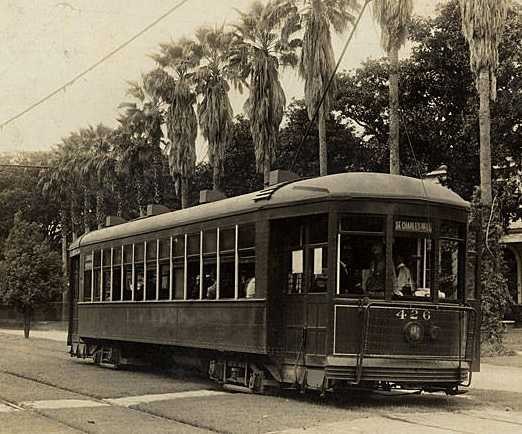 Backstory and Context
The St. Charles line was founded in 1833 as the by the New Orleans and Carrollton Rail Road Company, which was preceded by the Pontchartrain Rail Road Company. The original line serviced a crescent-shaped route following the curve of the Mississippi River from the terminus at Carondelet and Canal Street in the Central Business District to Carrollton at Claiborne Avenue. With the new links to the city came increasing land development in the city's outskirts,

Several modes of transport were tested on the public transport line, including streetcars propelled by mule, overhead cables, steam, ammonia, and electricity. Overhead cables providing electricity finally became the primary means of powering the streetcars. During its early years, the streetcar was restricted to a speed of only four miles per hour within the city.Thirty five steel-bodied streetcars were designed and installed by Canadian-born Perley A. Thomas. The streetcars have arched roofs, mahogany seats, and brass fittings. Streetcars made by Thomas and his company can be found across the nation, including Detroit, New York City, and Miami, and even served as the setting for Tennessee Williams' "A Streetcar Named Desire".

Although the streetcars continued being used during the Second World War, they were gradually replaced by a network of bus routes. Hurricane Katrina caused extensive damage to the streetcar lines in the city in 2005. Despite this, the St. Charles line continues to make use of the original thirty five streetcars. It serves as a fine means to see many of the most famous historic sites in the city, including the Loyola and Tulane universities and Audubon Zoo.
Sources
https://web.archive.org/web/20110928062447/http://files.asme.org/ASMEORG/Communities/History/Landmarks/3106.pdf http://www.norta.com/About-the-RTA/RTA-History.aspx http://www.midcontinent.org/rollingstock/builders/perleyt.htm http://www.nola.com/politics/index.ssf/2014/09/st_charles_streetcar_historic.html http://www.waymarking.com/waymarks/WM974T_St_Charles_Avenue_Street_Car_Line_New_Orleans_LA
Additional Information