Cathedral Church of St. Paul
Introduction
The Cathedral Church of St. Paul was founded in 1818 by a group of Bostonians as the primary American Episcopal parish in the city, in the context of a growth in Unitarian theological traditions. The Greek Revival style building was designed by renowned local architects Alexander Parris and Solomon Willard. The Cathedral Church of St. Paul was added to the List of National Historic Landmarks in Boston in December, 1970.
Images
St Paul Cathedral Church 1851 (Homans. Sketches of Boston, Past and Present)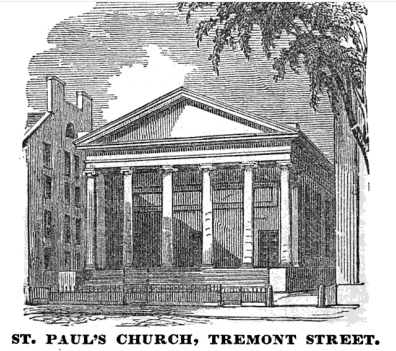 St Paul Cathedral Church (wikipedia.org)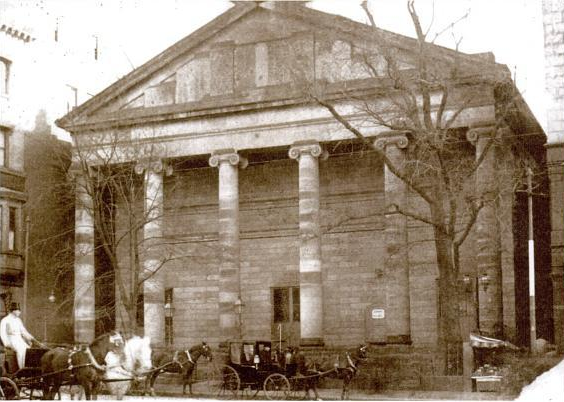 St Paul Cathedral Church 1881 (King's Handbook of Boston, 4th ed. 1881)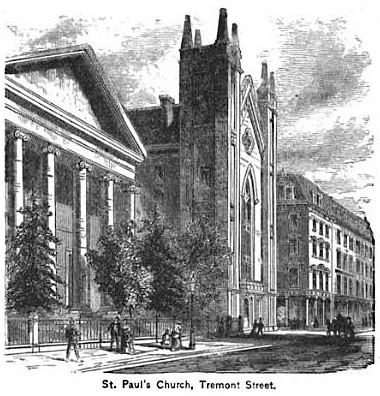 St Paul Cathedral Church Interior (http://www.diomass.org/)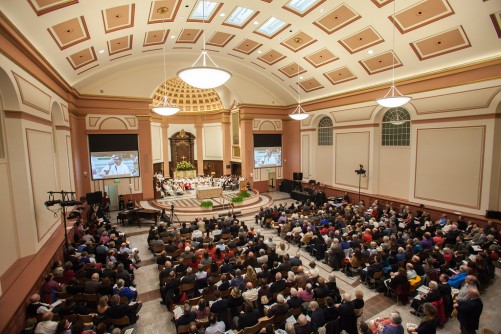 Backstory and Context
Alexander Parris and Solomon Willard were commissioned by St. Paul's parish to construct their first church building in 1819. They provided an innovative Greek Revival structure that contrasted with the dominant Georgian, Federal-Adameque, and Gothic Revival style buildings of the city. As the first Greek Revival building of the city, the two-story, gable-roofed Cathedral Church stood out with its temple-type pedimented portico and Ionic order columnns. Materials were brought from far and wide for its construction: light Quincy granite were came along the first railroad of the United States, brown sandstone came from the quarries of Stafford County, Virginia, and some stones even came from St. Paul's in London, and St. Botolph's in Boston, England, to create a connection with these historic sites. Inside, the building is remarkably austere in decoration, with plain white walls. Of note is the domed chancel, which is a direct of copy of that from St. Paul's, London.

Maiy Sophia Walker (1839-1904) and Harriet Sarah Walker (1844—1898) were the nieces of the wealthy Bostonian and benefactor of the Bowdoin Chapel art gallery, Theophilus Wheeler Walker.Upon his death, the sisters received an enormous estate, and dedicated their wealth to improving the art collection of Bowdoin College. When they died towards the turn of the century, the sisters left behind more than a million dollars to fund the construction of an Episcopal cathedral in Boston. Instead of creating a brand new building, the contemporary Bishop Lawrence chose St. Paul's Church to be dedicated as a Cathedral, which took place in 1912.
The building has undergone a few renovations over the centuries, including in 1926 when the chancel was enlarged and the altar and reredoes were installed. Two pipe organs have been installed, by the Boston-based Æolian-Skinner Organ Company and Andover Organ Company respectively. Today the church remains active as the Episcopal Cathedral in the Diocese of Massachusetts. In addition to providing regular Sunday services, they facilitate Jum'ah Friday Prayers for the local Muslim community.
Sources
http://www.stpaulboston.org/welcome/historyandmission http://www.diomass.org/about/cathedral-church-st-paul http://focus.nps.gov/GetAsset?assetID=d89f55c4-f231-4bcd-9827-1eb7076c5fd1
Additional Information