Highlands Museum and Discovery Center
Introduction
Founded in 1983, the Kentucky Highlands Museum and Discovery Center was created to be a cultural and historical center for the Ashland area. The museum holds a variety of exhibits that preserve and share the history of eastern Kentucky from Native American inhabitants and early explorers and settlers of European heritage to the growth and decline of heavy industry and coal extraction. The museum includes a special area for young children as well as special exhibits and events throughout the year drawn from the museum's collection of artifacts and items loaned to the museum. The organization hopes to create a cultural tourism destination and is part of the Country Music Highway.
Images
From its founding in 1983, Highlands Museum and Discovery Center has worked to preserve the history and share the culture of Ashland and eastern Kentucky.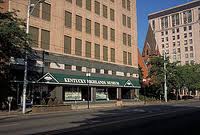 Backstory and Context
Visitors to the Kentucky Highlands Museum and Discovery Center can explore a 19th-century classroom where they can learn what it was like to be a student in the 1870s. Visitors can also see what it would take to actually see a doctor or have a doctor make a house call. As part of the Country Music Highway, the museum includes exhibits related to the history of folk and country music in Eastern Kentucky.
Beyond the permanent exhibits, the museum hosts a variety of temporary exhibits and thanks to the National Endowment for the Humanities and other federal programs that bring historical exhibits to local museums, the museum has also hosted a variety of Smithsonian traveling exhibits.
Sources
About The Highlands Museum. Highlands Museum and Discovery Center. Accessed April 05, 2017. http://highlandsmuseum.com/about/


Additional Information