1967 Detroit Race Riot
Introduction
In the early morning hours of July 23, 1967, one of the worst riots in U.S. history breaks out on 12th Street in the heart of Detroit's predominantly African-American inner city. Also known as the 12th Street Riot, the disturbance lasted five days. By the time it was quelled by 7,000 National Guard and U.S. Army troops, 43 people were dead, 342 injured, and nearly 1,400 buildings had been burned.
Images
Policemen and National Guardsman search three youths they found wandering down a Detroit street in an East Sde area hit by rioting, July 25, 1967. Many fires were set and sniping and looting was rampant.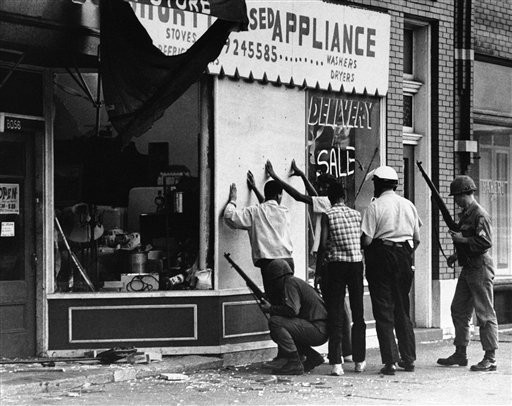 The intersection of 12th and Clairmount on July 23, 1967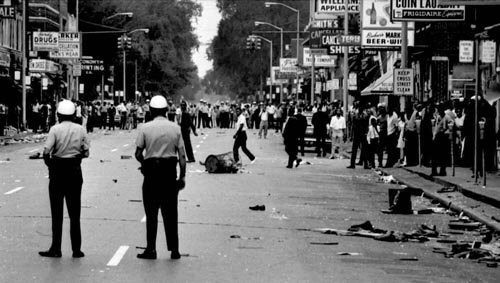 12th and Blaine set ablaze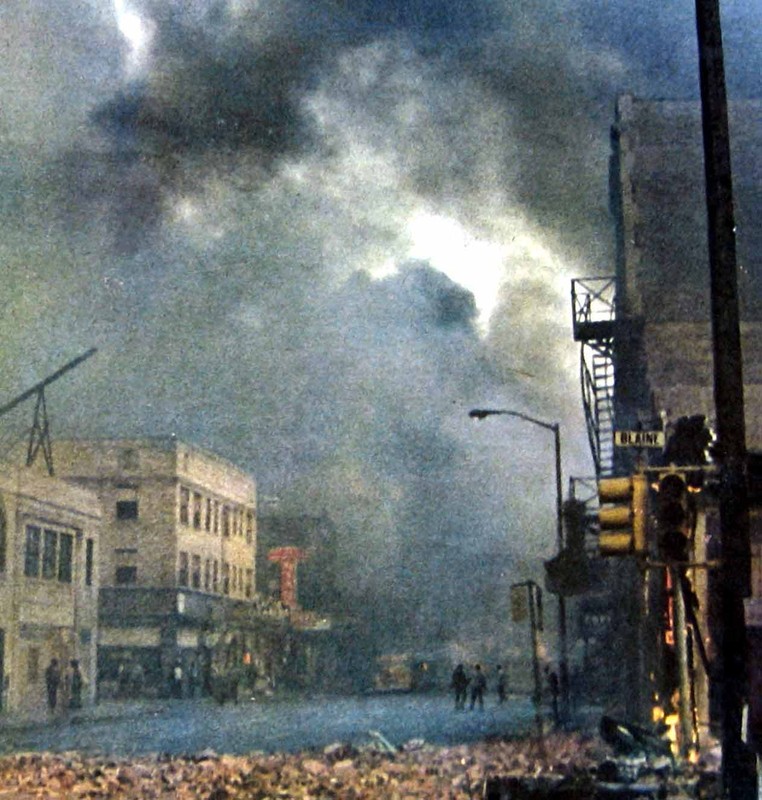 The National Guard on Linwood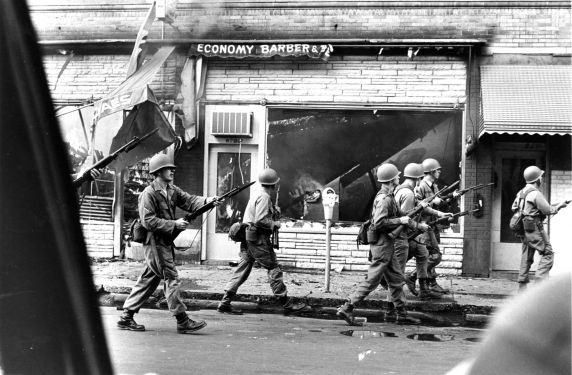 Backstory and Context
By the summer of 1967, the predominantly African-American neighborhood of Virginia Park was ready to explode. Some 60,000 poor people were crammed into the neighborhood's 460 acres, living in squalor in divided and sub-divided apartments. The Detroit Police Department, which had only about 50 African Americans at the time, was viewed as a white occupying army. The only other whites seen in the neighborhood commuted from the suburbs to run their stores on 12th Street.
At night, 12th Street was a center of Detroit inner-city nightlife, both legal and illegal. At the corner of 12th and Clairmount, William Scott operated an illegal after-hours club on weekends out of the office of the United Community League for Civic Action, a civil rights group. The police vice squad often raided establishments like this on 12th Street, and at 3:35 a.m. on Sunday morning, July 23, they moved against Scott's club.
That night, the establishment was hosting a party for several veterans, including two servicemen recently returned from Vietnam, and the bar's patrons were reluctant to leave. Out in the street, a crowd began to gather as police waited for paddy wagons to take the 85 patrons away. Tensions between area Blacks and police were high at the time, partly because of a rumor (later proved to be untrue) that police had shot and killed a Black prostitute two days before. Then a rumor began to circulate that the vice squad had beaten one of the women being arrested.
An hour passed before the last prisoner was taken away, and by then about 200 onlookers lined the street. A bottle crashed into the street. The remaining police ignored it, but then more bottles were thrown, including one through the window of a patrol car. The police fled as a riot erupted. Within an hour, thousands of people had spilled out onto the street. Looting began on 12th Street, and some whites arrived to join in. Around 6:30 a.m., the first fire broke out, and soon much of the street was set ablaze. By midmorning, every policeman and fireman in Detroit was called to duty. On 12th Street, officers fought to control the mob. Firemen were attacked as they tried to battle the flames.
Detroit Mayor Jerome P. Cavanaugh asked Michigan Governor George Romney to send in the state police, but these 300 more officers could not keep the riot from spreading to a 100-block area around Virginia Park. The National Guard was called in shortly after but didn't arrive until evening. By the end of the day, more than 1,000 were arrested, but still the riot kept growing. Five people were dead.
On Monday, 16 people were killed, most by police or guardsmen. Snipers fired at firemen, and fire hoses were cut. Governor Romney asked President Lyndon Johnson to send in U.S. troops. Nearly 2,000 army paratroopers arrived on Tuesday and began patrolling the street in tanks and armored carriers. Ten more people died that day, and 12 more on Wednesday. On Thursday, July 27, order was finally restored. More than 7,000 people were arrested during the four days of rioting. A total of 43 were killed. Some 1,700 stores were looted and nearly 1,400 buildings burned, causing $50 million in property damage. Some 5,000 people were left homeless.
The so-called 12th Street Riot was the worst U.S. riot in 100 years, occurring during a period of numerous riots in America. A report by the National Advisory Commission on Civil Disorders, appointed by President Johnson, identified more than 150 riots or major disorders between 1965 and 1968. In 1967 alone, 83 people were killed and 1,800 were injured--the majority of them African Americans--and property valued at more than $100 million was damaged, looted, or destroyed.1
Sources
1. History.com Staff. "The 12th Street Riot." A&E Networks. Published 2010. Accessed on June 1, 2016. http://www.history.com/this-day-in-history/the-12th-street-riot
Additional Information