Old State Capitol
Introduction
The Old State Capitol in Springfield was once the seat of government for the entire state of Illinois. Now it is a National Historic Landmark, and an enormous tribute to two political giants of the mid-nineteenth century; Abraham Lincoln and Stephen A. Douglas. The historic building is centered right in downtown Springfield and is only a few blocks away from both the Abraham Lincoln Presidential Museum and the Lincoln Home Historic Site. The site is for architecture buffs as well history ones, since the building is a classic example of the Greek Revival Style.
Images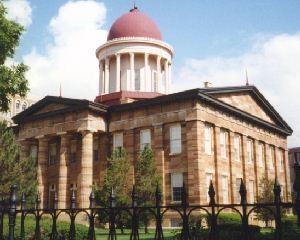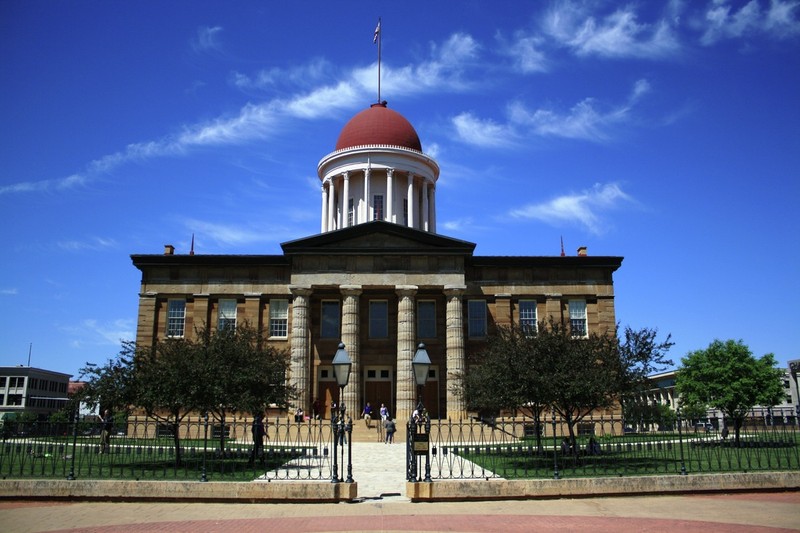 Backstory and Context
The Old State Capitol was constructed in 1840, a year after Springfield became the capitol of Illinois, which was due in large part to the campaigning efforts of Lincoln and his friends. It cost $240,000 to build, a rather large sum at the time, and was a considerably huge capitol building for that time period. It was within the House Chamber that Lincoln made his "House Divided" speech, and was also where he lay in state was before his body was taken to Oak Ridge Cemetery. In 1868, the State Capitol was moved to the building it resides in today and the Old State Capitol was sold to Sangamon County to be used as a courthouse. The Old State Capitol continues to make history into the 21st century, as the front steps of the building are the spot where President Barack Obama announcing his candidacy for the presidency in 2007.

Today the Old State Capitol is a public museum and the home of the Illinois Historic Preservation Agency. It is registered as a National Historic Landmark and is listed on the National Register of Historic Places. It has been restored and furnished to look as it did in the 1850s, which was when the building was in its political prime. Interpreters lead thirty-minute tours of the building, guiding visitors through the government offices, legislative chambers, and courtroom. People coming the the Old State Capitol can see the offices where Lincoln's presidential campaign headquarters were and a to scale statue of Stephen Douglas, Lincoln's political rival. Over one hundred and fifty years of Illinois political history is on display within these walls, laid for visitors to see.

Sources
"Central Region: Old State Capitol." Illinois Historic Preservation Agency. Accessed May 15, 2016. https://www.illinois.gov/ihpa/Experience/Sites/Central/Pages/Old-Capitol.aspx "Abrahm Lincoln's Old State Capitol." Abraham Lincoln Online. Accessed June 1, 2016. http://www.abrahamlincolnonline.org/lincoln/sites/capitol.htm
Additional Information