Gold Star Family Memorial
Introduction
In Grove City, Ohio is is the latest Gold Star Family Memorial in the country. It was dedicated Memorial Day 2016. This monument is not like other war memorials in that it is intended to honor the families who lost a loved one in any war. The Gold Star Family Memorials were started by WWII Medal of Honor recipient Herschel Woodrow "Woody" Williams.
Images
plans for the Grove City monument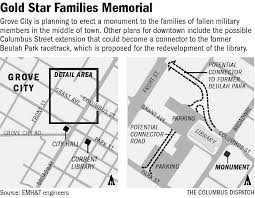 an artists rendition of the monument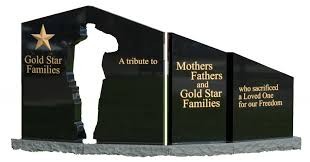 The Memorial on dedication day with Woody Williams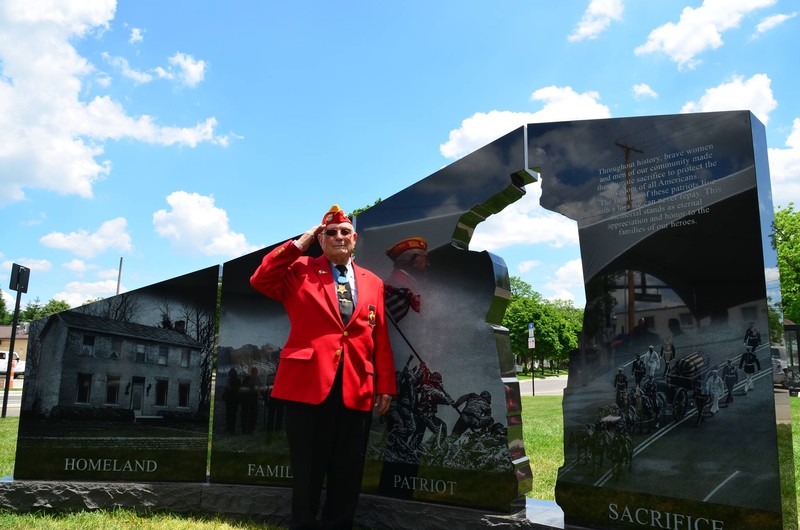 Backstory and Context
The Grove City Gold Star Family Memorial is one more memorial in what Medal of Honor winner Woody Williams hopes will be a collection across the county. He hopes that eventually there will be at least one family memorial in each state. Woody Williams is the last surviving veteran of Iwo Jima. He won the Medal of Honor because at Iwo Jima he used his flamethrower to burn out seven pillboxes
He made this goal for memorials because he felt that the families of servicemen and women were being ignored. A Gold Star Family is one that has paid the ultimate sacrifice--the loss of a family member through military service. Mr. Williams had originally only thought to honor grieving mothers until one day a dad said to him, "Dads cry too." (source #4)
The memorial is composed of four Black granite panels. Each panel has one of the following four words: homeland, family, patriot, and sacrifice. Two of the panels are carved so that a blank space in between them creates the form of a saluting soldier. This is the same design that other cities have used.
Currently there are memorials present, or planned for, Rochester NY, Lafayette, IN, Ashland, KY, Elizabethtown, KY, and Fairmont, WV.
Sources
1. "Grove City OH Project-Gold Star Families Memorial." Hershel Woody Williams Medal of Honor Foundation. Accessed May 21, 2016. www.hwwmohfoundation.org 2. Fochesato, Kaitlin. "Monument honors families of fallen service members." The Columbus Dispatch. May 28, 2016. www.dispatch.com 3. Gilchrist, Shannon. "Memorial Planned to honor families of fallen." The Columbus Dispatch. October 29, 2015. www.dispatch.com 4. Gromelski, Joe. "MOH recipient's goal: Tributes to Gold Star Families in all 50 states." Stars and Stripes. Accessed May 21, 2016 www.stripes.com
Additional Information