The Vollis Simpson Whirligig Park
Introduction
The Vollis Simpson Whirligig Park is an outdoor museum devoted to the folk art of Wilson County farmer Vollis Simpson.
Images
A view of the park and some of the surviving "whirligigs" that Vollis Simpson created.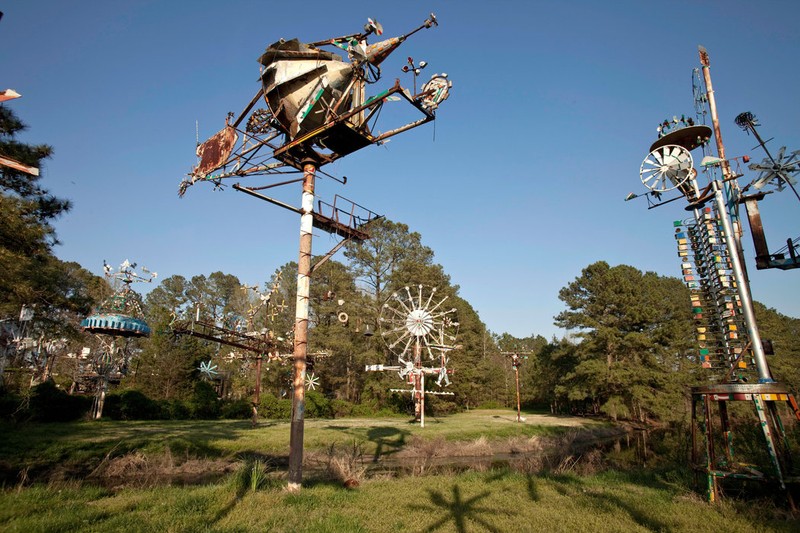 Backstory and Context
The Vollis Simpson Whirligig Park features folk art by local Wilson County farmer Vollis Simpson (1919-2013). From age 65, Simpson became known for building unique metal windmills with bicycle reflectors out of parts he found in junkyards. Most of these windmills, or "whirligigs" were designed to perform a simple function in an overly-complicated but entertaining fashion. A of the devices had anthropomorphic figures, like a man on a bicycle, and some stood as high as forty feet. Eventually, Simpson created over thirty of these devices.
Simpson's art, or at least sneaking away to this field of hist work, became very popular with the local teens. For some, the field of Siimpson's creations offered a striking and eerie sight. Many people in Wilson County now love to tell stories about coming upon the sculptures in the middle of the night while out cruising the back roads when they were young. In a car's headlights, some of the metal sculptures looked just like UFOs.
Simpson's work became well-known statewide, and for a short time, it was attracted national attention. To this day, some of Simpson's sculptures are on display in New York and Baltimore. By the time Simpson died in 2013, local residents worked to preserve his art and move it to downtown Wilson. Supporters worked to create a special park and outdoor museum that would showcase Vollis' surviving work. The park currently has 16 sculptures in a field south of Nash Street. It will eventually house the 31 surviving pieces. There is no fee to see the sculptures.
Sources
William Yardley, "Vollis Simpson, Visionary Artist of the Junkyard, Dies at 94," New York Times, June 5, 2013. (accessed 7/20/16) http://www.nytimes.com/2013/06/06/arts/design/vollis-simpson-artist-dies-at-94.html?_r=0
Additional Information