Frederik Meijer Gardens & Sculpture Park
Introduction
Frederik Meijer Gardens & Sculpture Park opened in 1995 and has grown to become the state's largest tropical conservatory. Visitors can walk through this botanic garden which is full of many exotic and rare species among indoor and outdoor sculpture galleries. There are also a number of nature trails that connect the complex to the surrounding woodlands and a wetland boardwalk. There is also a Michigan farmhouse garden with interpretive signage and the latest addition, a Japanese Garden.
Images
Frederik Meijer Gardens & Sculpture Park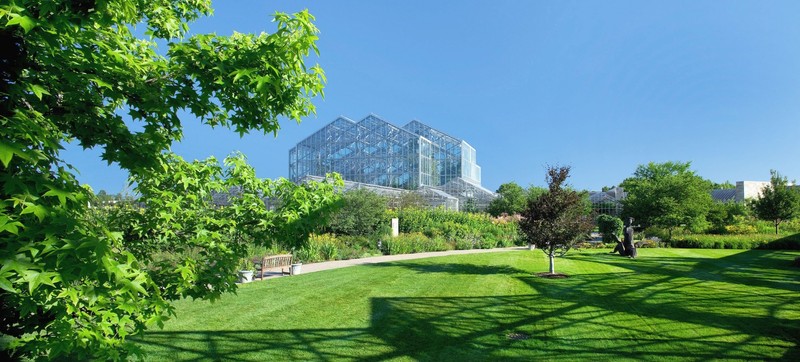 Frederik Meijer Gardens & Sculpture Park
Lena Meijer Tropical Conservatory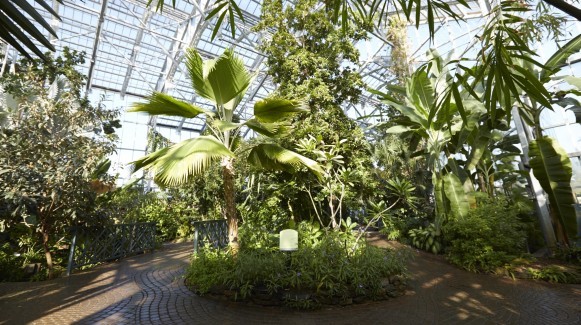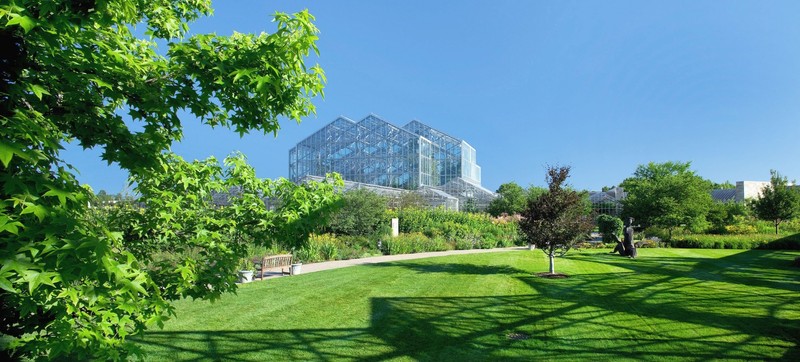 Backstory and Context
Frederick Meijer Gardens and Sculpture Park is a sprawling 158-acre park in Grand Rapids, Michigan. The park opened to the public in April 1995. However, its history begins 13 years earlier, when the West Michigan Horticultural Society began making plans and fundraising for a garden and park in Grand Rapids. In 1990, the Society approached Fred and Lena Meijer (the owners of Meijer's supermarkets) for their support. The Meijers enthusiastically agreed, offering to include some of their own sculpture collection in the park.
Though originally planned as a small cultural attraction centered around horticulture, the Park is now world renowned for its gardens and sculptures. Meijer Garden's sprawling 158-acre main campus now includes Michigan's largest tropical conservatory, five indoor themed gardens, a large children's garden, a sprawling Japanese garden, several nature trails, a boardwalk trail, a permanent sculpture collection, several indoor sculpture and art galleries, an amphitheater (that hosts a summer concert series), a library, café, gift shop, classrooms, and meetings rooms. The entire campus is also barrier free and handicap accessible.
The Lena Meijer Tropical Conservatory, the largest of its kind in Michigan, is an incredible five-story, 15,000 square-foot facility "featuring rock landscapes, a waterfall and a variety of exotic plant selections. The conservatory houses tropical plants from around the world, including fig trees from India, exotic orchids from Central and South America, Asiatic bamboo and banana plants" ("Meijer Gardens"). The other indoor themed gardens include a carnivorous plant garden, an arid climate garden (featuring several cacti species), a Victorian garden, and a rotating, seasonal garden.
Meijer Gardens features several internally-acclaimed sculptures in its permanent sculpture collection. These include works by Auguste Rodin, Edgar Degas, Henry Moore, Alexander Calder, Louise Bourgeois, and Richard Serra. A few of it's most well-known sculptures include Roxy Paine's Neuron, Rodine's Eve, Nina Akamu's The American Horse, Claes Oldenburg's Plantoir, Andy Goldsworthy's Grand Rapids Arch, and Zhang Huan's Long Island Buddha.
In 2015, the park opened the Richard and Helen DeVos Japanese Gardens on its main campus. This garden was designed by Hoichi Kurisu and the firm Kurisu International. The new Japanese garden includes several new permanent sculptures, large ponds and waterfalls, an authentic Japanese teahouse, a zen-style garden, and a bonsai garden. The horticulture in the garden includes several species from Japan, including Japanese Maples, Japanese Flowering Cherries, Yellow Grove Bamboo, and 100 different types of moss. It also includes several species native to Michigan, such as Serviceberry (a tree that has small white flowers in the Spring, small red fruits in the Summer, and an orange-red color in the Fall).
Meijer Gardens also includes the Michigan Farm Garden. This garden includes an 1880s era farmhouse, designed to be a three-quarter scale model of Lena Meijer's childhood home. Next to this house is the original windmill from Lena's home, restored to its original beauty. The farm also has an heirloom vegetable garden, where heirloom species of several vegetables are grown, including carrots, pumpkins, cabbages, and lettuce. These vegetables are used in the café onsite. Finally, this garden also includes a barn awarded the "2005 Barn of the Year" Award by the Michigan Barn Preservation Network. Next to this area is also the final resting place of Fred and Lena Meijer.
Finally, Meijer Gardens is well known for two seasonal events. Every spring (March-April), the Garden has a butterfly exhibition in the tropical conservatory that features thousands of tropical butterflies from Central and South America, Africa, and Asia. These butterflies fly freely around the conservatory. Every winter (end of November through the beginning of Janurary), the Gardens have a Christmas tree exhibition that features more than 40 Christmas Trees.
Since opening in 1995, Meijer Gardens has welcomed more than 10 million visitors.
Sources
Frederik Meijer Gardens & Sculpture Park official website, www.meijergardens.org accessed November 7, 2017
Additional Information