Wilkes Street Tunnel
Introduction
The Wilkes Street Tunnel was built in the 1850s and serves as a reminder of Alexandria's early years as a railroad terminus. Once a critical part of the Orange & Alexandria Railroad, the tunnel is now a popular spot for residents who enjoy the tunnel's lighted walkway which forms a part of the city's walking and bike path. It was named after English statesman John Wilkes, who supported the colonies during the American Revolutionary War.
Images
Wilkes Street Tunnel East End. Source: Allen C. Browne, March 15, 2014.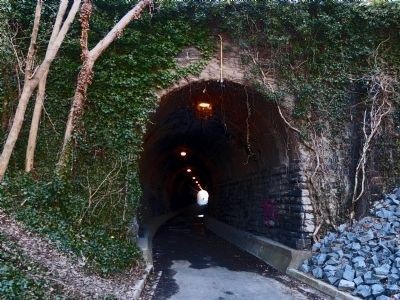 Backstory and Context
The Wilkes Street Tunnel first went into operation on May 1851, shortly after the Commonwealth of Virginia authorized a train line running from Gordonsville to Alexandria. The tunnel connected the Orange & Alexandria Railroad with the busy waterfront warehouses and wharves located on the banks of the Potomac. 
The Wilkes Street Tunnel is a classic example of cut-and-cover tunnel construction, which is a method of shallow tunnel construction where a trench is dug and roofed over with an overhead support system. This support system must be strong enough to hold whatever is built above the tunnel. The sides of the Wilkes Street Tunnel are made of stones and bricks, and its arch is a traditional barrel vault.
As the Civil War developed, the railroad systems became coveted assets for both the Union and the Confederation. Consequently, shortly after the Union Army occupied Alexandria, the Orange & Alexandria Railroad was seized and incorporated into the U.S. Military Railroads. Thanks to the Wilkes Street Tunnel, the Union had easy access to the waterfront wharves, which they took advantage in order to ship military supplies south of Aquia Creek. 
The Wilkes Street Tunnel was deepened shortly after World War I to allow the passing through of higher boxcar.
The tracks in the Wilkes Street Tunnel continued in operation until 1975, afterwards, they were removed and the site was redone as a public pedestrian and bike path, which Alexandrians still enjoy today.
Sources
Eng, Matt. "Beyond a "Ruinous Condition:" Alexandria's Historic Wilkes Street Tunnel (PART I)." Offbeat Nova. July 21, 2020. https://offbeatnova.com/2020/07/21/beyond-a-ruinous-condition-alexandrias-historic-wilkes-street-tunnel-part-i.
Pamela Cressey, "Wilkes Street tunnel is important piece of past," Alexandria Gazette-Packer, October 19, 1995.
Additional Information