Masonic Temple and Grand Lodge of West Virginia
Introduction
The Masonic Temple located on Hale Street in the Downtown Charleston Historic District, serves as the Grand Lodge of West Virginia. This large and ornate Masonic Temple has private amenities for four different bodies of Ancient Free and Accepted Masons, typically abbreviated as AF&AM. The lodge is commonly referred to by its members as Kanawha Lodge #20.
Images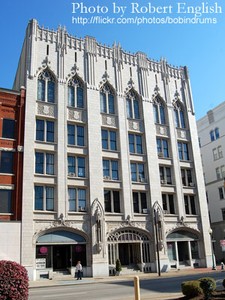 Backstory and Context
Originally chartered on January 19th, 1866, the five-story Masonic Lodge has remained in its original location for over 150 years. The original structure dated from 1893 and sustained damage in a 1896 fire, which hindered its use until rebuilt ca. 1915 when architect H. Rus Warne redesigned and updated the building to its current neo-Gothic style. The first three floors of the building serve as offices for businesses while the top two floors are reserved for Masonic activities. H. Rus Warne kept his Charleston architecture offices in the building until his death in 1954.
On the first story are three recessed entrances with pointed arches. The building has pointed arch, three-over-one, double-hung sash windows in pairs. Intricate pinnacles and terra cotta details top the parapet.
Sources
http://whycharlestonwv.com/headline/architectural-landmarks-of-charleston/ http://www.wvencyclopedia.org/articles/887 http://whycharlestonwv.com/headline/architectural-landmarks-of-charleston/
Additional Information