West Virginia Coal Miners Memorial
Introduction
The WV Coal Miners Memorial is located on the grounds of the West Virginia State Capitol Complex in Charleston, West Virginia. Coal mining has deep roots in West Virginia and is a quintessential aspect of culture in the Mountain State. However, coal mining is difficult and dangerous work. The Coal Miners Memorial was designed by Burl Jones in 2002 to honor the men and women who have dedicated their lives to mining coal in West Virginia. To this day, the statue remains a gathering site for those wishing to honor coal miners for their hard work, historical contributions, and personal sacrifices.
Images
The WV Coal Miners Memorial.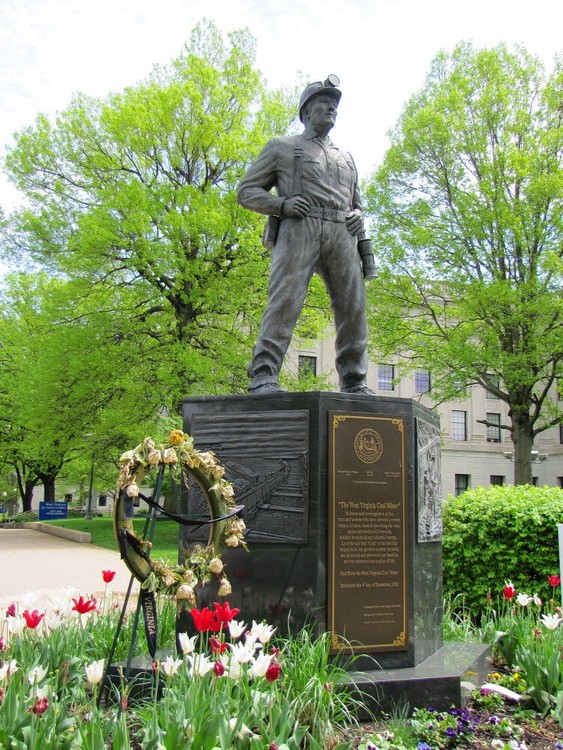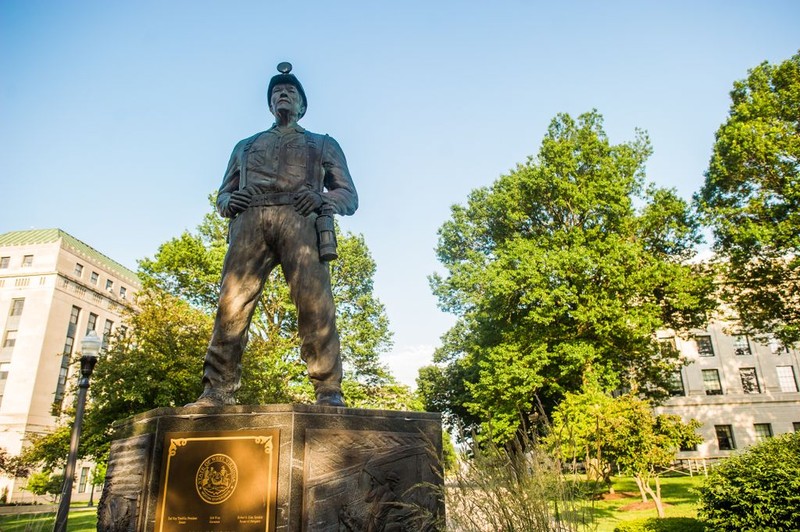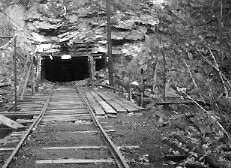 Miner on shuttle car, early 1900s.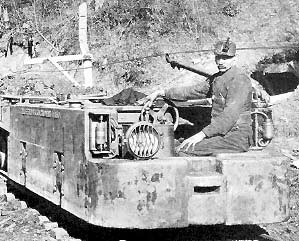 Child miners with a mule in Gary, West Virginia, 1908.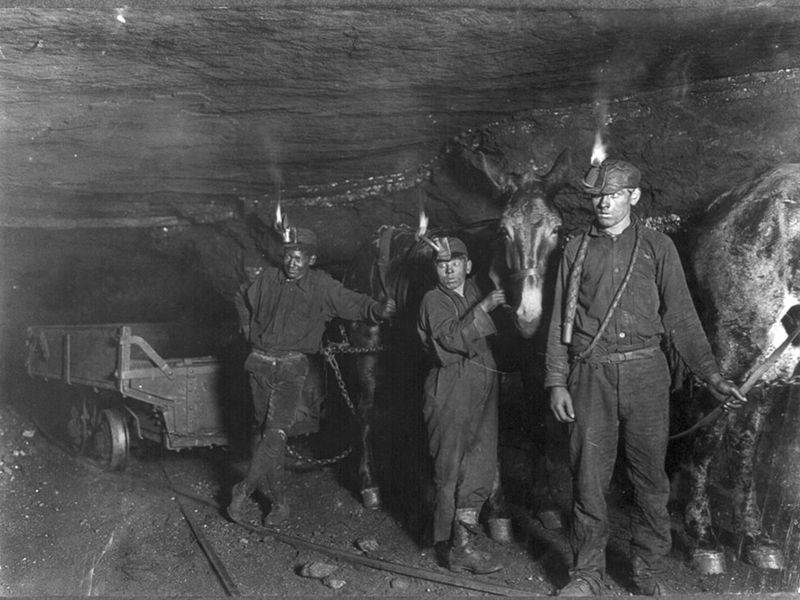 Baldwin-Felts Detectives.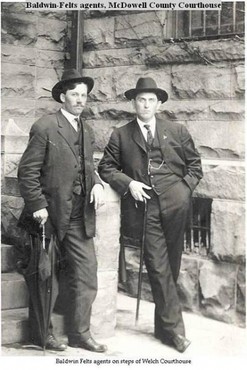 Sheriff Sid Hatfeild would be assassinated by Baldwin-Felts agents before his trial after the events of Matewan Massacre.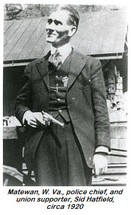 Miners surrender their rifles after Battle of Blair Mountain, 1921.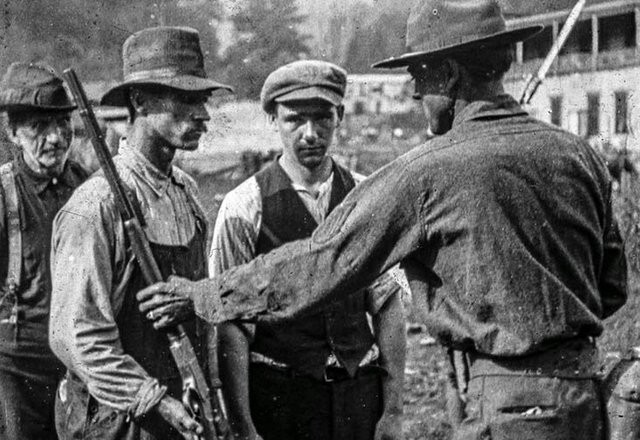 Backstory and Context
This history of coal mining is deeply interwoven into the history of the Mountain State. In 1742, John Peter Salley explored the Allegheny Mountain region along the Kanawha River Valley with his team of surveyors. During his travels, he discovered an abundance of coal veins near the water way and referred to the body of water as the Coal River for this reason. In the early 1800s, coal would serve as a resource for working Blacksmiths and also heated homes while fueling the furnaces for the growing salt mines in the Kanawha River region. Significant mining operations began as early as the 1840s through the 1860s and the state of Virginia responded by passing laws regulating mine operations and investments in land and mineral rights.
After the Civil War, some of the first major mining operations in the new state of West Virginia occurred in Fairmont Field near the present-day city of Fairmont. Its location on the Pittsburgh coal seam provided most of the eastern part of the country with a steady supply of coal. As the northern part of the state saw the expansion of significant coal operations, the southern coal fields also grew with the establishment of the Flat-Top Pocahontas fields of Mercer and McDowell Counties. These mines began shipping coal in 1883 and later grew into the Pocahontas Fuel Company in 1907. The arrival of the Chesapeake and Ohio Railway in the early 1900s made it possible to ship coal from Logan and Wyoming County, triggering a further coal mining boom in West Virginia.
The methods of mining, and the laws surrounding the profession, have evolved over the generations. In the antebellum period, free and enslaved workers mined surface coal with shovels and pickaxes and carried the ore with baskets and sleds pulled by draft animals. By 1890, mechanized coal cutting, hauling, and loading had become a normal sight to see. After the 1930s, long trains, conveyor belts, and shuttle cars became as common as the miners themselves. With technological advancements, West Virginia was able to see two of the largest production booms in its history: 146,088,121 tons of coal in 1927, and 173,653,816 tons in 1947.
As the coal industry grew, mines recruited workers from other states and even other nations. Coal companies would provide these workers with not only a job, but also a place for their families to stay known as "coal camps." Many coal camps were centered around a company store that sold items to workers on credit using company-issued currency known as "scrip". Each company would have its own printed scrip that signified to their workers that certain scrip could be only used for certain businesses. The system placed power in the hands of the company, leading to potential for abuse when management decided to raise prices for rent, food, and household goods at the company store but did not increase wages.
Between 1910 and the early 1920s, several conflicts between miners and mine management led to calls for unionization. Some conflicts about this issue turned into small-scale wars between miners and hired guards known as Pinkertons. On May 20th, 1920, Agents of Baldwin-Felts Detective Agency evicted miners and their families out of their homes for attempting to join a union, leading to a gunfight in the town of Matewan that killed seven agents, two miners, and mayor Cabell Testerman, while also injuring pro-union sheriff Sid Hatfield. The following three months of conflict would be later known to Mountaineers as the "Mine Wars of West Virginia".
The  "The West Virginia Coal Miner" memorial, designed by sculptor Burl Jones, features a statue of a coal miner. The base of the memorial depicts the common duties men and women performed while working in the coal mines. The memorial's plaque reads, "In honor and in recognition of the men and women who have devoted a career, some a lifetime, towards providing the state, nation and world with low-cost, reliable household and industrial energy... Let it be said that "Coal" is the fuel that helped build the greatest country on earth, has protected and preserved our freedom and has enhanced our quality of life. God Bless the West Virginia Coal Miner! Dedicated this 4th day of December 2002."
The memorial was commissioned by the West Virginia Coal Forum, and it commemorates the hard-working men and women who have toiled in the difficult work of mining coal. The memorial served as a gathering place during the Upper Big Branch mine disaster in 2010 and continues to be the location where people come to remember the 29 men who lost their lives in that explosion, as well as countless other sacrifices West Virginia miners have made over the years.
Sources
Bartley, Chris. Coal Miner Memorial. GigaPan. July 12, 2008. Accessed July 14, 2019. http://www.gigapan.com/gigapans/6668.
Boissoneault, Lorraine. The Coal Mining Massacre America Forgot, Smithsonian Magazine. April 25th 2017. Accessed February 9th 2020. https://www.smithsonianmag.com/history/forgotten-matewan-massacre-was-epicenter-20th-century-mine-wars-180963026/.
Eggleston, Jane L.. History of West Virginia Mineral Industries - Coal, West Virginia Geological & Economic Survey. June 20th 2017. Accessed February 9th 2020. http://www.wvgs.wvnet.edu/www/geology/geoldvco.htm.
Highsmith, Carol M. The West Virginia Coal Miner statue by sculptor Burl Jones, completed in 2002 on the grounds of the state capitol in Charleston. Library of Congress. June 05, 2015. Accessed July 14, 2019. https://www.loc.gov/item/2015631767/.
Laing, James T. . The Early Development of the Coal Industry in the Western Counties of Virginia, 1800-1865, West Virginia Department of Arts, Culture, and History. January 1st 1966. Accessed February 9th 2020. http://www.wvculture.org/history/journal_wvh/wvh27-2.html.
"West Virginia Coal Miner Statue." Flickr. April 23, 2011. Accessed July 15, 2019. https://www.flickr.com/photos/24304517@N02/5694471991/in/photostream/.
Image Sources
http://www.wvgs.wvnet.edu/www/geology/geoldvco.htm.

http://www.wvgs.wvnet.edu/www/geology/geoldvco.htm.

https://www.smithsonianmag.com/history/forgotten-matewan-massacre-was-epicenter-20th-century-mine-wars-180963026/.

http://pynchonclass.blogspot.com/2012/11/the-baldwin-felts-detective-agency.html.

https://district4.cwa-union.org/news/entry/may_193-d4.

https://progressive.org/dispatches/blair-mountain-battlefield-re-listed-as-historic-site-180702/.

Additional Information