Saint John's Episcopal Church
Introduction
St. John's Episcopal Church is a mother church to many Episcopalian congregations in the Kanawha Valley. The current church in Charleston, WV was constructed in 1888 and stands at the corner of Virginia St and Leon Sullivan Way.
Images
A view of St Johns Church's Church and Steeple.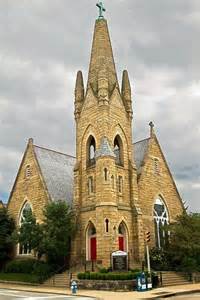 Backstory and Context
St. John's Episcopal Church was founded about 1822. After its use by the Union Army during the Civil War, the building was repaired and refurbished. The current church building's cornerstone was laid in 1884 and services were first held in 1888. During construction, services were held in the unfinished structure. St. John's exhibits late 19th century Gothic architecture that is more characteristic of non-liturgical Episcopalian churches. An adjacent parish house was completed in 1928. Both structures are listed on the National Register of Historic Places.
Growing population resulted in a growing number of parishioners interested in professing their faith in new communities throughout the Kanawha Valley in the 19th and 20th centuries. St. John's has served as a mother church to many churches in the surrounding area, including St. Luke's on the West Side of Charleston founded in 1873, St James in North Charleston (1896), St. Matthews in the South Hills area of Charleston (1893), All Saints Church in South Charleston (1942), and Church of the Good Shepherd in Kanawha City (1956).
To this day local Episcopalians gather at St. Johns to celebrate their faith and provide outreach to the community. St. John's serves a diverse community of families and singles, young and old, gay and straight, wealthy and poor, black and white. St Johns operates a homeless shelter, as well as Manna Meal and numerous other counseling and enrichment programs to the less fortunate.
Sources
http://stjohnswv.org/pages/history.html
Additional Information