Charleston Baptist Temple
Introduction
Built in 1924, Charleston's Baptist Temple is a two-story brick building that reflects Georgian and Federal styles. It is historically significant because it represents the general influences of the Colonial Revival design. The clock and steeple dominate the tower of the building and can been seen very easily from the surrounding area. The church was placed on the National Register of Historic Places in 2000.
Images
Baptist Temple as it appears today.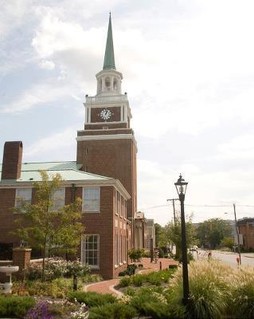 The church on a local postcard ca. 1940.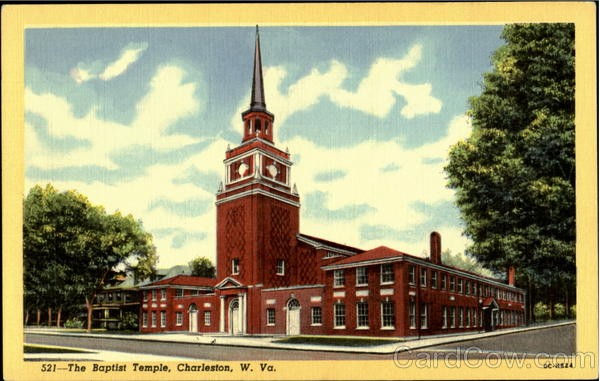 Second floor plan of Baptist Temple prior to construction.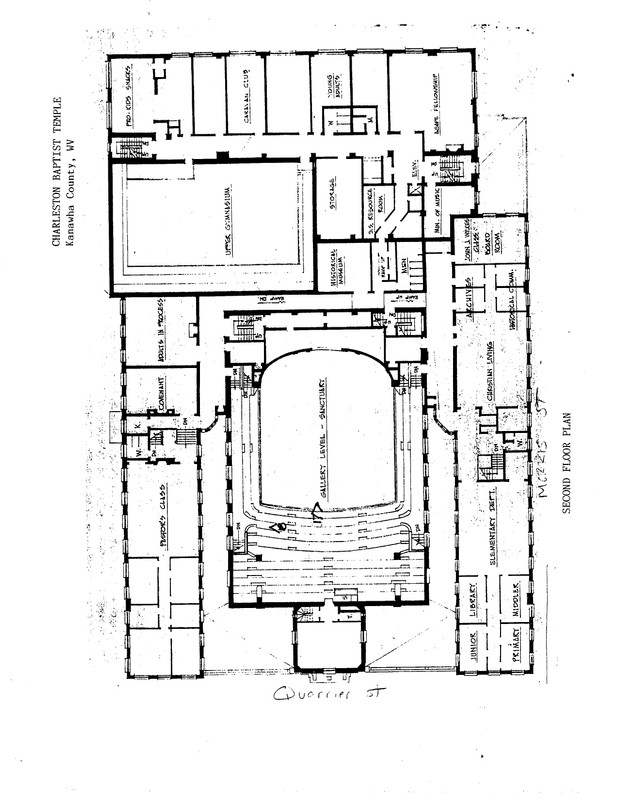 Backstory and Context
The Baptist congregation in Charleston experienced a large growth in the years before the Great Depression. This quick expansion caused the church to outgrow the one-room building that was located on the corner of Capitol and Washington Streets and seek a new location. The groundwork was placed for the ideal location for the next church. Due to the quick expansion of Charleston, the planners chose a location out of downtown so they would be able to expand later if necessary.1

The congregation wrote a letter to the New York offices of the American Baptist Home Mission Society inquiring on the names of architects that may be right for the job of constructing a new church building. Of the six names on the list, the congregation chose Ernest Flagg and he began construction in 1924 at 209 Morris Street near downtown Charleston. The project was fully completed in 1925.2

Ernest Flagg received his architectural education at the Ecole des Beaux-Arts School in Paris from 1889 to 1890. His design for the temple included rigid symmetry and precision detailing. Flagg chose red brick due to the fact it was the traditional medium used in Colonial style buildings. Charleston Baptist Temple reflects the work of a master architect and shows the execution of an unconventional building type.3


Sources
1 - "National Register of Historic Places Inventory Nomination Form" (PDF). Charleston Baptist Temple. State of West Virginia, West Virginia Division of Culture and History, Historic Preservation. May 2, 2016 2 - Ibid 3 - Ibid
Additional Information