Charleston Civic Center
Introduction
Located in downtown Charleston, West Virginia, the Charleston Civic Center has hosted hundreds of events in sports, music and more. It has provided an important entertainment venue for the community of Charleston since its construction. Originally opened in 1959, the Civic Center was renovated in the late 1980s and continues to host events to this day.
Images
The coliseum addition being built in late 1979.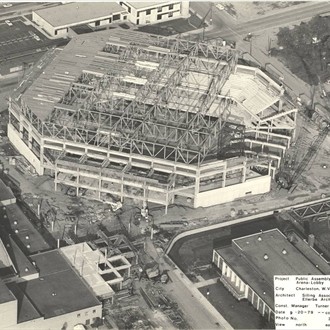 The original building as it was nearing completion in 1958.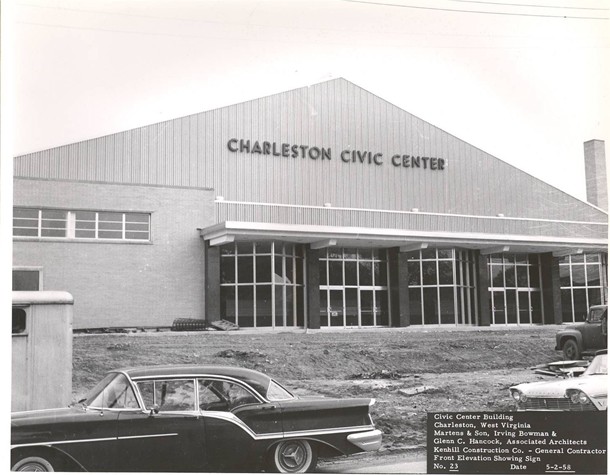 Future president John F. Kennedy gives a speech in Charleston while on the state primary campaign trail in 1960. Charleston Gazette-Mail.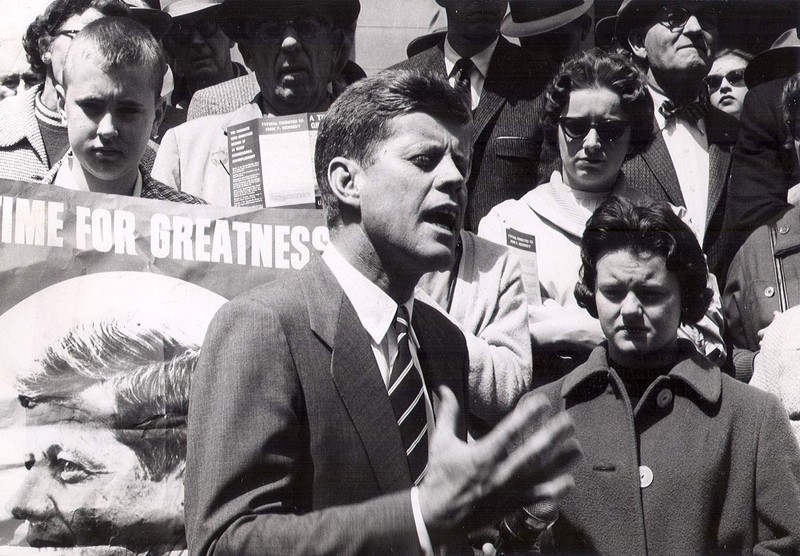 The downtown Charleston landscape during the construction of the new arena. The triangular roof of the original Civic Center can be seen in the upper center. Courtesty of MyWVHome.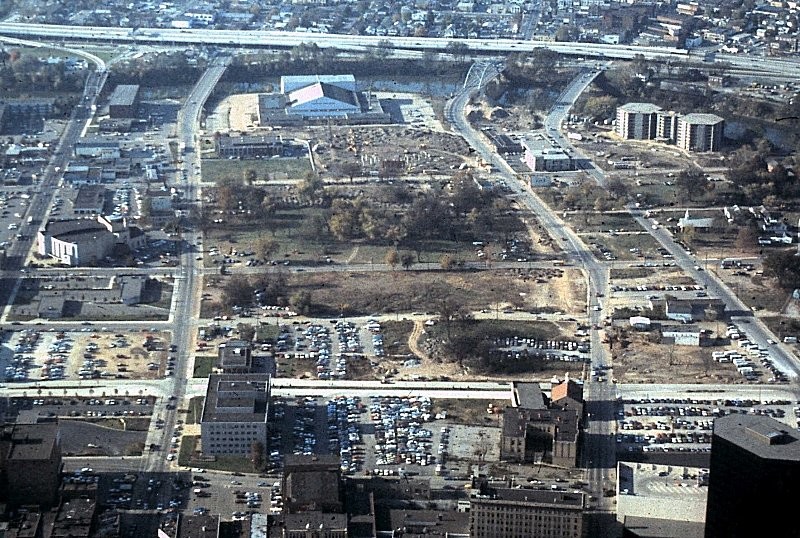 Elvis Presley leaves Charleston's Daniel Boone Hotel for a Civic Center concert in 1975.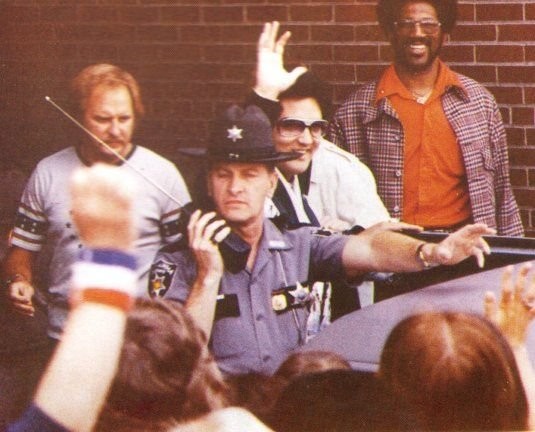 Then-candidate Donald Trump gives a campaign rally in the Civic Center in 2016. He later claimed an attendance of 28,000. The Civic Center's maximum occupancy is 14,000. Fire marshals estimated the count at 11,600.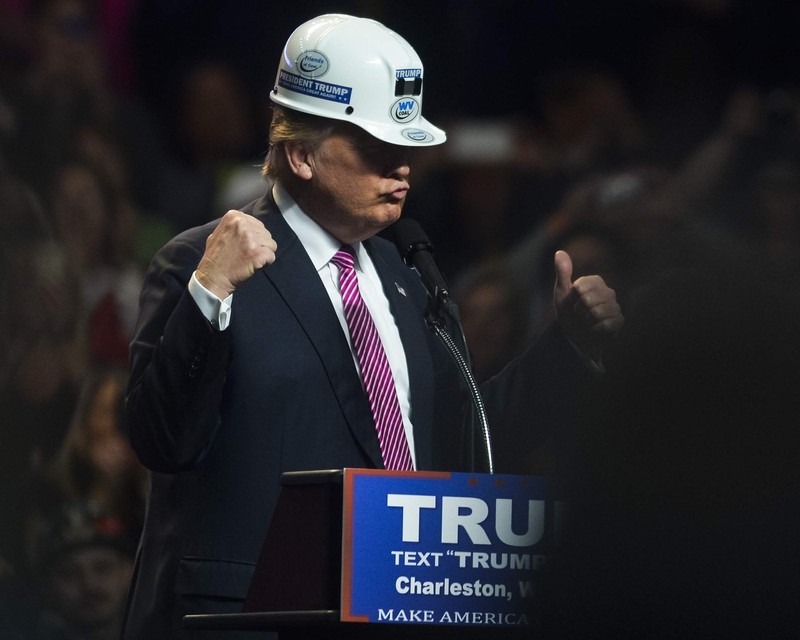 The building as it appears today.

The building as it appears today.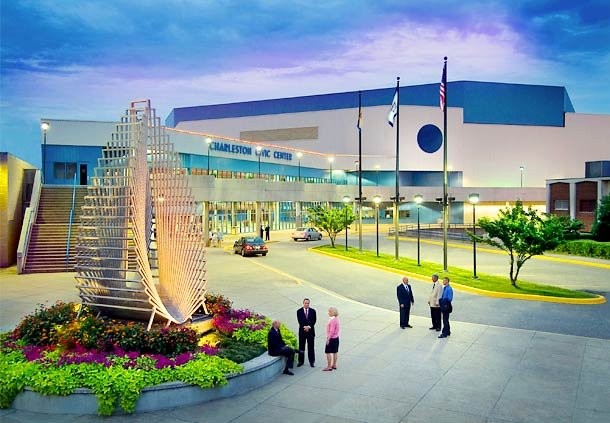 1959: after experiencing racial discrimination in Charleston, NBA Rookie of the Year made headlines for refusing to play a game at this arena.

L-R: Senator Robert C. Byrd, state Democratic chairman Hulett C. Smith, Senator John F. Kennedy, Senator Jennings Randolph, Democratic gubernatorial candidate W.W. Barron. 1960. Civic Center Collection, West Virginia State Archives.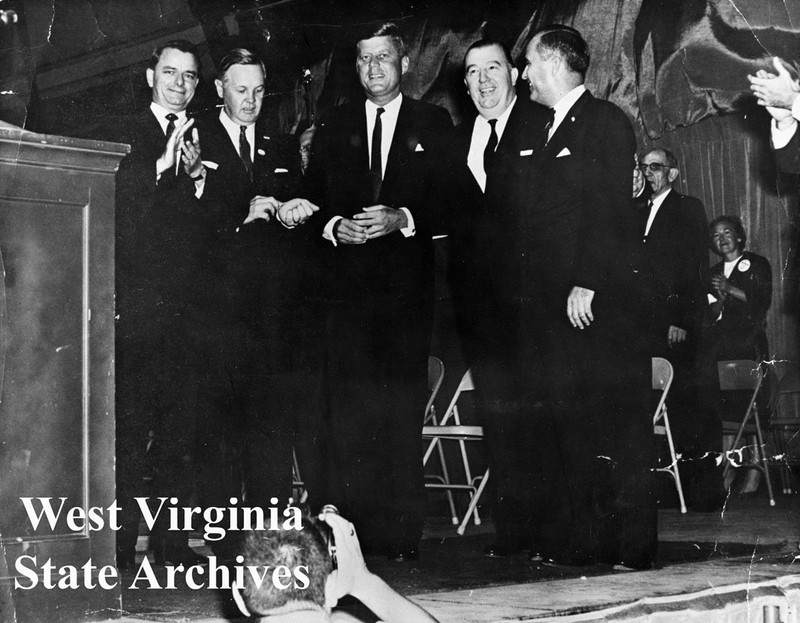 Backstory and Context
The Charleston Civic Center originally opened in 1959 near the intersection of the Elk and Kanawha Rivers just outside downtown Charleston. The original structure cost $3 million dollars to build, though it would see upgrades and expansions in nearly every decade . The arena originally seated about 6000 people and a theater in the center seated about 750.

Owing to its size the Charleston Civic Center has often been at the center of large scale events, some of which took on national proportions in the history of sports, civil rights or politics. In 1959, NBA Rookie of the Year Elgin Baylor, star player of the Minneapolis Lakers, refused to play against the Cincinnati Royals due to the racial discrimination the team experienced at a Charleston hotel. When a number of Black teammates were unable to register at a local hotel, Baylor stuck to a statement he'd made when experiencing discrimination the previous year in Charlotte, North Carolina: "I'm no dog; if this ever happens again, I won't play," Baylor exclaimed in response to his experience in Charlotte.

True to his word, Baylor moved to the nearby Daniel Boone Hotel and sat out the game. The Lakers lost to the Royals by a mere few points, an outcome widely projected to have been reversed if Baylor had taken his place on the court. All too often, this form of protest was the only recourse available to many athletes and performers wishing to speak out against segregation.

The Civic Center witnessed activity of a different sort the following year as Presidential hopeful John F. Kennedy campaigned relentlessly to secure the Democratic nomination over rival Hubert Humphrey during the West Virginia State Primary in 1960. Kennedy made 96 campaign stops in the state before votes were tallied, to speak nothing of separate appearances by his brother Robert and wife Jacqueline.

Kennedy's campaign was an uphill battle. Early West Virginia polls heavily favored Humphrey, objecting to the New Englander's youth and wealth. Religion, too, played a large role--West Virginians were overwhelmingly Protestant, and took issue with Kennedy's Catholic faith. The Kennedy family devoted such energy and resources to the campaign, however, including events at the Civic Center, that by May 10, 1960, he had clinched the Democratic nomination in the state.

Another sports highlight occurred in 1966, when Wilt Chamberlain, then of the Philadelphia Warriors, broke the NBA all- time scoring record in the Charleston Civic Center. Two years later 2,800 more seats were added to the arena, along with air conditioning and an ice-skating rink.

This addition would prove fortuitous in 1975-1976 when Elvis came to town and gave a series of five sold-out shows. The city was energized for days, and guests even included then-State Senator J.R. Rogers and his wife, who simply had to see the "living legend."

In 1978, ground was broken on yet another expansion--this time a 13,500-seat coliseum that eventually replaced the original arena. The arena underwent renovation in 1982 to become the present-day convention center. In 2000, more renovations expanded the Great Hall.

Though the Kennedy presidential campaign has come and gone, the Civic Center's days in the political spotlight are not yet done. In May 2016 President Donald Trump, at the time merely a candidate, gave a campaign rally and received a coal association endorsement at the site.

Currently the Civic Center is proposing several dramatic upgrades and additions to the building, the newest renovations since 2000. They include renovations done to the lobby and exhibit hall, an addition of a ballroom and a complete exterior makeover. These additions are expected to be completed in 2017 and will cost over $75 million.

Sources
"History of the Charleston Civic Center" Charleston Civic Center website. Accessed May 02, 2016. http://www.charlestonwvciviccenter.com/p/about/147.
Hudson, Dick. "Warming Up." Charleston Daily Mail(Charelston), January 17, 1959. http://www.wvculture.org/history/africanamericans/baylor02.html
Battleground West Virginia: Electing the President in 1960. West Virginia Archives & History. Accessed September 26, 2017. http://www.wvculture.org/history/1960presidentialcampaign/annotatedtimeline.html.

Gutman, David. "He Never Forgot West Virginia." Charleston Gazette-Mail(Charleston), November 21, 2013. http://www.wvgazettemail.com/News/201311210102

Kelly, Robert. "Elvis Cultists Are Ecstatic Rockin' With Their Leader." Charleston Daily Mail(Charleston), July 12, 1975. http://www.elvisconcerts.com/newspapers/press422.htm

Civic Center Collection, West Virginia State Archives.

Additional Information