Haddad Riverfront Park (Levee)
Introduction
Host to special annual events and concerts, and the occasional private gathering, the amphitheater seats up to 2,500 people with lovely views of the river and downtown Charleston. Boaters can dock at the Riverfront Park and watch the city activity from the peace of the water.
Images
Photo from Panoramio Goggle Maps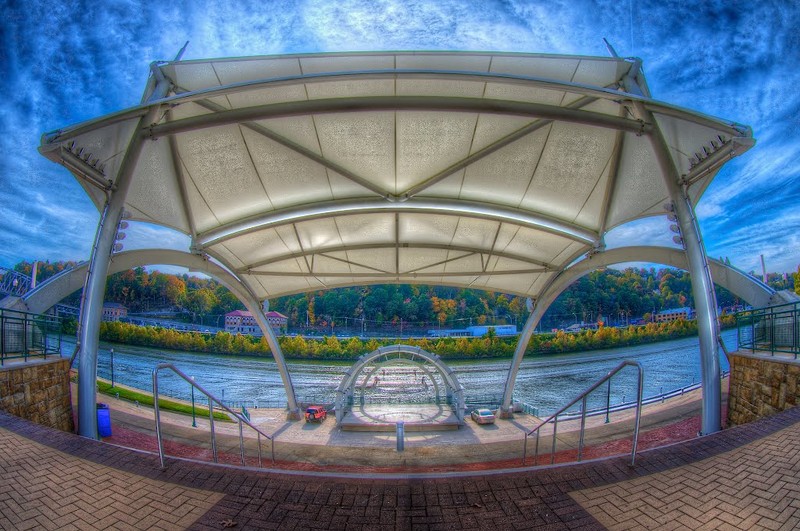 Photo by Craig Cunningham, Charleston Gazette "Haddad light display highlights city events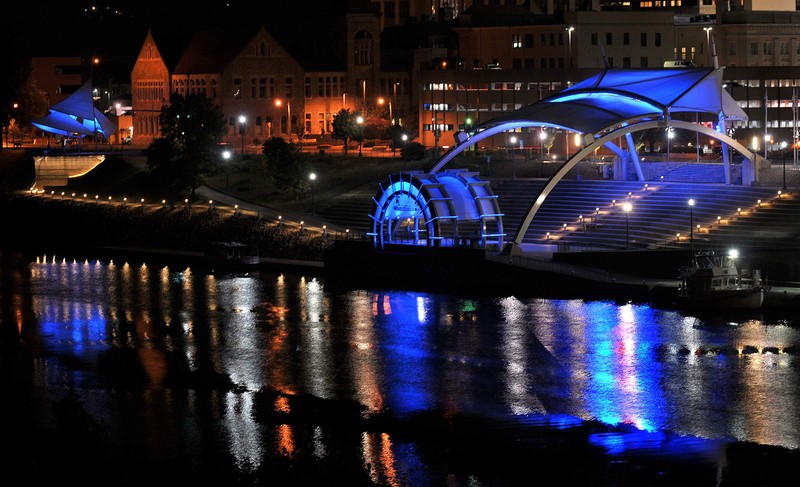 Backstory and Context
Haddad Riverfront Park is named after Fred Haddad, longtime Charleston businessman. Haddad had an office across the Kanawha River and contributed $500,000 of the $8.5 million required for the park's creation. Well-known senator, Robert C. Byrd secured half the funding through U.S Army Corps of Engineers money. Additional funding came through the City of Charleston, city-issued bonds, and the Charleston Urban Renewal Authority. Charleston Renaissance Corp., which raised $1.5 million in private donations, sold bricks with the donor's names engraved for $50. 
The infrastructure built for the community, was also built BY the community. More than three-fourths of the construction workers involved were West Virginians! Haddad Riverfront Park features a retractable fabric canopy over the park's existing seating area, a steel and fabric roof for the park's new permanent stage and a canopy covering a new pavilion overlooking the Kanawha River. 
Silling Associates' senior architect Ed Weber, who designed the canopy, among other modifications, along with his design team, described Haddad Riverfront Park perfectly as "the front porch or living room of Charleston." Said Weber, "It's where we come to celebrate and interact." The Riverfront Park today is just that; free concerts are held at the park every Friday from Memorial Day weekend until Labor Day. The park is also the focal point for the Smoke on the Water Chili Cook-Off, the 4th of July Celebration, car shows, symphony performances and many other activities.
Sources
"Haddad Riverfront Park." Charleston WV CVB. Charleston Convention & Visitors Bureau, n.d. Web. 02 May 2016. Dale, Maryclaire. "Grand Opening: Riverfront Park Ready for Regatta." Gazette-Mail [Charleston, WV] 4 June 1995, Sunday Section sec.: 1C-2C. Print. Balow, Jim. "Permanent Stage to Be Built at Levee." Charleston Gazette 1 July 2009: 1A+. Print. Robinson, Julie. "River Identity, History Inspire Haddad Designer." Charleston Gazette 5 July 2010: 1A+. Print.
Additional Information