Hardin County History Museum
Introduction
Dedicated to the preservation of local history, the Hardin County History Museum collects, preserves and displays artifacts and documents of people living in the area going back to early Native American residents and explorers including Squire Boone, Daniel Boone's Brother and Abraham Lincoln. Along with Lincoln family history, the Civil War history of Hardin County is on display. There's a replica of a log cabin and a general store that visitors can wander through. And the history lessons continue into modern times with displays on African-American history and the Vietnam War.
Images
The museum opened in 2003 and offers a variety of programs and exhibits that change throughout the year.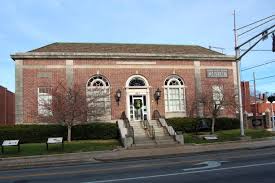 Backstory and Context
Abraham Lincoln was born in Hardin County in 1809 and lived there until the family moved in 1814. Land deeds and business ledgers pertaining to Lincoln's father, Thomas, are some of the highlights of the museum's collection, giving visitors a glimpse into the circumstances of the president's early life.
Sources
Hardin County History Museum website, http://www.hardinkyhistory.org/aboutus.asp accessed 5/1/16
Additional Information