Col Alto
Introduction
This two-story brick plantation manor was built in 1827 by future Virginia governor and congressman James McDowell. The home features the Classical Revival style of architecture that was common among the homes of the wealthiest Virginia planters. The building was later modified to include the Palladian-style veranda, while the grounds were redesigned in the 1930s by landscape artist Rose Greely. In addition to these modifications, the estate has been enlarged over the years and presently occupies a seven-acre tract that has converted the historic structure into a property operated by a leading hotel chain. The original brick mansion, though modified, retains its architectural integrity and the hotel operator maintains several rooms in this section of the property that have been decorated with antique furnishings.
Images
The original brick structure has been expanded, and is now connected to a modern brick structure that serves as a hotel.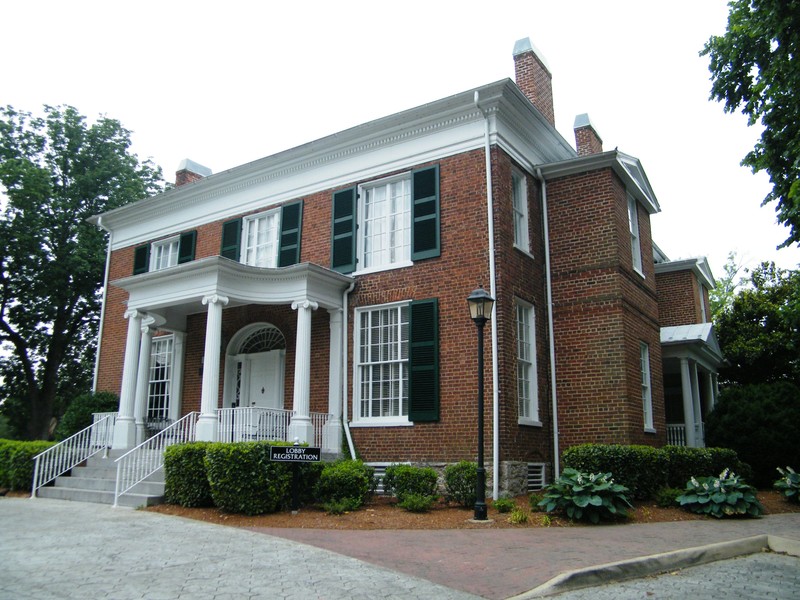 Backstory and Context
The property was acquired by the father of Virginia governor and congressman James McDowell in 1819. McDowell attended Washington College (Washington and Lee University today) as well as Princeton. Shortly after graduation, he was elected to Virginia's House of Delegates. and congressman Henry St. George Tucker, who also served as president of Washington and Lee from 1900 to 1902. There are no historic markers or other resources that preserve the history of the small number or slaves that lived at the plantation, although records indicate that one of the governor's slaves was later able to attend a Presbyterian Sunday School operated by Stonewall Jackson prior to the Civil War.

McDowell was a slave-owner but also expressed concern about the ways that slavery divided the North and South. Following the failed slave revolt of Nat Turner in 1831, McDowell and other Virginia lawmakers considered the wisdom of gradually ending chattel slavery as a way of preserving sectional harmony and preventing future revolts. McDowell served as governor from 1843 to 1846, focusing his efforts on developing infrastructure and spoke little on the subject of slavery while in the governor's office or the US House of Representatives, where he served from 1846 to 1851. McDowell passed away in 1851. McDowell County West Virginia is named in his honor, a reflection of his support of river and road projects that connected western Virginia with the rest of the state.


Sources
National Register of Historic Places nomination form for Col Alto, http://www.dhr.Virginia.gov/registers/Cities/Lexington/117-0003_Col_Alto_1990_Final_Nomination.pdf
Additional Information