Philosophers' Rock at Barton Springs
Introduction
Barton Springs has long been an iconic landmark of Austin where residents can go in the summer time. The area was originally owned by A.J. Zilker, who donated the area to the Austin school district, which in turn sold the land to the City of Austin in exchange for public park land in 1917. Since then, Barton Springs has served as a place where families, students and others go during hot summers to cool off and enjoy Austin. With a historical average flow of 370 gallons per second, many consider Barton Springs the heart of Austin and a symbol of the city's natural beauty, a quality that some argue has been diminished as a result of rapid development. Nonetheless, the area has a rich history, most notably as a meeting area for the robust intellectual subculture of Austin represented in the famed Philosopher's Rock.
Images
Photo courtesy of Chia-Wei Wang, August 2006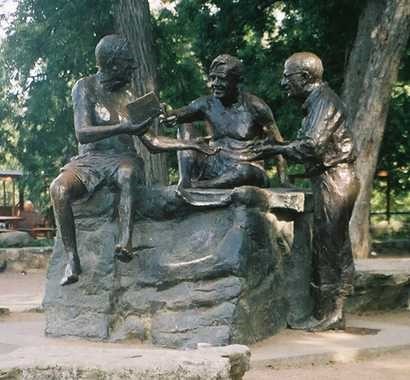 Backstory and Context
Philosophers' Rock, a statue on the shore of Barton Springs, commemorates three influential, intellectually diverse men who were a microcosm of the social transformation that the United States endured throughout the mid-twentieth century. In 1995, a statue of Roy Bedicheck, Walter Prescott Webb and J. Frank Dobie, which was created by prominent sculptor Glenna Goodacre, was officially dedicated to these iconic Texas figures.[1] All from small towns in Texas, the three men had an uncanny love for Texas's natural beauty, and this was manifested through their frequent visits to Barton Springs, where the intellectuals would often discuss their work that helped Austin transform into the "oasis of open-mindedness" that it was characterized as throughout the 1950s and 1960s.[2] Roy Bedicheck was a prominent naturalist whose most famous work was Adventures of a Texas Naturalist, a dedication to the natural world that even drew comparison to Thoreau's Walden. Also director of the University Interscholastic League, Bedicheck helped lay the foundation for the naturalist and environmentalist rhetoric that would gain traction in the 1960s. Dobie, a famed folklorist, was a University of Texas English professor who wrote in defense of liberal causes such as the rights of sit-down strikers of Detroit and Mexican pecan shellers in San Antonio. He also advocated the admission of Negro students to the University of Texas years before it actually happened. Walter Prescott Webb, on the other hand, was an eminent historian who wrote and edited over 20 books and served as an adviser to Lyndon B. Johnson when he was a senator.[3]
Thanks to intellectuals like Bedicheck, Dobie and Webb, Austin served as a political hotbed for the New Left movement, which in many ways shaped modern American society. Before the prominence of these men and others like them who challenged traditional ideas, Austin was ideologically similar to other cities in Texas, but Bedicheck, Dobie and Webb helped set the stage for Austin to transform into a city that was characterized by open-mindedness and progressivism instead of being a city anchored down by traditional ideas about everything from civil rights to labor unions. This ideological transformation is symbolized by Philosophers' Rock and Barton Springs, where friends like these men could discuss and challenge the traditional social norms that disillusioned many Americans throughout the 1950s and 1960s.
Sources
Introduction Citation: "History of Barton Springs?" City of Austin - Austin History Center. Accessed April 18, 2016. http://www.austinlibrary.com/ahc/faq10.htm. [1] Weinstein, Joel. "Dedication to honor monumental donors." Austin American-Statesman. September 25, 1995. [2] Moore, Steve. "Salon of the West: Dobie, Bedichek, and Webb: A Friendship to Stand the Test of Time." The Austin Chronicle. July 4, 2003. [3] Dugger, Ronnie. Three Men in Texas: Bedichek, Webb, and Dobie: Essays by Their Friends in the 'Texas Observer' Austin: University of Texas Press, 1975.