Augustana Lutheran Church
Introduction
Omaha's Augustana Lutheran Church dates back to 1868, when a group of twenty recent immigrants from Sweden began an informal congregation in a rented hall downtown. The congregation acquired its own church in 1882 at the corner of 19th and Cass. The congregation grew owing to a merger in 1936 that saw members of the former Zion Lutheran Church to join Augustana. In 1951, the congregation built this church and sanctuary.
Images
Augustana Lutheran Church located in Omaha, Nebraska. On Lafayette Ave since 1951 Photo found here: http://www.augustanalutheran.com/story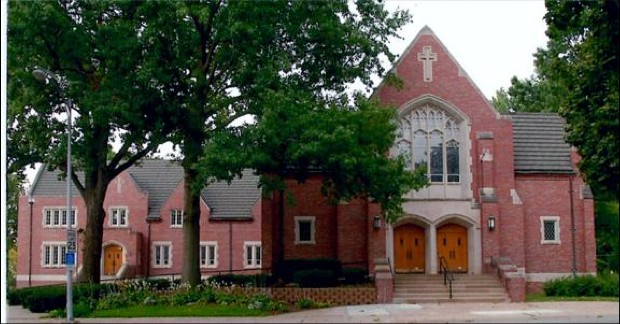 Ernie Chambers and Reverend Youngdahl in Omaha barbershop. Photo found here: http://www.northjersey.com/arts-and-entertainment/movies/amid-turmoil-camera-caught-a-strange-feeling-of-peace-1.1008395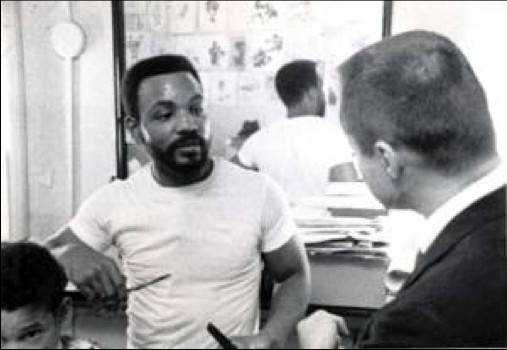 "A Time for Burning" film Photo found here: https://en.wikipedia.org/wiki/A_Time_for_Burning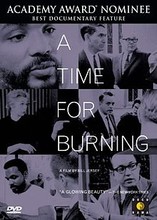 Backstory and Context
In 1965, the all-white Augustana Lutheran Church in Omaha, Nebraska welcomed Reverend William Youngdahl. Youngdahl, previously coming from an integrated church, came with the idea of Black and white integration starting with the church. In the reverend's eyes, the acknowledgment and the desire to put an end to racism and racial issues in society, starts with religion and the people of the church who believe in it. In the Academy Award nominated documentary,
A Time for Burning
, created in 1966, documentarians captured the agonies Reverend Youngahl experienced in Omaha, Nebraska. He faced challenges as he came in close contact with African-American activist, and later Nebraska's longest running state senator, Ernie Chambers, Augustana's Elder Ray Christiansen, the Black and white communities and the parishioners of Omaha, Nebraska.
In the mid 1960's, America was struggling with the causes and effects of its racial prejudices that its past with which the world had become accustom. The all-white segregated Augustana Lutheran church was doing the same. While William Youngdahl was making an attempt to integrate his church, the members were against this new concept. These white men, women and youth were extremely adamant about their church staying all white, but were very passive in explaining their reasoning; let alone acknowledging that their reasons were about race. The reverend came with a new approach to get Blacks and whites to build positive relationships within Augustana Lutheran, as well as in different settings. In order to do this, Youngdahl explains to his church members that he wanted ten pairs of his white church members to build integrated social relationships with church members of a neighboring Black church, Hope Lutheran.
In the first step in reaching this goal, he invited African-American high school students of Calvin Memorial to attend a Sunday service, which was a risk in losing his congregation. As a result of this, Youngdahl was confronted by parishioners about how they did not feel comfortable and were opposed to this form of integration. The members claimed that the timing was not right and this idea of integration should be dealt with in a more subtle manner. As seen in A Time for Burning, looking for influence and other opinions, Youngdahl goes to a local African-American barbershop where he speaks with Ernie Chambers. Chambers, being extremely vocal and educated on the subject of race and the oppression of African-Americans in America, explains to the reverend his views of the people of Augustana Lutheran. They have conversations about Christianity as a religion and how the beliefs and values of the white members in his church are not of Christ and do not portray equality. A Time for Burning catches Chambers and members of Hope Lutheran discussing what being a Christian entails; as they do not see being passive about and accepting institutionalized racism in the church, as the true meaning of Christianity.
Concluding this critically acclaimed documentary, the Augustana Lutheran church was uncooperative with Reverend William Youngdahl's attempts to create an integrated environment within the church. The congregation saw this as being a forced integration and felt as if the word of God was no longer the focus, but the issues and injustices of race was. Because of this, he resigned from his position as reverend, leaving the problems of Black and white race relations within the church unsolved. During Youngdahl's efforts, he reiterates that the church should be a place that portrays equality in all aspects. In the 1960's, America became a place of ongoing prejudices and racial inequalities. Although A Time for Burning captures Omaha, Nebraska's Augustana Lutheran reverend making an attempt at equality, there was much more to come concerning the need of positive race relations and the desire for equality.
Sources
Nelson, Harland. "A Time For Burning." JSTOR. Unviversity of California Press, 2016. Web. 20 Apr. 2016. Strub, Whitney. "A Time for Burning (1996)- Pop Matters Film Review." Pop Matters. N.p., 8 Feb. 2006. Web. 30 Apr. 2016.
Additional Information