Arion Press
Introduction
Arion Press, founded in 1974 by Andrew Hoyem, is one of the only printers of handmade books created with traditional letterpress equipment in the United States. A former laundry facility in the Presidio houses the non-profit Grabhorn Institute and its two companies, M&H Type foundry and Arion Press. Artists are hired to illustrate the literary texts chosen for publication, and M&H Type casts the type from molten lead blocks. The text is handset and hand printed on antique letterpress machines, proofread, and hand-bound. The free-admission Arion Press Gallery is open to the public, with $10 90-minute tours available for those who wish to see the printmaking process, facilities, and equipment.
Images
Arion Press (image from Arion Press)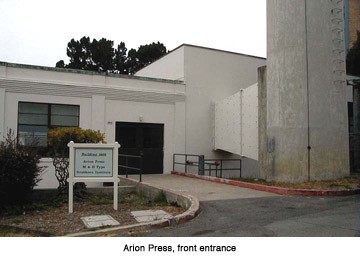 Arion Press gallery (image from Arion Press)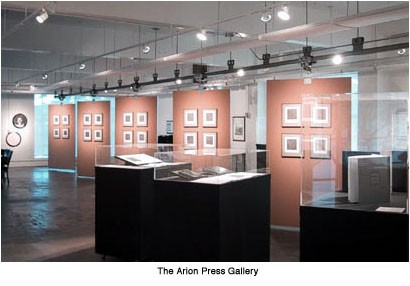 Some of the presses (image from the National Park Service, Presidio)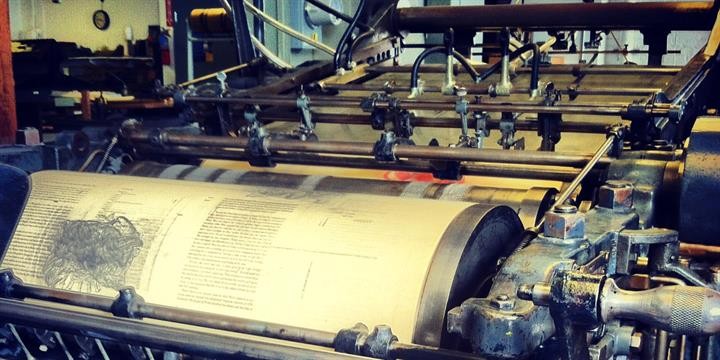 In the printing area (image from Tofufu Studios blog)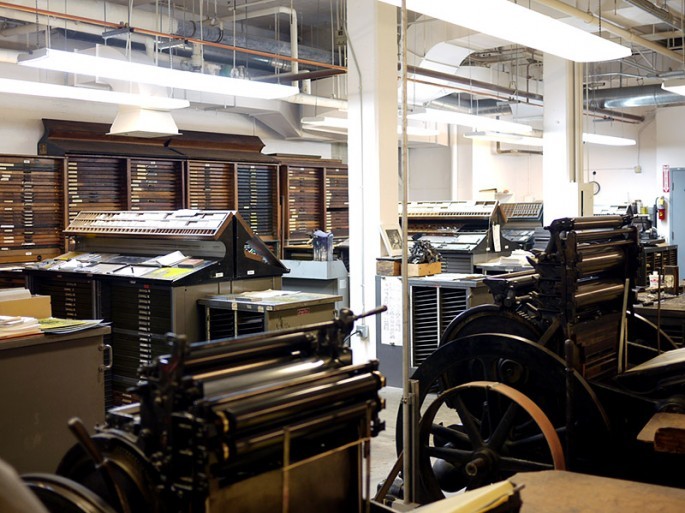 Book plates (image from Tofufu Studios blog)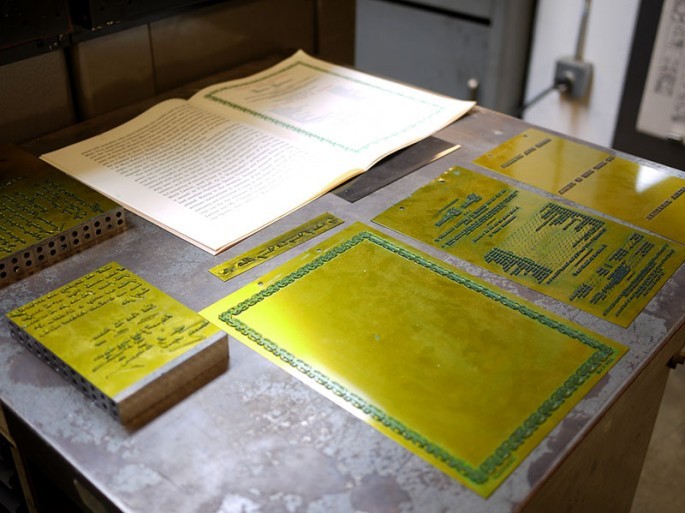 A sample of completed Arion Press books (image from Tofufu Studios blog)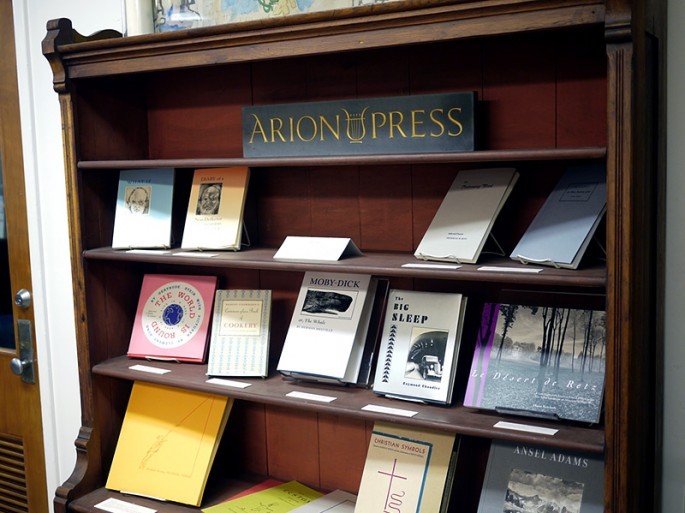 Backstory and Context
Considered the hub of American fine printing and bookmaking, San Francisco has over 125 years of printing history. As the Gold Rush drew more and more people to the area, San Francisco's population boomed and businesses grew. Poems, lithographs, and books were produced beginning in the 1860s by San Francisco printers such as Edward Bosqui and Charles A. Murdock. In 1895, 24-year-old John Henry Nash moved to San Francisco and established a name for himself as a grandiose typographer. Briefly, he partnered with the Taylor Brothers (DeWitt and Henry) as Taylor, Nash & Taylor from 1911-1916, then set up his own business.
Taylor & Taylor maintained steady success until the 1960s, while Nash peaked in popularity in the 1920s, hired by large companies and wealthy patrons until the Great Depression when he retired to Oregon. Meanwhile, the Grabhorn Brothers (Edwin and Robert), who had trained with prominent book designer Bruce Rogers, moved from Indianapolis to San Francisco in 1919. Best known for their 1930 Random House edition of Walt Whitman's Leaves of Grass, the Grabhorn Press was the most celebrated California press for over forty years.

Artist and poet Andrew Hoyem was born to second-generation Norwegian parents in Sioux Falls, South Dakota, in 1935. He served in the U. S. Navy after graduating from college, moving to San Francisco in 1961 to work for both the Auerhahn and Grabhorn Presses. Dave Haselwood's Auerhahn Press focused on avante-garde literature, especially Beat Generation poetry until it closed in the mid-'60s. After Edwin and Robert Grabhorn closed their press in 1965, Robert partnered with and mentored Hoyem, who had no formal training. Specializing in fine printing and limited edition books, Grabhorn-Hoyem is probably best known for its 1971 edition of Allen Ginsberg's Howl. With Robert came the Grabhorn Press printing equipment and historic type collection, some of which had been acquired from John Henry Nash.
In 1973, Robert Grabhorn died, and Hoyem renamed the company Arion Press, after a legendary Greek poet. Arion expanded from literary publication to art books in the 1980s and bought the oldest, largest surviving American type foundry, Mackenzie & Harris, in 1989. Museums, libraries, and individuals collect Arion editions, which are featured in the libraries of Britain, Brown and Stanford Universities, New York City, among others, as well as exhibitions including a 1995 Museum of Modern Art exhibit. In 2001, Arion Press moved to the Presidio of San Francisco.

Sources
Arion Press. Artsy. Accessed April 09, 2017. https://www.artsy.net/arion-press.

About Arion Press. Arion Press. Accessed April 09, 2017. http://www.arionpress.com/intro.htm.

Arion Press. Presidio. Accessed April 09, 2017. http://www.presidio.gov/places/arion-press.


Additional Information