Vincennes University
Introduction
Vincennes University is the oldest college in Indiana. It was established in 1801 by William Henry Harrison, the 9th President of the United States, and incorporated as Vincennes University November 29, 1806. Vincennes is one of only two colleges founded by an American President. The University allows students to explore a future in multiple areas of expertise.
Images
Vincennes University's Student Union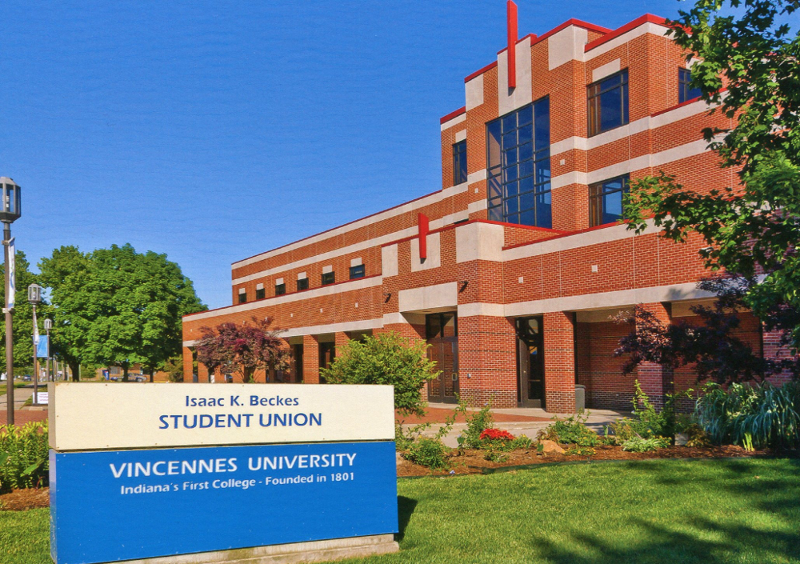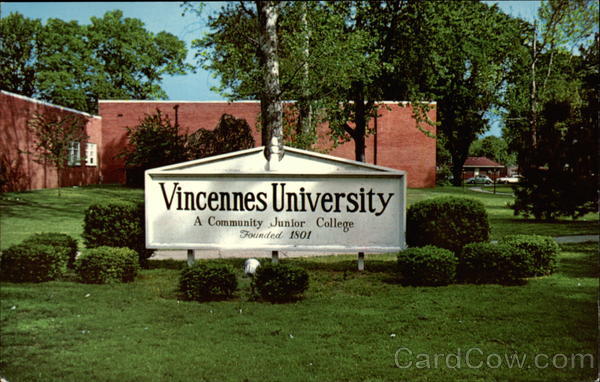 Backstory and Context
The focus of Vincennes University is to ensure a great education is received at a school that's perfect for you. Through cultural opportunities and community services in diverse, student-centered, collegiate environment, you'll learn more than job skills. VU has locations in Vincennes, Jasper, Indianapolis, and Gibson Indiana. Indiana Governor Frank O'Bannon and Stan Jones, commissioner for higher education, persuaded the Indiana state legislature to mandate a "coordinated partnership" between VU and what was then called Ivy Tech State College in 1999.
Vincennes University is approaching its third century of providing top quality education to undergraduates pursuing 2-year and 4-year academic programs of study in Indiana. VU students have the opportunity to pursue or advance careers in a number of industry-specific areas of expertise such as: teaching, educational administration, healthcare, physical education and wellness, graphic design, journalism, nursing, sport management, aviation, manufacturing and interior design.
A diverse set of majors that focus on careers in teaching and industry are offered at Vincennes University. With a graduation rate of 24%, students should apply themselves in one of the six colleges: business and public service (includes Homeland Security and Law Enforcement), health sciences and human performance, humanities, science, engineering, and mathematics, social science, performing arts, and communications, and technology. The financial aid that is offered at VU includes the common federal aids, Robert C. Byrd Scholarship Hendricks County College Network, Hispanic Scholarship Fund, USA Funds Access to Education Scholarships, Working Woman Scholarship, and more.
A small literary society called Tae Phi Delta (ΤΦΔ) was started in 1897 at VU. Soon after, it became the founding ("Alpha") chapter of Sigma Pi (ΣΠ) Fraternity, which made the organization the first of its kind to be founded west of the Ohio Valley. On VU's campus, there is a clock tower that commemorates that event. It's one of the largest collegiate fraternities, and despite its relocations, VU is its birthplace. The VU chapter is still active today, with successful alumni including three VU Presidents. By special exception granted by the National Interfraternity Council, VU is the only 2-year school with a national fraternity chapter. As far as athletics are concerned, VU is a member of the NJCAA. The team's moniker is the Trailblazers. This can be depicted as a minute man or woodsman-type frontier setter, inspired by George Rogers Clark, who resided in Indiana after his military career. The Trailblazers compete in baseball, bowling, and golf, basketball, cross country, volleyball, swimming, diving, and track and field.
The university is located on the banks of the Wabash River, with 160 acres. The campus includes more than 30 modern buildings with red-brick construction. It also features red-brick walkways, abundant landscaping, and easy access to the legendary Wabash River and the George Rogers Clark National Historical Park. Vincennes is approximately 120 miles southwest of Indianapolis at the junction of U.S. highways 41 and 50. It's midway between the cities of Evansville and Terre Haute. Vincennes was chosen as the location of both the capital of the Indiana Territory and of VU because Vincennes was centrally located at the approximate population-density center of the Indiana Territory.
Sources
http://bak16.vinu.edu/about-us https://www.vinu.edu/web/guest/home
Additional Information