Providence City Hall
Introduction
Constructed between 1875 and 1878, this Second Empire Baroque structure has been the only building dedicated entirely to holding the offices of Providence's municipal government, despite many other buildings and meetinghouses serving in this capacity from the colonial period to the late 19th century. For example, the mayor and Board of Alderman had offices above the spaces reserved for vendors in the old Market Square building from the 1830s until the completion of this building.
Images
Similar to other cities, Providence nearly approved a measure to demolish this building in favor of a modern structure that might be less expensive to maintain.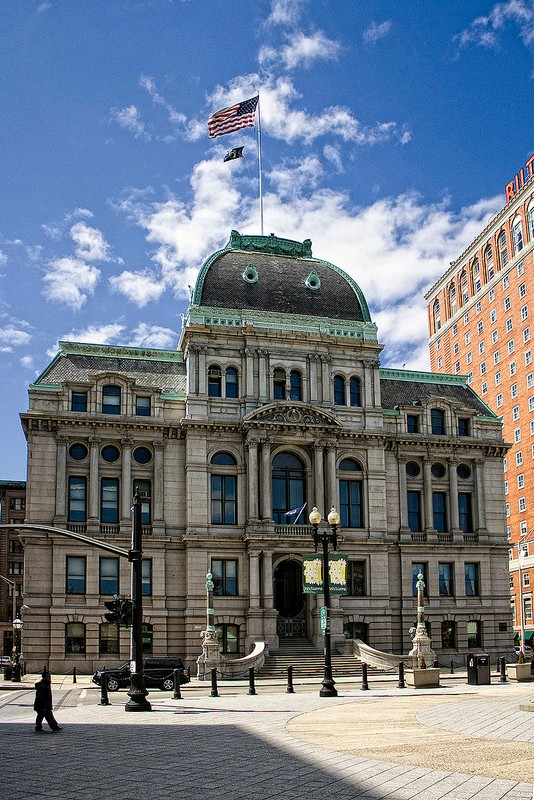 This photo of Providence's City Hall was taken in the late 19th century.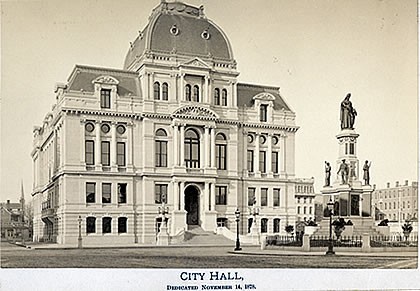 Providence suffered a major hurricane in 1938 that resulted in the flooding of the downtown area. The waterline is appears halfway up the first story in this old photo.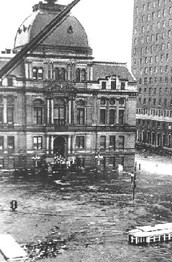 President Woodrow Wilson delivers a speech on June 3, 1916. America was officially neutral in World War I, but the President's speech called for preparedness.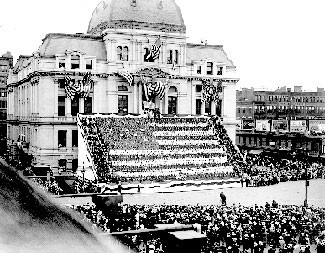 Backstory and Context
Providence was founded by Roger Williams and his small band of Puritan reformers in 1636. Civic affairs were handled informally, with meetings of community leaders usually happening at churches, in the community commons, or within private homes. In 1731, the first town meeting house was built. It was destroyed by fire, and another community building was not completed until 1773. This building served mostly as a public market, as did another facility built in the 1800s that also held city offices. The completion of this building was delayed for many decades owing to conflicts regarding its design and location.

In the late 19th century, before the building was powered by electricity, residents came to tour the building largely to catch a glimpse-and a ride-one an elevator that was powered by water boilers and could carry as many as fifty passengers in a single trip. Others were amazed by the wide stairways made entirely from marble and the ornate cast-iron railings. The front of the building included a grand lobby, and the city's nearly three-story tall monument in honor of Civil War veterans from the state of Rhode Island. The building's enormous weight required the construction of a manufactured foundation supported by over three thousand pilings.

City Hall was also the center of many state and national political rallies throughout the 20th century. For example, Presidents Theodore Roosevelt, Woodrow Wilson, and John F. Kennedy have all given speeches from the steps of Providence's City Hall.

Sources
Paul Campbell, A Brief History of Providence City Hall, Providence City Archives, https://www.providenceri.com/archives/history accessed 3/27/16 Preservation efforts save City Hall, City of Providence website, http://www.providenceri.com/CityHall/history6.html accessed 3/27/16
Additional Information