Dime Savings Bank of New York
Introduction
The Dime Savings Bank of New York was a state-chartered savings bank dating back to 1859, which became New York's second largest bank during the 1980s and one of the country's largest bank buildings. The Beaux Arts building that served as its headquarters, based loosely on the Parthenon in Rime, was built in 1906 by architects Mowbray & Uffinger. The misshapen, triangular building was given a rectangular extension on the back in 1918. In 1931, the bank was enlarged by architects Halsey, McCormack & Helmer, who were well-known at the time for designing bank buildings. The classical elements of the building's pentelic marble architecture were emphasized, with stately Ionic colonnades and a domed roof. The entrance through a chamfered corner crowned with a bracketed cornice and clock led to a large rotunda ringed with red marble columnns. A circular, forty-foot diameter round skylight, made of copper and stained glass, adorned the ceiling. The basement still contains many of these original features, in addition to basement bank vaults and a firing range used by the bank's past guards.
Images
Dime Savings Bank exterior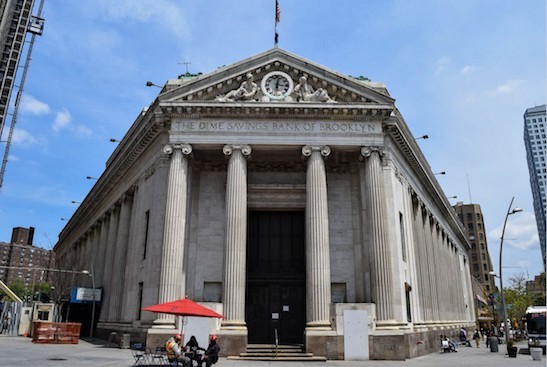 Dime Savings Bank interior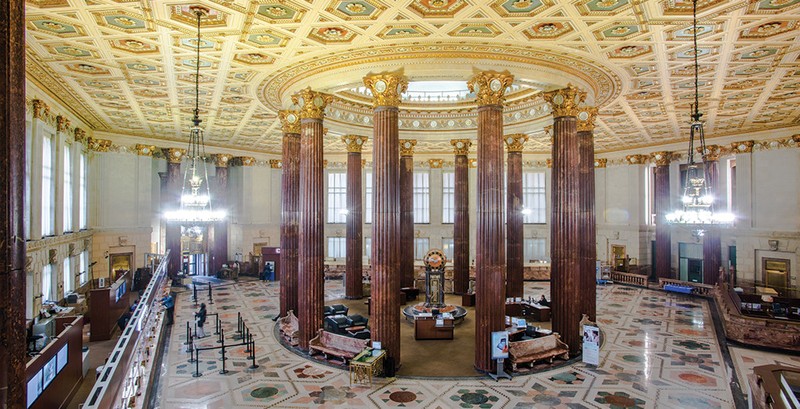 Backstory and Context
Between the 1830s and 1860s, Brooklyn became not only the largest settlement of Kings County but the third largest city in the country. By 1860, more than ninety-five percent of the County's population lived in Brooklyn, after it merged with Williamsburg and Bushwick. New York, on the opposite side of the river, was a bustling trading port, and both cities were home to a steadily more affluent population. Where these two cities met, the demand for banks rose because of this increased population.
It was here that the Dime Savings Bank built their home office in 1906, on a plot of land which was previously occupied by the Fleet Street Methodist church and school, an oil cloth factory, and the Our Lady of Mercy Catholic Church. Established in 1859, the premise of the Dime Savings Bank was that customers could open up a savings account with only a dime. Before the building was built, they based their operations in the Post Office Building at 211 Montague Street, but as the business grew, they relocated to a number of locations before settling on the corner of Albee Square. Between 1910 and the 1930s, the bank grew rapidly, and by 1932, the deposits they held had almost tripled to $170 million dollars. At this point, they began opening further branches around the city, and the extension to the headquarters was made.
After the First World War, New York became the world's foremost financial center. Banking in New York during the early and mid-twentieth century was no easy matter. However, in the 1970s, higher interest rates and growing restrictions placed on loans offered by mutual savings banks meant that many banks and customers were very limited in what they could do. By 1978, the Dime Savings Bank had eleven branches around the city, some of which were forced to merge due to the stagnant financial climate. In response to the heavy regulation in 1983, the Dime Savings Bank came under a federal charter, and three years later, it became a publically owned stock savings bank.
By 2002, the bank closed, and in 2015, two developers, Michael Stern and Joe Chetrit, purchased the old Dime Savings Bank building for $90 million. They have plans to build a one thousand foot high residential tower at their adjacent property on 340 Flatbush Avenue. The bank itself will be refurbished and incorporated into the tower but will likely keep many of its historic features due to its landmark status.
Sources
"Dime Savings Bank." Neighborhood Preservation Center. Accessed Web, 6/14/17. http://www.neighborhoodpreservationcenter.org/db/bb_files/Dime-Savings-Bank.pdf.

"Dime Savings Bank of New York, F.S.B. History." Funding Universe. Accessed Web, 6/14/17. http://www.fundinguniverse.com/company-histories/dime-savings-bank-of-new-york-f-s-b-history/.

Geiger, Daniel. "Brooklyn Landmark Could Become $100M-Plus Buy." Crain's New York Business. 12/18/14. Accessed Web, 6/14/17. http://www.crainsnewyork.com/article/20141218/REAL_ESTATE/141219834/brooklyn-landmark-could-become-1....

Geiger, Daniel. "Developers Close Deal That Allows Brooklyn's Tallest Tower." Crain's New York Business. 12/23/15. Accessed Web, 6/14/17. http://www.crainsnewyork.com/article/20151223/REAL_ESTATE/151229972/developers-close-deal-that-allow....


Additional Information