Baltimore Riots of 1968
Introduction
The Baltimore Riots of 1968 marked a violent climax of Baltimore's racial and economic tensions, and it was the result of numerous social factors of the time. These social factors included declining manufacturing and industry sectors, increasing economic distress and poverty among the city's growing African American community, and, perhaps most infamously, the assassination of Martin Luther King, Jr. Like in nearly every major city in the U.S., King's assassination was the spark that ignited this riot, which between April 6th and April 14th, resulted in six deaths, 700 injuries, and $8-10 million in property damage around the city.
Images
One of the most iconic images of the '68 Baltimore riots.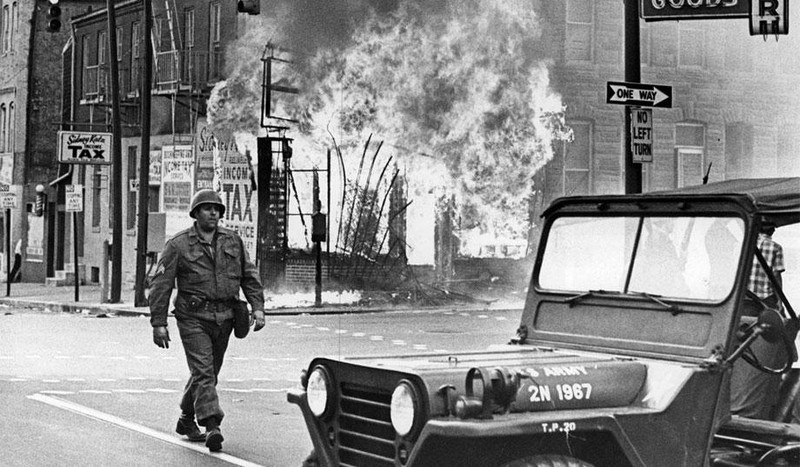 A fire engulfs a store in Baltimore on April 7, 1968. Photo by Bettmann/Corbis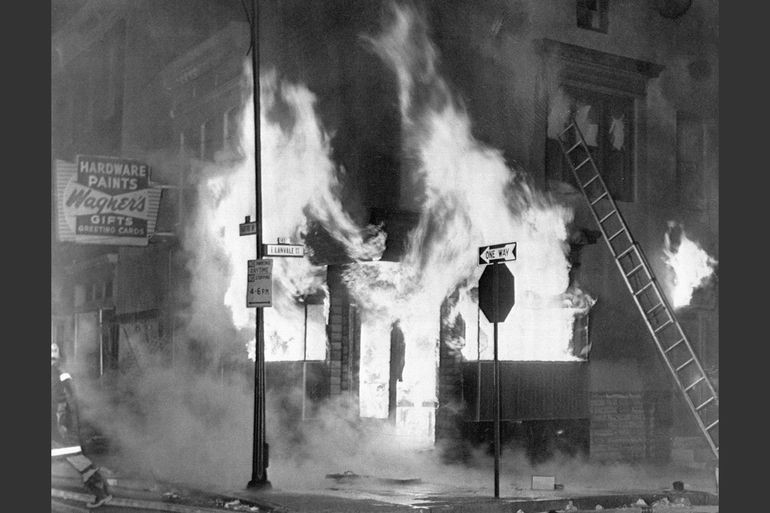 Gay Street on April 6th, 1968. Photo by AP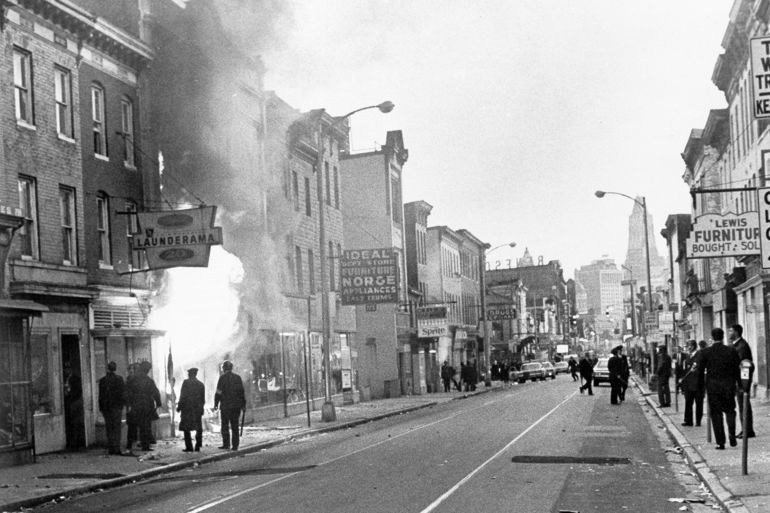 The body of James Harrison lies in an alleyway where a policeman shot him on April 8, 1968. Photo by Baltimore News-American/AP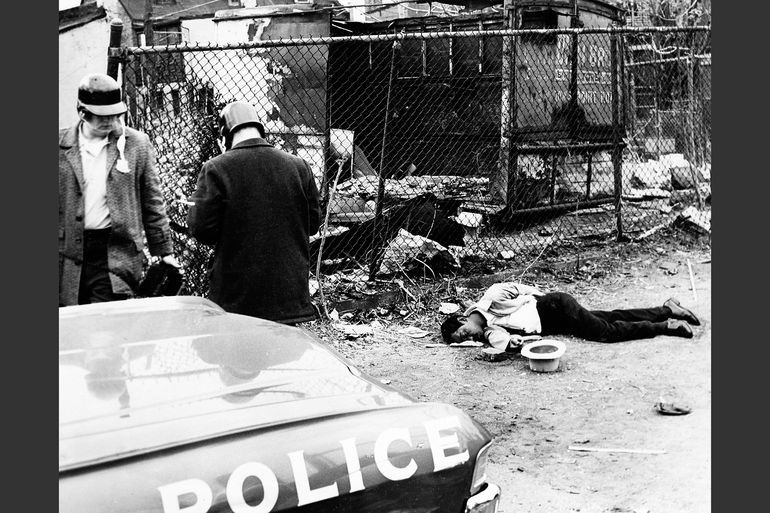 Baltimore '68: Riots and Rebirth in an American City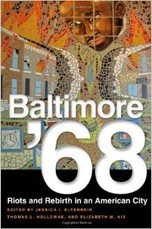 Backstory and Context
Brief Overview of the 1968 Riots in Baltimore
For those two weeks in April, beginning within hours of the tragic assassination of Martin Luther King, Jr., the entire city of Baltimore was devastated by a series of civil uprisings and riots, culminating in the deployment of over 10,000 armed National Guard troops as well as Federal troops under orders from President Lyndon B. Johnson.
It is important to note that the 1968 riots were not solely caused by King's assassination, but instead by decades of growing tension that culminated in the riot. Martin Luther King Jr. had been coming to Baltimore for speaking events and civil rights activism since 1953; at the same time, downtown Baltimore had seen a surge in African American population growth, and the city had sub-par housing, high infant mortality, and crime, complicated further by an unemployment rate among the African American population that was double the national rate.
Martin Luther King was assassinated on April 4th, 1968, and across the nation, unrest was building in major cities. The Maryland National Guard was called up in anticipation of unrest in Baltimore. The evening of the 4th and April 5th, however, were quiet and calm in Baltimore. Around noon on April 6th, a peaceful gathering formed for a memorial service to King. Around 5 pm of that day, violence started breaking out on the 400 block of Gay Street, where shop windows were being smashed.
The riot started gaining force with looting, fires, and property damage that evening at Gay and Monument streets; a curfew was set, all off-duty police officers were called to duty, and Maryland Gov. Spiro Agnew declared a state of emergency in Baltimore. Nearly the entire Maryland National Guard, both Army and Air, were called up as well, and by April 7th, with the National Guard unable to deal with the unrest, Federal troops were then called in to help. "Task Force Baltimore" peaked with 11,570 Army and National Guard troops by April 9th. The riots continued and on April 12th, some federal troops began moving out of Baltimore following General Robert H. York's declaration that order had been restored to the city.
Insurers estimated that Baltimore suffered losses at $8-10 million. Around 288 liquor-related establishments were burned or looted; 190 food stores were vandalized; 1,200 fires were lit; 5,700 people were arrested, and six individuals died in the riots (three to fire, one in an auto accident, and two of gunshot wounds).1
Sources
Information taken from the University of Baltimore's website containing work on "Baltimore '68." Website: http://archives.ubalt.edu/bsr/index.html
Additional Information