Daley Civic Center
Introduction
Located in the historic Loop of Downtown Chicago, the Daley Civic Center opened in 1966 and hosts various family friendly events. During the summer, the building's plaza regularly hosts various farmer's markets and ethnic festivals. It also hosts the city's famous Christmas tree every year.
Images
View of the statue by Pablo Picasso outside the center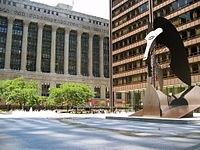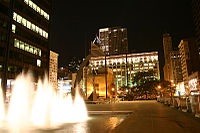 Day time view of the center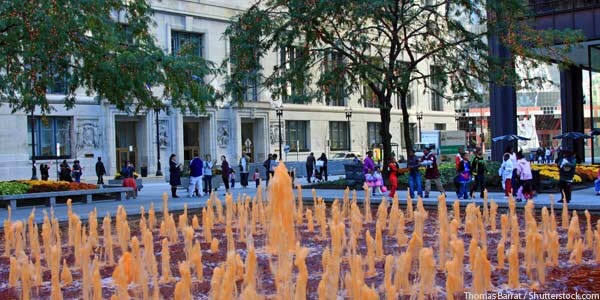 Chicago Architecture, book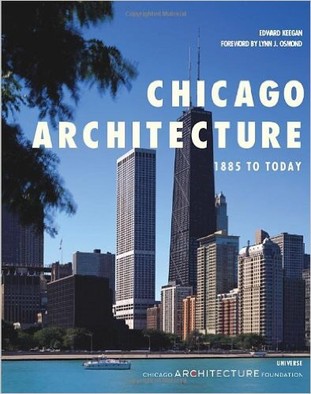 Backstory and Context
The Daley Center an Plaza is named after longtime Chicago Mayor Richard J. Daley. The main building of the Daley Center was designed by Jacques Brownson of CF Murphy Associates. It was completed in 1965 and is an example of the international architectural style. The International Style began in the 1920s and 1930s. Characteristics of the style include the use of steel and glass in construction, large open interior spaces, and the use of cantilever construction. The Daley Center is home to over 120 court and hearing rooms, the Cook County Law Library, the Clerk of the Circuit Court offices, and certain divisions of the Sheriff's Department.

Adjacent to the center, Daley Plaza, is home to an untitled statue by Pablo Picasso measuring 50 feet in height. Other features of the plaza include a fountain, memorials for the First and Second World Wars, the Korean War, and the Vietnam War. Interestingly, a public protester, named Farhad Khoiee-Abbasi, frequents the northwest corner of the plaza and has become a minor celebrity in the area. Little is known about him beyond his appearance and the cryptic signs he holds. He was first seen in 2006 holding a sign that read, "FBI Agent Chris Saviano, stop raping my wife!" He has also held signs speaking against former Chicago Mayor Richard M. Daley (son of Richard J. Daley), former US Attorney General Alberto Gonzales, and former President George W. Bush. It is also known that he was involved in an extensive and tense divorce. He has also been seen protesting in Washington DC and in New York City's Times Square.


Sources
http://www.chicagotraveler.com/attractions/daley-civic-center.html https://en.m.wikipedia.org/wiki/Richard_J._Daley_Center https://en.m.wikipedia.org/wiki/International_Style_(architecture) https://en.m.wikipedia.org/wiki/Farhad_Khoiee-Abbasi https://en.m.wikipedia.org/wiki/Richard_M._Daley
Additional Information