Faulkner House- Historical Marker
Introduction
This building was completed in 1840 and is best known for the 1920s, when it was the home of William Faulkner. It was here where Faulkner wrote his first novel in 1925, Soldiers' Pay. Faulkner's novel tells the story of an aviator returning home to Georgia after World War I. The original home was built for another famous person, the widow of Jean Baptiste LaBranche. Her home was built upon the ground where the French Colonial prison once stood.
Images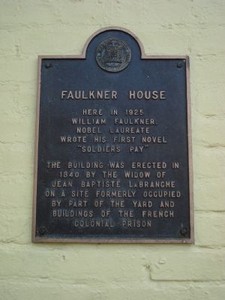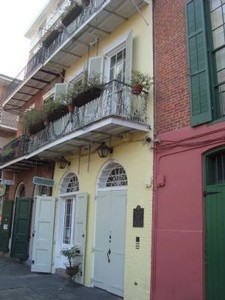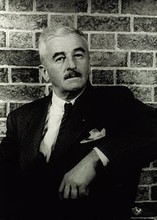 Faulkner Selected Short Stories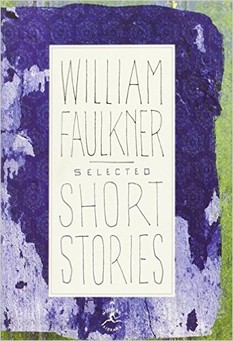 Backstory and Context
William Cuthbert Faulkner (September 25, 1897-July 6,1962) was a Nobel prize-winning writer from Oxford, Mississippi. He is best known for his books set in the fictional Mississippi Yoknapatawpha County. Novels set in this county include As I Lay Dying and The Sound and the Fury. Faulkner created the word Yoknapatawpha by combining two Chickasaw words, yocona and petopha, meaning, "split land." This fictional county is based on Lafayette County, the area in Mississippi where Faulkner spent most of his life.
Although Faulkner is heavily identified with Mississippi, he was residing in New Orleans, Louisiana, in 1925 when he wrote his first novel, Soldiers' Pay, after being directly influenced by Sherwood Anderson to attempt fiction writing. Anderson also assisted in the publication of Soldier's Pay and of Mosquitoes, Faulkner's second novel, by recommending them both to his own publisher. The miniature house at 624 Pirate's Alley, just around the corner from St. Louis Cathedral in New Orleans, is now the premises of Faulkner House Books, where it also serves as the headquarters of the Pirate's Alley Faulkner Society.
In 1949, Faulkner became the only Mississippi-born Nobel laureate after accepting the Nobel Prize for literature. The award was given to Faulkner for "his powerful and artistically unique contribution to the modern American novel." 
Faulkner used part of his Nobel Prize money to establish a fund to support up and coming fiction writers. This later became the PEN/Faulkner Award for Fiction. He also used his prize money to create a scholarship fund for the education of African-American teachers at Rust College in Holly Springs, Mississippi. 
On August 3, 1987, the United States Postal Service (USPS) issued a stamp in his honor. Interestingly, Faulkner once worked as the University of Mississippi's Postmaster. In 1923, he wrote a resignation letter to USPS that read, "As long as I live under the capitalistic system, I expect to have my life influenced by the demands of moneyed people. But I will be damned if I propose to be at the beck and call of every itinerant scoundrel who has two cents to invest in a postage stamp. That, sir, is my resignation." 
Faulkner's House is now a bookstore, Faulkner House Books. It is dedicated to Faulkner with books by and on him, many rare and collectible. 
Sources
Hannon, Charles "Faulkner, William". The Oxford Encyclopedia of American Literature. Jay Parini. 2004 Oxford University Press, Inc. The Oxford Encyclopedia of American Literature: (e-reference edition). Oxford University Press.
Additional Information