"Iron Mike" Monument to U.S. Marines
Introduction
The "Monument to U.S. Marines," or commonly known as "Iron Mike," stands at 8 feet tall with a pistol pointed towards the sky and a machine gun over his shoulder. This bronze statue stands in front of H & S Battalion Headquarters at United States Marine Corps Recruit Depot at Parris Island. The iconic symbol was originally the icon of Parris Island and stood on Panama Street close to the old Taylor Shop. General John A. Lejeune, 13th Commandant of the Marine Corps, dedicated "Iron Mike" in 1924 and since has had three locations on the recruit depot.
Images
"Iron Mike" stands still as one of the symbols for United States Marine Corps Recruit Depot, where the journey from civilian to United States Marine is initiated.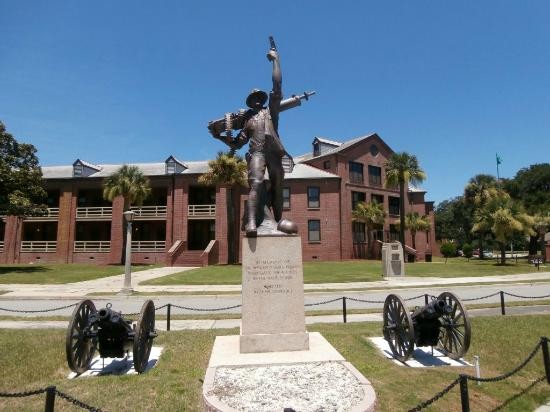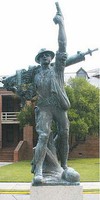 Dedication of the statue, 1924. The statue was moved from this former drill field and now stands in front of the headquarters building.

Backstory and Context
The monument honors Marines who served in World War I and was inspired by the actions of Marines who were among the first Americans to engage the enemy during the 1918 Battle of Belleau Wood. This campaign and the resilience of the Marines led to German soldiers giving the American Marines the nickname "Teufel Hunden," or devil dogs. The nickname became embraced by members of the Marine Corps and soon became a title of honor. For members of the Marines, this statue is an important piece of history. The iconic "Iron Mike" in this statue serves as an inspirational image and source of self-identity, while the title "Devil Dog" is used among fellow Marines as a term of endearment.
In 1941, this monument was moved to the corner of Blvd de France and Santo Domingo so that recruits and visitors could more easily visit the statue. The statue was re-bronzed in 2009.
Sources
http://www.parrisisland.com/659/pi010-will-the-real-iron-mike-please-stand-up/
Additional Information