Blue Mustang Statue
Introduction
Standing over 32-feet-high at the entrance of Denver International Airport, the Blue Mustang Statue has been the centerpiece of intrigue as well as controversy, conspiracy theories, and dislike by the Denver community since it was unveiled in 2008. Sculpted by the widely recognized artist, Luis Jiménez, the Blue Mustang is essentially a 32-foot tall blue colored Mustang standing on its hind legs. It was made from molded polychromed fiberglass and features red, glowing neon eyes, the latter of which gave the statue the nickname "Blucifer." Before the statue's unveiling, while Luis was still building it, a large section of the 9,000-pound structure fell on the artist, severing his leg and killing him. This story, along with the many other conspiracy theories surrounding the Denver International Airport, have made this statue a somewhat frightening, yet endearing monument.
Images
Blue Mustang Statue. Photo by Eric Golub.
Another view of the Blue Mustang Statue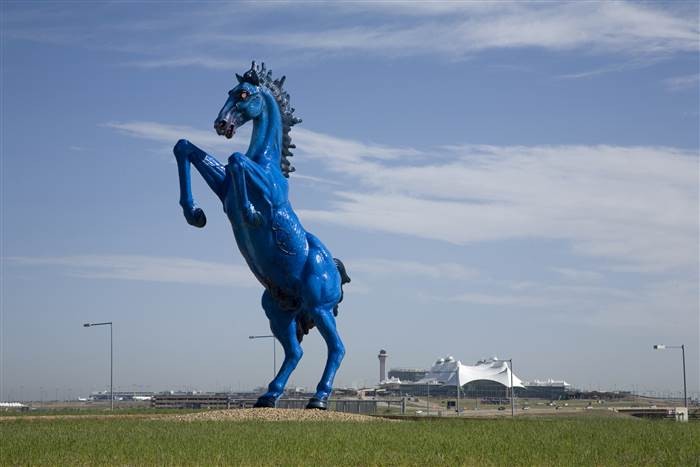 Installation of the statue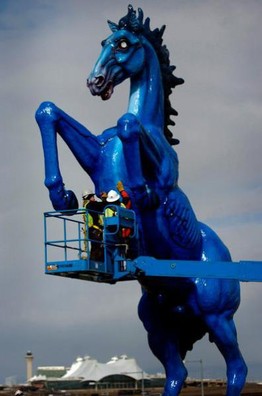 Creator of the Blue Mustang, Artist Luis Jiménez, posing with his work Vaquero.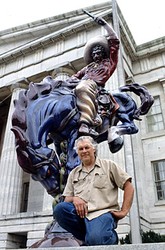 Backstory and Context
History and Controversy of the Blue Mustang Statue
The Blue Mustang statue was commissioned in 1993, two years prior to the opening of the Denver International Airport. When the airport opened in 1995, two years behind schedule and over budget, it attracted significant attention toward conspiracy theories. Some questions asked included, "Why was the airport so expensive?" "Why are there many unmarked buildings?" "Is the airport built above a top-secret bunker for the New World Order?"
Renowned sculptor and artist Luis Jiménez was chosen to build the statue, and he designed it after the eight-foot-high sculpture Mesteño, displayed at the University of Oklahoma. Tragedy surrounding the creation of this monument struck when, on June 13, 2006, a large section of it fell on Jiménez and severed an artery in his leg, killing him. His sons quickly went to work finishing the statue, and it was finally unveiled and installed in 2008. The entire premise of this statue is to represent the "wild" spirit of the Old American West.
From the statue's cobalt blue color and its glowing red neon eyes, the monument garnered immediate public ire. Other reasons for dislike included the suspicion of a curse. Years after its installation, public opinion has calmed, though many critics still state that, although it's an interesting work of art, it shouldn't stand at the entrance of the airport.
Sources
1.) Ella Morton, "Blucifer, the Murderous Mustang of Denver Airport." Slate.com, accessed March 6, 2016, http://www.slate.com/blogs/atlas_obscura/2014/03/17/the_blue_mustang_is_part_of_several_conspiracy_theories_centered_on_denver.html
Additional Information