Amherst Historical Society and Museum
Introduction
This local history museum has served the Amherst community since 1916. Visitors can tour exhibits that are arranged in chronologically to tell the story of this community from the colonial era to the present, with special emphasis on the town's transition from farming to industry throughout the 19th century. There are also special rotating exhibits related to a variety of topics, along with numerous antique furnishings, works of art, farm implements, and items related to military history. The museum is located in the historic Simeon Strong House which was built in the 1740s and predates nearly every building in the area.
Images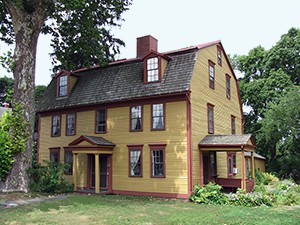 Want to learn more about the history of Amherst-click the link below for this book which includes photos of many of the artifacts on display at the museum.

Backstory and Context
Simeon Strong was a leading citizen of the colonial era, and like other prominent educated men, he occasionally represented other prominent citizens in the local courts. As slavery was practiced throughout Massachusetts during the colonial era, it is not uncommon that men like Strong occasionally represented slave owners in the local courts. This was the case in 1766, when Strong represented the owner of Amos Newport. A slave captured in Africa in 1715, Newport brought one of several "freedom suits" to the colony of Massachusetts Superior Court. Simeon Strong was able to show that Amos Newport had been sold as a slave in 1729 and without documents to show otherwise, the court declared that Newport was still a slave.

The museum offers books that tell the history of slavery in the colonial North, along with many other topics. They also offer assistance to genealogists and researchers interested in the Amherst Historical Society's records--in addition to providing references for local residents who can help, the local library offers a small collection library of materials related to the history of Amherst's people and places. The museum also offers group tours as well as special programs and evening lectures. They also sponsor the popular Lunchtime Lecture Series-see the museum website for a schedule of events.
Sources
Amherst Historical Society and Museum website, http://amhersthistory.org/ accessed 3/3/2016. Robert Romer, Slavery in the Connecticut Valley of Massachusetts. Leveller Press, 2009.
Additional Information