Battery Park, Burlington VT
Introduction
This historical park dates back all the way to the War of 1812. It was than deeded to the City of Burlington in the 1870s. There is now a monument memorializing the area as significant to Vermont's mililtary history. The park was then extended in 1972 to the south. It now hosts an amazing view of Lake Champlain and across the lake, New York State. It is an amazing place for anyone who likes to play frisbee in the park, have an afternoon picnic, take a bike ride by the lakeside, grab some ice cream and sit on the swings of the playground, or take some beautiful photographs of Lake Champlain.
Images
Outlook from Battery Park to Lake Champlain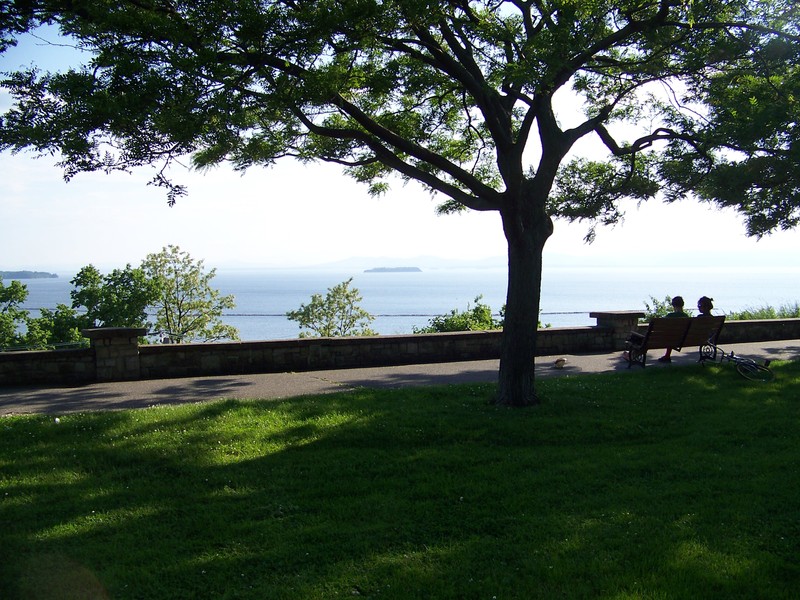 Bandshell at Battery Park

Backstory and Context
Battery Park has approximately a 14 acre area containing many monuments, a bandshell, playground and a outlook over Lake Champlain. The bandshell holds many concerts throughout the summer, which happen twice weekly. During the winter an outdoor skating rink become open to the public. Battery Park also provides a impressive view of the 4th of July fireworks normally held the day before (Get to the park early as the area will get busy quite quickly). Its a great place to go when visiting the Burlington area and is only a short walk from the Church Street Marketplace, a street that contains many local businesses and restaurants, which is popular among visitors and citizens of Burlington. There are also many restaurants and cafes in the surrounding area, of the park, to grab a meal or quick snack.
Sources
www.churchstmarketplace.com/go/battery-park enjoyburlington.com static.panoramio.com/photos/original/3888558.jpg enjoyburlington.com/wp-content/uploads/sites/10/2015/06/Bandshell-venuecrop.jpg
Additional Information