Jazz Tour- Former Home of Alonzo Crombie
Introduction
This house on Olivier Street, located in the Algiers neighborhood, was once the home of musician Alonzo Crombie. This home is included in the Algiers Historical Society's self-guided "Over da River" Jazz Tour. Crombie lived here from 1920-1923. For the majority of his career he played with the Norman Brownlee Orchestra and with Emmett Hardy.
Images

Former home of Crombie at 228 Olivier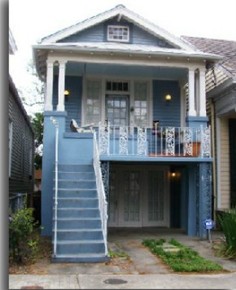 Norman Brownlee on piano, Emmett Hardy on cornet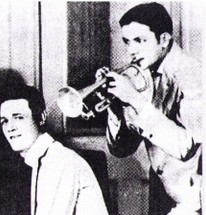 The History of Jazz, book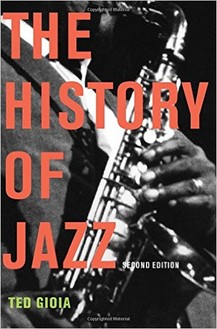 Backstory and Context
Norman Brownlee and his Orchestra were staples in the New Orleans jazz scene of the twenties. The band recorded on the record label Okeh in January of 1925. Brownlee (1896-1967) was an Algiers native known as a pianist and bass violinist. Brownlee's Orchestra is historically remembered largely for Emmett Hardy's cornet playing. Hardy is regarded as one of Leon "Bix" Beiderbecke's main influences. Bix Beiderbecke (1903-1931) is considered one of the greatest musicians of 1920s jazz. Like Hardy, Beiderbecke is known mostly for his cornet playing. Bix was an active figure in the Chicago jazz scene before tragically meeting an early death due to heavy drinking of illegal liquor during Prohibition.
Crombie was born in 1891 and became a Dixieland-style drummer after the First World War. Crombie also played the trombone. The term Dixieland refers to a musical style that began in New Orleans during the late nineteenth century. Its development evolved out of early blues and brass bands. The style partially relies on the strong improvisations that would later characterize jazz in general. The first group to make a commercial recording of this type of music was the Original Dixieland Jazz Band (ODJB). It is likely that the style of music gained the name "Dixieland" because of ODJB's popularity.
A two-beat, swing-like playing method and creating innovative ways of keeping time characterize the Dixieland drumming style. Drummers of this style often play in a march-like style on non-traditional instruments, including snare drums, woodblocks, cowbells, small splash cymbals, the rim of a drum, and washboards.
Sources
http://algierspoint.org/over-da-river-jazz-tour.html http://www.redhotjazz.com/brownlee.html http://archive.percussionsessions.com/feb07/Thomakos.pdf http://www.redhotjazz.com/bix.html
Additional Information