Jazz Tour of New Orleans-Former Home of Martin Behrman
Introduction
This house was built for former Mayor of New Orleans Martin Behrman shortly after the fire of 1895. He served longer than any other mayor of the city, serving from 1904-1920 and again from 1925-1926. Behrman was the only mayor from the west bank Algiers neighborhood. Although he was born in New York City, his family moved to New Orleans when he was still an infant. He was born on October 14, 1864 and died on January 12, 1926.
Images
Behrman at the Pelican Street house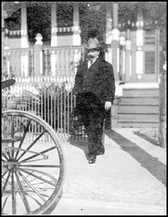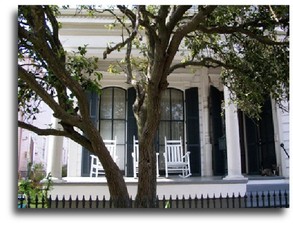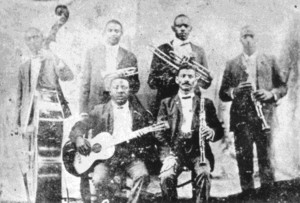 Backstory and Context
Behrman was a member of the Democratic Party. He was associated with the Regular Democratic Organization (RDO) as a young man. The RDO, also known as the Old Regulars or the New Orleans Ring, is a 130-year-old conservative political group that, as of 2016, is still active. The organization formed near the end of Reconstruction, when the Republican Party began to lose control of the city. The Democratic Party became dominant in the state legislature in 1876. This was in part due to the violent threats of the White League intended to keep Republicans from voting. RDO leadership was responsible for Jim Crow laws and enacting a poll tax. Jim Crow laws, which began enforcing segregation in 1890 in all public facilities continued throughout the South until 1965.
Berhman's house is included in the Algiers Historical Society's self-guided "Over da River" Jazz Tour because he was allegedly an avid fan of jazz. It is thought by some that Behrman used his influence to move jazz musician Buddy Bolden from a New Orleans jail to a mental hospital in Jackson, Louisiana by having him declared insane. Bolden was jailed after suffering a mental breakdown due to dementia praecox, now known as schizophrenia. Many credit Bolden and his band for creating the New Orleans style of rag-time music genre that later became jazz.
Sources
http://algierspoint.org/over-da-river-jazz-tour.html https://en.wikipedia.org/wiki/Martin_Behrman https://en.wikipedia.org/wiki/Buddy_Bolden https://en.wikipedia.org/wiki/Regular_Democratic_Organization http://rdonola.com/calendar/calendar.htm https://en.wikipedia.org/wiki/Jim_Crow_laws
Additional Information