Jazz Tour of New Orleans-Former Home of Emmett Hardy
Introduction
The former home of Emmett Hardy, a prominent jazz cornet player in the early days of New Orleans jazz, is part of the Algiers Historical Society's self-guided "Over da River" Jazz Tour. The historical society's website features other self-guided walking tours, including another music-focused tour called the "Brooklyn of the South" Jazz Tour. The "Over da River" tour includes other former homes of famous musicians, prominent historical jazz venues, and the Robert E. Nims Jazz Walk of Fame.
Images
Emmett Hardy playing with the Carlisle Evan's Band in 1921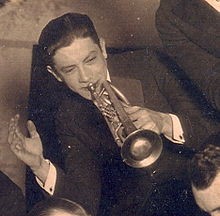 Former home of Hardy at 237 Morgan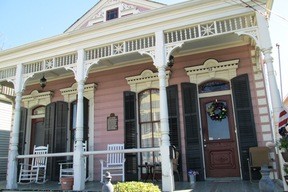 Backstory and Context
Emmett Louis Hardy (June 12, 1903-June 16, 1925) lived in this Morgan Street home from 1920-1923. Born in Gretna, Louisiana, Hardy lived for much of his life in the New Orleans west bank Algiers neighborhood. He had an illustrious career sadly cut short by his death at the age of twenty-two due to tuberculosis. Before his death, he toured with Tony Catalano's band, played with the New Orleans Rhythm Kings in Chicago, and with Carlisle Evan's band in Davenport, Iowa. The majority of his time in New Orleans was spent playing with the Norman Brownlee Orchestra. Impressively, Hardy also did metal work, making his own mouthpieces and adding an additional spit-valve to his cornet.
He was well respected in the jazz community. The great Louis Armstrong allegedly called him "The King" after losing to Hardy in a cutting contest. The term "cutting contest" was used in to an instrumental improvisation competition popular during the swing era, approximately 1935-1946. From the 1920s-1940s, the term was more commonly used to refer to a competition between piano players. However, during the swing era the term referred to contests conducted by a variety of musicians and instruments. The legendary contest between Hardy and Armstrong took place in 1919. Modern day forms of the "cutting contest" include "trading" in jazz improvisation. In trading, two jazz musicians take turns playing parts of solo choruses.
Sources
http://algierspoint.org/over-da-river-jazz-tour.html https://en.wikipedia.org/wiki/Emmett_Hardy http://www.algiershistoricalsociety.org/walking-tours.html https://en.wikipedia.org/wiki/Cutting_contest https://en.wikipedia.org/wiki/Swing_era
Additional Information