World War I Memorial
Introduction
The World War I Memorial in East Providence stands as the city's principal effort to honor those who fought in the First World War. As a war memorial, this monument is quite particular because it shows an unusual depiction of a soldier in battle. Unlike other war memorials, whereas the soldiers are in heroic, stock poses, the World War 1 Memorial presents a soldier who looks as if he has just arisen from battle. His legs are apart, the face is expressionless, and his athletic physique is clearly revealed. The World War I Memorial, located at the intersection of Taunton Avenue, Whelden Avenue, and John Street, was dedicated on July 30th, 1927. At the dedication ceremony, Major General Charles Pelot Summerall gave an emotional address, highlighting the unpreparedness of the soldiers and how that situation "invoked the fighting ideal embodied by Montana's [the sculptor of the monument] doughboy."
Images
World War 1 Memorial in East Providence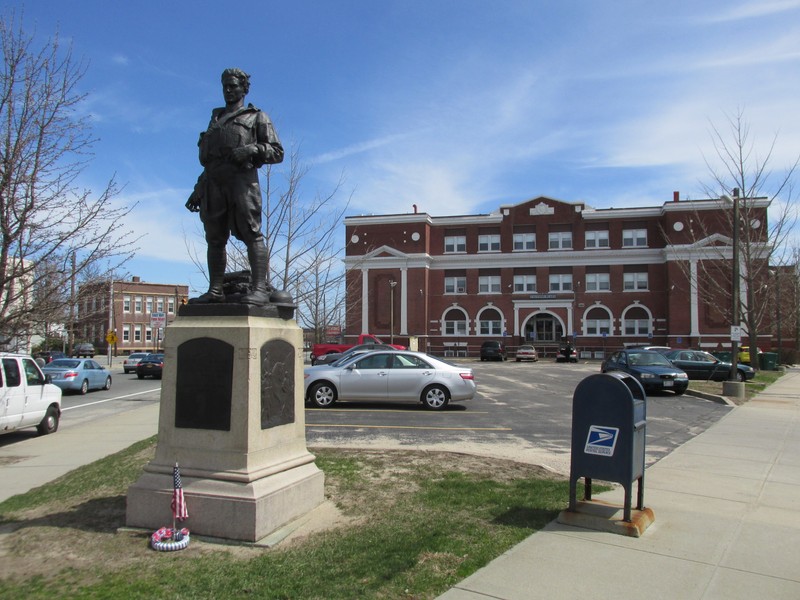 Close-up of the World War 1 Memorial, highlighting the soldier's unique pose.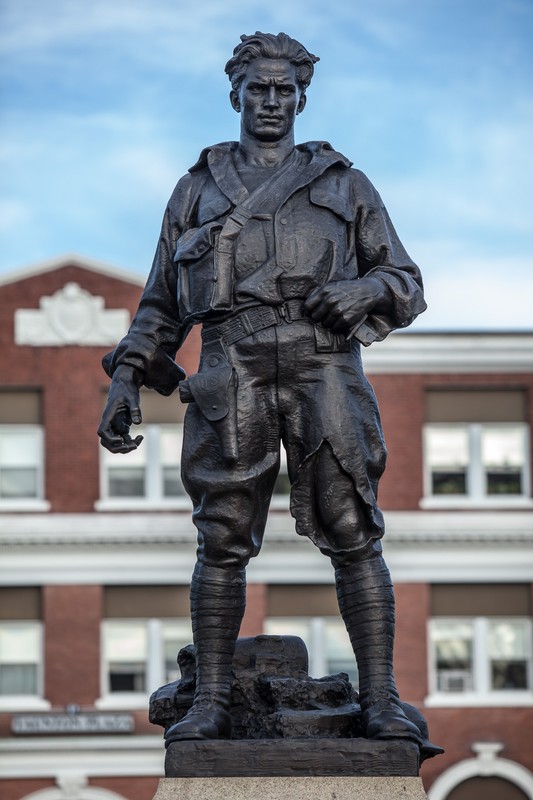 Backstory and Context
Creation of the World War I Memorial
Renowned artist and sculptor, Pietro Montana created this World War I Memorial. Many of Montana's monuments are fairly well known. Prior to the construction of the East Providence sculpture, his most famous was perhaps the "Fighting Doughboy" created in 1920 to honor the Brooklyn and Queens natives who died in the war. Before creating the monument in East Providence, Montana created designs modeled after Charles Atlas. Montana's goal was to "communicate the U.S. doughboy's upstanding character and valor by way of a muscle-bound physique." However, the East Providence Memorial Committee thought Montana's designs as being "too brutal."
In the end, Montana decided to model a war-torn soldier with a determined face and pose to convey his willingness to fight and his capacity for violence. As such, the 7.75-feet-tall soldier showcases tousled hair, rolled-up sleeves, and a disheveled uniform that is supposed to indicate that he has seen action. This character mirrored the ideas of masculinity at the time, showing the validity of a real soldier who endured the true tests of manliness and patriotism during the war. During Major General Summerall's speech at the monument's unveiling, the General praised Montana's work as it paid homage to the "sublime examples of fortitude, self-sacrifice, and service to mankind" that was brought about by the war.1
Due to the memorial's historic significance and general uniqueness, the World War 1 Memorial was added to the National Register of Historic Places in 2001.
Sources
1.) Jennifer Wingate, "Sculpting Doughboys: Memory, Gender, and Taste in America's World War I Memorials." Ashgate Publishing, Ltd., 2013, pages 40-43.
Additional Information