The Hurricane of September 21st 1938 Historical Marker
Introduction
The 1938 New England Hurricane was one of the deadliest and most destructive hurricanes to ever hit New England, killing 682 people and destroying 57,000 homes across the East Coast. At this site near Canal Walk and on the side of the Old Market House, the Hurricane of September 21st, 1938, historical marker displays the height of the water sea as it tore through Providence. The city was hit especially hard, sweeping summer cottages out to sea. Because of economic difficulties caused by the Great Depression, much of what remained of Providence was looted after the storm was hit (and before the flood waters retreated). The Fox Point Hurricane was finally built after the 1938 and the 1954 hurricanes to avoid such extreme surges from flooding downtown again.
Images
Hurricane of 1938 historical marker is located on the Market House near the Providence River Walk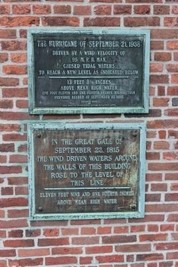 Damage in Island Park, Rhode Island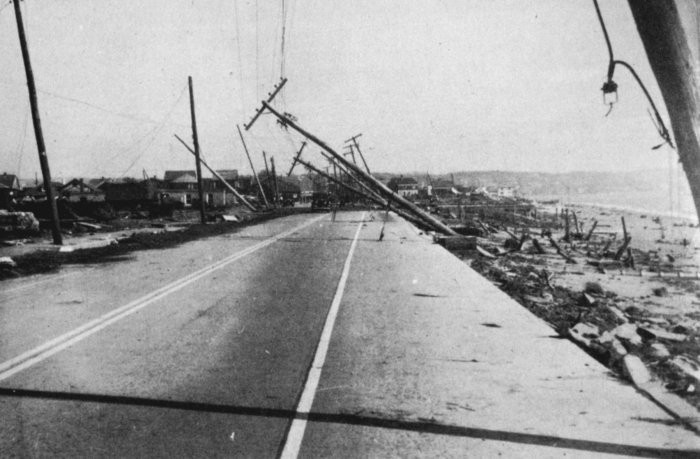 The hurricane in downtown Providence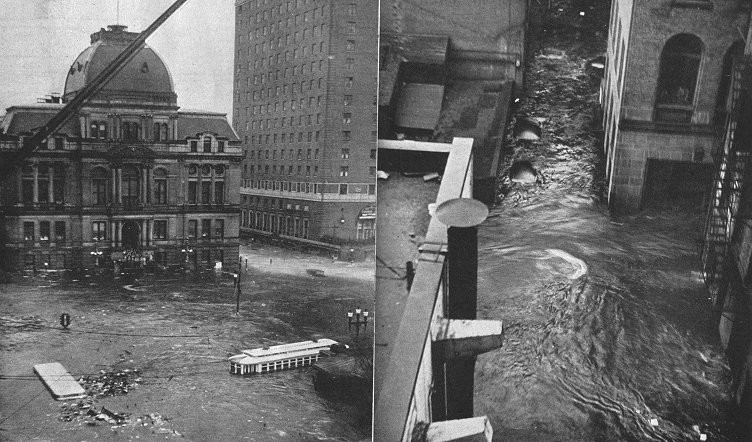 Aftermath of the hurricane in Charlestown, Rhode Island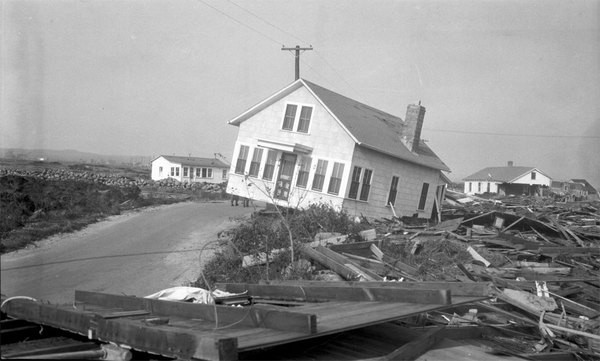 Backstory and Context
The 1938 New England Hurricane in Rhode Island
The hurricane of 1938 that violently struck New England formed near the coast of Africa on September 9th, 1938. It quickly became a category 5 hurricane but calmed to a category 3 before reaching landfall on Long Island around September 21st. Around 3:50 pm, the storm surge hit near Westerly, Rhode Island, and due to the combination of the 95 mph hurricane winds and the autumnal equinox and full moon causing high tides, the storm tides slammed the Rhode Island coast with waters from 14 feet to 25 feet high. Block Island was nearly underwater and about 13 feet of water flooded some areas of downtown Providence. Some motorists drowned, and due to economic strife caused by the Great Depression, looters began ransacking shops, even while the water was high.
Entire beach communities were completely obliterated. For instance, Napatree Point, located just off Watch Hill, Rhode Island, was swept away. Across New England, there were 682 recorded deaths, 57,000 destroyed homes, and about $306 million ($4.7 billion in 2016) in property damage. Because of the 1938 hurricane and the even higher flood waters of Hurricane Carol in 1954, the Fox Point Hurricane Barrier was finally completed to prevent future flooding. To this day, the hurricane of 1938 is the most powerful and deadly hurricane to strike New England, and it may only be eclipsed in intensity by the Great Colonial Hurricane of 1635.1
Inscription on the Historical Marker
Top Marker
The Hurricane of September 21st 1938 driven by a wind velocity of 95 MPH max caused tidal waters to reach a new level as indicated below
13 feet 8½ inches above mean high water one foot eleven and one fourth inches higher than previous record of September 23rd 1815.
Bottom Marker
In the great gale of September 23rd 1815 the wind driven waters around the walls of this building rose to the level of this line
Eleven feet nine and one fourth inches above mean high water.2
Sources
1.) Rhode Island. Department of Transportation., "Hurricane of 1938 aftermath in Newport," in Virtual Exhibits, Item #291, http://sos.ri.gov/virtualarchives/items/show/291 (accessed February 21, 2016). 2.) "The Hurricane of September 21st 1938." Historical Marker Database, hmdb.org, accessed February 21, 2016, http://www.hmdb.org/marker.asp?marker=56293
Additional Information