Cathedral of St. John the Evangelist
Introduction
The Cathedral of St. John the Evangelist is Boise's main Roman Catholic building, and one of the city's oldest religious structures that is still in use to this day. It was designed by the renowned Boisean architects Tourtelotte and Hummell in a Romanesque style, and features exquisite interior and exterior decorations.
Images
Picture taken in 1899 of the Cathedral (Wikimedia Commons)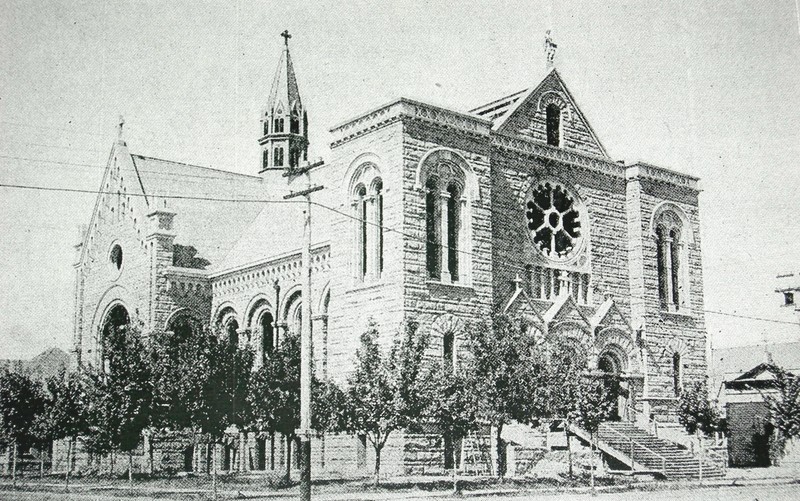 Cathedral interior (www.boisecathedral.org)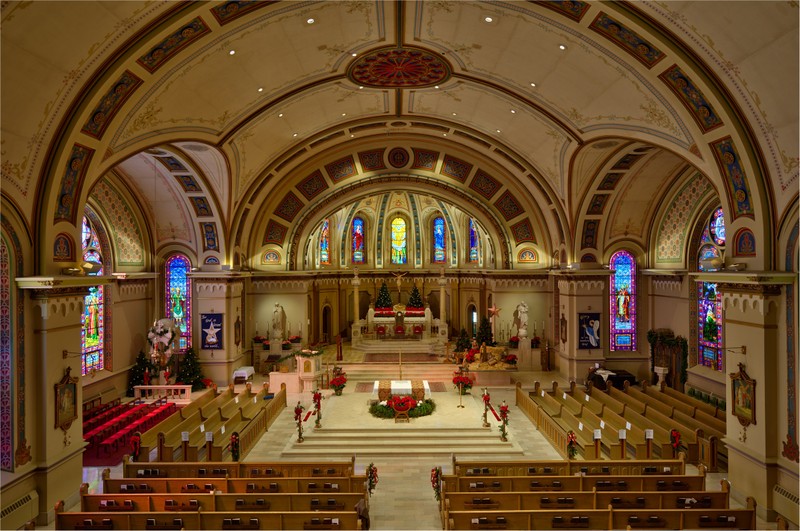 Rose window and entrance (www.boisearchitecture.org)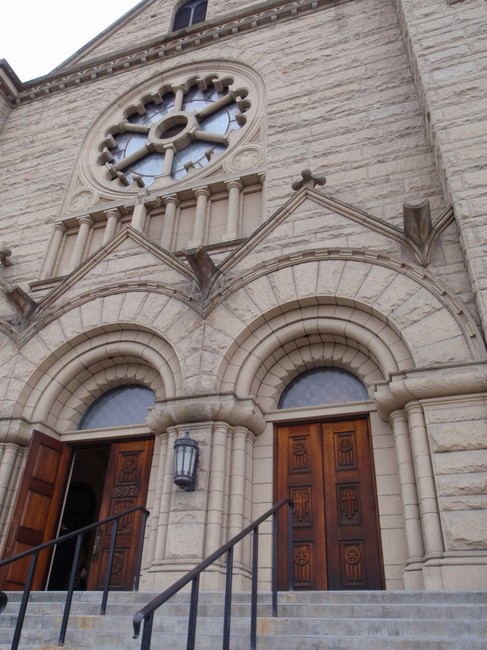 Backstory and Context
St. Patrick's Catholic Church, the city's first Catholic establishment, was dedicated in 1870 but within a month had been destroyed by fire (the location was later used for the old St. Alphonsus Hospital which also burned down in 1976). In 1884 Father Alphonse Glorieux from St. Michael's College, Portland, became the Bishop of the apostolic vicariate of Idaho, with its headquarters in Boise. By 1893 the jurisdiction's twenty seven churches had gathered a sufficiently large congregation of Catholics for the territory become a diocese. A cathedral was thus sought, and in 1906 the renowned Boisean architects Tourtelotte and Hummell were commissioned to begin construction at 775 North Eighth Street.
The building took many years to complete, though by 1912 services were being held in the basement as construction continued above ground. Bishop Daniel Gorman replaced the late Alphonse Glorieux in 1917, and the First World War caused disruptions until 1919. In 1921 the main floor of the church was completed, and on Easter Sunday, March 27th, the church was dedicated as a cathedral. Since then, the church has served a growing Catholic community in Idaho, and was rededicated following a period of restoration and redecoration in 1979.
Tourtelotte and Hummell were one of the first architectural firms to work in Boise. Their buildings are an integral part of downtown Boise's urban heritage, and the Cathedral of St. John the Evangelist is a particularly fine example of their style. John Tourtellotte had proposed a Gothic design to Father Glorieux, whilst his partner Charles Hummel recommended a Romanesque design. The latter was chosen, and today's building shows many quintessential Romanesque features. The cathedral is built in a cuneiform plan, of sandstone quarried at the nearby Table Rock and marble imported from Sienna, Italy. On the outside of the building, one can admire the corbelled slate roof, decorative gargoyles, and a rose window. The 2½-story vestibule boasts a pair of truncated towers that were originally based on the pointed spires of the Cathedral of Mainz, Germany, but could not be completed due to funding. Standing inside, one can admire the lofty vaulted ceiling, resplendent in brightly painted designs by the Rambusch Decorating Company of New York, and stained glass windows depicting scenes from the life of Jesus Christ, which were designed by the Chicago-based John Kinsella Glass Company.
Sources
http://www.boisecathedral.org/parish-life/about http://boisearchitecture.org/structuredetail.php?id=221 http://idahoptv.org/productions/specials/capitoloflight/article-02.cfm
Additional Information