The Battle of Cooch's Bridge
Introduction
Cooch's Bridge is a historic district located at Old Baltimore Pike, Newark, Delaware, and is the site of the 1777 Battle of Cooch's Bridge. While there are several modern bridges near the site of the battle, the original bridge was in poor shape in 1777, and did not survive the American Revolution. Fought on September 3, 1777, the Battle of Cooch's Bridge has two principal distinctions. It was the only battle of the American Revolutionary War fought on Delaware soil, and marked the first time that the Stars and Stripes was flown in battle.
Images
Cooch's Bridge Bridge is approximately 1/2 mile from this marker.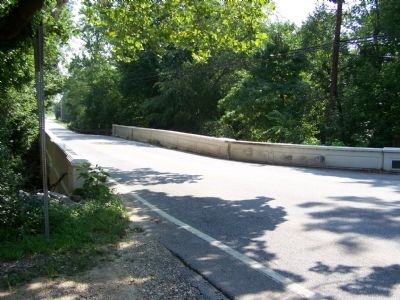 Battle of Cooch's Bridge Marker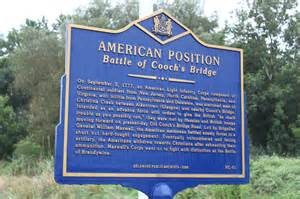 Battle of Cooch's Bridge Memorial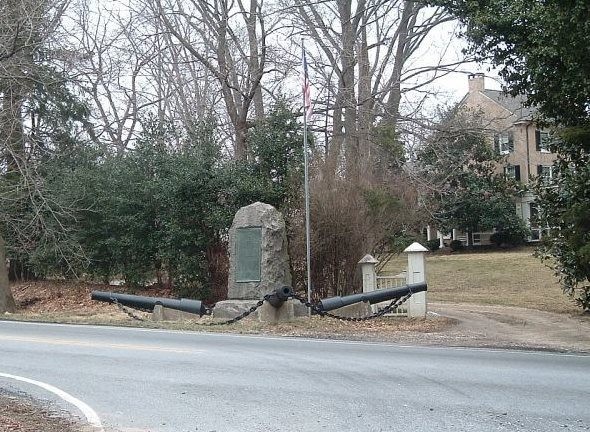 Backstory and Context
The Battle of Cooch's Bridge was the first battle in the Philadelphia campaign. On July 23, 1777, British Gen. Howe left New York City with an armada of 265 ships carrying 18,000 troops. From the shore Continental Army scouts followed the progress of the British fleet, and Commander-in-Chief George Washington led most of the Continental Army south from New York to oppose the British wherever they might land.
It is important to note that the Delaware Regiment was not at the Battle of Cooch's Bridge as they were stationed elsewhere in the summer of 1777. The Delaware Militia did see action at Cooch's Bridge. A militia is composed of non-conscripted soldiers who, when called upon, can fire a gun and take part in a battle. Members of the Cecil Militia from Cecil County, Maryland also saw action at Cooch's Bridge.
The Philadelphia Campaign was a plan conceived by Lord Cornwallis to capture the city of Philadelphia, the colonial capital of the new United States. Cornwallis believed that by capturing the capital city the war would end. Following the battle at Cooch's Bridge and then at Brandywine, Cornwallis did occupy Philadelphia. However the Continental Congress escaped to Lancaster and then York, Pennsylvania.
The Battle of Cooch's Bridge was a success in that it did draw the British into a fight and did provide Gen. Washington with the delay he needed to fortify his positions for the upcoming Battle of Brandywine. The Americans were learning to use their knowledge of the terrain and setting to their advantage. They were also gaining proficiency at camouflaging themselves in the surroundings of a battleground.
Christopher Ward, the author of The Delaware Continentals summed up the battle this way: "this affair was a brisk engagement, in which there were substantial losses on both sides." Traditional and persuasive evidence suggests that the 13-star "Betsy Ross Flag" was first flown at the Battle of Cooch's Bridge.

The regiment of soldiers would become the Delaware Continentals and their story is reviewed in great detail in the book of the same name. Published in 1941 the book was rereleased in 2001. "The regiment was composed of eight companies of 68 privates, four corporals, four sergeants, one ensign, one lieutenant, and one captain. The regiment was commanded by Col. John Haslet and his adjutant was Lt. Col. Gunning Bedford. Col. Haslet was later killed at the battle of Princeton." (Ward, p.4-5)
Sources
http://www.myrevolutionarywar.com/battles/770903-coochs-bridge/#sthash.UtLEkYY2.dpuf https://en.wikipedia.org/wiki/Cooch%27s_Bridge#Battle_of_Cooch.27s_Bridge http://militaryhistory.about.com/od/AmRev1777/fl/American-Revolution-Battle-of-Coochs-Bridge.htm
Additional Information