Dumbarton Oaks
Introduction
Dumbarton Oaks includes the historic Dumbarton Oaks House museum and its associated formal garden, a 27-acre wilderness area, and Harvard University's Dumbarton Oaks Research Library. Founded by Robert Woods Bliss and Mildred Barnes Bliss, the Dumbarton Oaks Research Library and Collection specializes in Byzantine, Garden and Landscape, and Pre-Columbian studies, and includes not only books, but also images, art, objects, and documents.
Images
Mildred and Robert Woods Bliss, ca. 1927. Bliss Papers, HUGFP 76.74p, box 10, Harvard University Archives.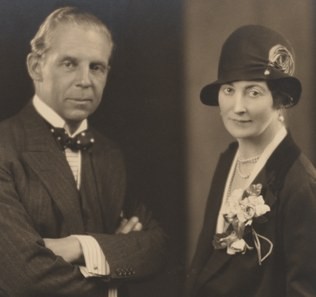 The Pebble Garden (image from www.doaks.org)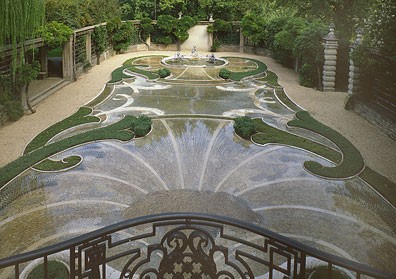 In the Study at Dumbarton Oaks. Seated (left to right): Peter Loxley; Sir Alexander Cadogan; Edward R. Stettinius, Jr.; Andrei A. Gromyko; Arkadii A. Sobolev; Valentin M. Berezhkov. Standing (left to right): James Clement Dunn and Leo Pavlovsky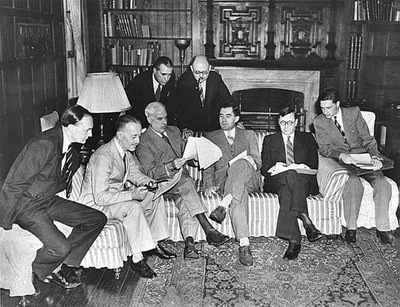 Pre-Colombian Pavilion at Dumbarton Oaks (image from www.doaks.org)
Construction on the Dumbarton Oaks mansion began around 1800 and it expanded numerous times throughout the century. Mildred and Robert Woods Bliss purchased it in 1920 and named it Dumbarton Oaks in 1933. Library of Congress.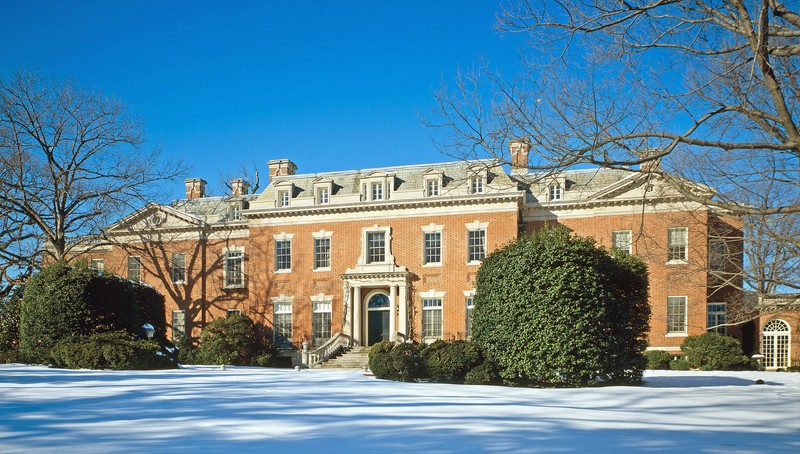 Backstory and Context
Robert Woods Bliss and Mildred Barnes Bliss
Robert Woods Bliss was the son of William Henry Bliss, United States District Attorney. Born in St. Louis, Missouri in 1875, Robert went on to attend Harvard University. After his graduation in 1900, Bliss became a Foreign Service officer and diplomat. In 1908, he married New York City native Mildred Barnes, the daughter of Anna Dorinda Blaksley and Demas Barnes. Mildred's father, a wealthy investor who made his fortune on Fletcher's Castoria, a popular patent medicine of the time 1870s and 1880s. He died when Mildred was nine years old, and her mother remarried--to William Bliss, Robert's father--in 1894. Robert and Mildred married in 1908, moving to Paris in 1912 for Robert's career. In Paris, the couple befriended artists, authors, historians, and art dealers including Walter Gay, Edith Wharton, and Royall Tyler. These friendships led to the Blisses' interest in art and book collection, patronage of the arts and humanities, and Byzantine and Pre-Columbian studies. They went on to travel Europe and South America, and Robert served as Ambassador to Argentina from 1927 to 1933.
Establishment of Dumbarton Oaks
The couple purchased property in Georgetown (in the District of Colombia) in June of 1920, naming it Dumbarton Oaks. The Blisses altered the existing house (dating to 1801) and surrounding property, expanding the house in 1929 to add a music room and working with landscape designer Beatrix Farrand to create terraced gardens and vistas on the grounds. Mildred and Farrand worked together on the gardens for 30 years, though other architects (including Ruth Havey and Alden Hopkins) later changed aspects of the original design.
In 1940, a wing was added for the Byzantine Collection, and the Blisses transferred 16 acres of the property (including grounds, buildings, and the library and art collection) to Harvard University. As the function of the gardens inevitably changed due to the transfer, Farrand began work on the
Plant Book
the following year; the book still serves, as Farrand intended, as a guide to stewardship, maintenance, and preservation of the gardens.
Dumbarton Oaks Conversations
As a response to World War II, Robert Bliss hosted diplomatic meetings at Dumbarton Oaks during the summer and fall of 1944. Officially called the Washington Conversations on International Organization, Dumbarton Oaks, these meetings formed the foundation of the United Nations charter (adopted 1945) and were attended by the following chairmen of their national delegations: Soviet Ambassador to the United States, Andrei Gromyko (1909–1989); US Secretary of State Cordell Hull (1871–1955); Wellington Koo (1887–1985), Chinese Ambassador to the United Kingdom; and Edward Wood (the Earl of Halifax) (1872–1959), British Ambassador to the United States.
Dumbarton Oaks and Harvard University
Robert Bliss died in 1962; the following year, Mildred opened the Pre-Columbian Pavilion and The Garden Library to the public. Designed by architect Philip Johnson, the pavilion provided a permanent home for Robert Bliss' Pre-Columbian art collection (the National Gallery of Art had previously housed the collection on long-term loan). The Garden Library houses Mildred's collection on the history of gardens, including a rare book collection. Mildred Bliss died in 1969, and Harvard University has provided fellowships, grants, research opportunities, exhibitions and musical recitals, online access to materials, and publications through Dumbarton Oaks Research Library and Collection ever since.
Sources
Beatrix Farrand Society. "Beatrix Farrand." Beatrix Farrand Society. Accessed December 2017. http://www.beatrixfarrandsociety.org/beatrix-farrand/
Dumbarton Oaks Research Library and Collection. Accessed December 2017. http://www.doaks.org/
Dumbarton Oaks Research Library. Harvard Library. Accessed December 2017. http://library.harvard.edu/ddo
United Nations. "1944-1945: Dumbarton Oaks and Yalta." United Nations, History of the UN Charter. Accessed December 2017. http://www.un.org/en/sections/history-united-nations-charter/1944-1945-dumbarton-oaks-and-yalta/index.html
Additional Information