Cape May County Museum
Introduction
Opened in 1927, the Cape May County Museum consists of three historic buildings: the 1704 Colonial Home with an 1830 addition, the barn and the carriage house. The home features themed rooms such as the 18th century kitchen and bedroom; a pre-1820s dining room; a doctor's room; and a military room, in which weapons and memorabilia from the Revolutionary War to the wars in Iraq and Afghanistan are displayed. Another highlight of this room include an American flag belonging to the A-7th Regiment that was carried at Gettysburg, Bull Run, and the Confederate surrender at Appomattox. The Fresnel lens used in the Cape May Point Lighthouse, whose light could be seen 10 nautical miles away, is also displayed in the museum. The carriage house features authentic carriages such as a state coach and peddler's wagon. The original part of the home was built by a man named John Cresse, who bought the property in 1695. The home is listed on the National Register of Historic Places. The museum also features a genealogical library.
Images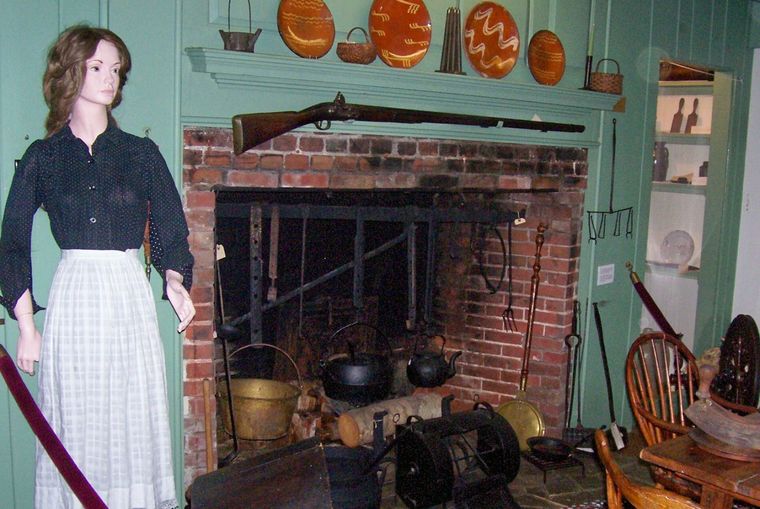 Backstory and Context
It is not clear when John Holmes acquired property but his family owned the house until 1935. Two other owners lived in the house until 1976 when the museum bought it. The barn was moved to the property.
Sources
http://www.cmcmuseum.org https://en.wikipedia.org/wiki/John_Holmes_House Jane Dixon. "John Holmes House," National Register of Historic Places, 6-12-79.
Additional Information