Ezra Meeker Mansion
Introduction
Home to the founder of Puyallup and one of the most colorful persons to have travelled the Oregon Trail, Ezra Meeker, the Meeker Mansion is truly a home worth preserving. Construction on the home began in 1886 or 1887 and the Meeker family left their log cabin for the mansion in 1890. It has since been owned by numerous people and entities and served many functions, from hospital to nursing home. It was carefully restored over many years and is now owned, operated and maintained by the Puyallup Historical Society at Meeker Mansion. It is open for unscheduled and scheduled tours from March through December, Wednesday through Sunday from 12-4.
Images
The Meeker Mansion with a very appropriate covered wagon in the foreground.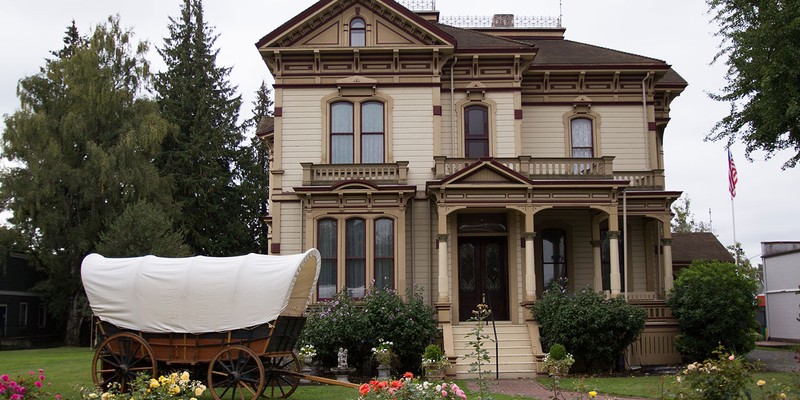 The Meeker Mansion in 1906.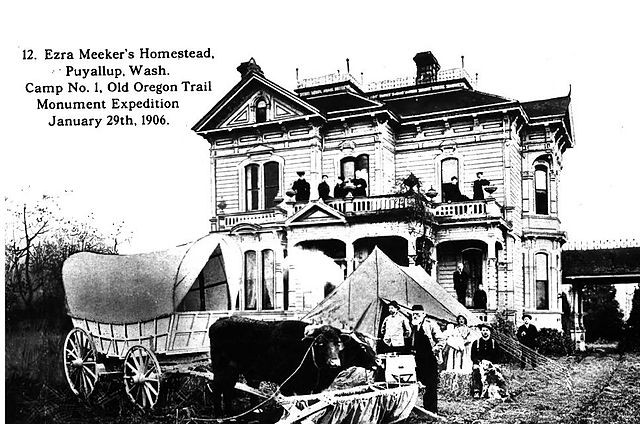 Ezra Meeker (lower right) at the dedication of his statue located at the location of his former log cabin home.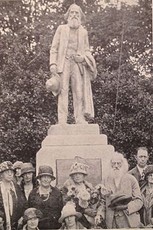 A room within the mansion with period furnishings.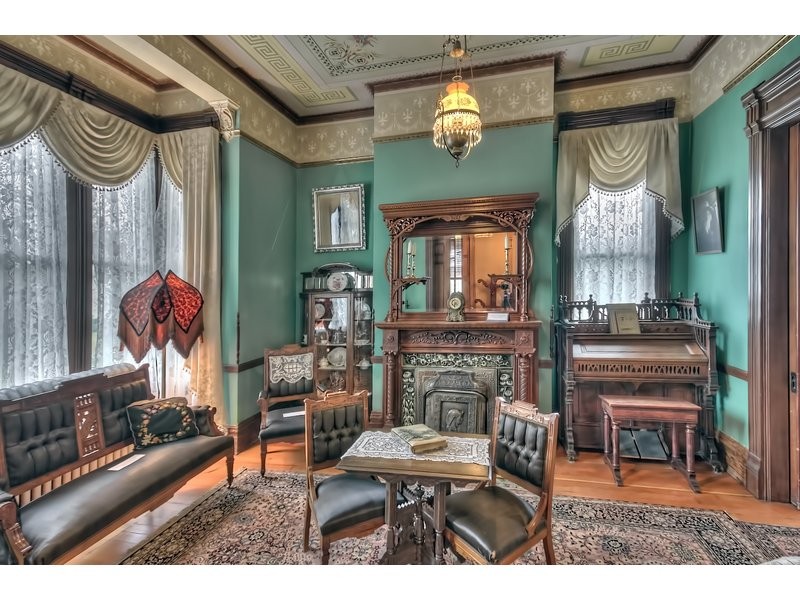 Backstory and Context
Ezra Meeker was born in 1830 near Huntsville, Ohio. He married Eliza Sumner and the two of them, along with their infant son, Marion, embarked on a five-month journey along the Oregon Trail in 1852. They eventually made their way to the Washington Territory, first settling on McNeil Island, then moving to what would become Puyallup in 1862. During the 1880s, Ezra, his brother and father began growing hops which grew well in the Washington climate. They soon had a 500 acre hop farm and Ezra opened a hop brokerage business. He was soon known as the "hop king of the world."
At the height of their wealth, Eliza decided they needed a new home and had the fifteen room mansion built with twelve foot ceilings, six fireplaces with hand-carved wooden mantels, speaking tubes, interior plumbing, stained glass windows and hand-painted ceilings. Ezra went on to become Puyallup's founder and first mayor. However, an aphid infestation wiped out his hop farm and the Panic of 1893 destroyed many of his investments. He then tried to recoup his fortune by investing in Yukon gold mines and by supplying the miners.
After Eliza died in 1909, Ezra never returned to his mansion and continued his tireless efforts to preserve and mark the Oregon Trail with granite markers and monuments. He again travelled the trail by wagon in 1906 and 1910, and by plane in 1924. He died in 1928, still working to save the Trail. His mansion is now a marker on the Oregon Trail and listed on the National Register of Historic Places.
Additional Information