Springer Opera House
Introduction
The Springer Opera House, built in 1871 by Francis Joseph Springer, has served as an important cultural and entertainment venue for the majority of its life. A National Historic Landmark (1978) and the State Theater of Georgia (1992), the Opera House has hosted numerous famous figures in American history. Buffalo Bill, William Jennings Bryan, Irving Berlin, Franklin Delano Roosevelt, John Philip Sousa and many others have spoken, given speeches or performed here. Traveling musical and theater acts were also a major staple at the theater until the Great Depression forced these companies out of business. After many years of disuse, the theater today is once again a lively place hosting various plays, musicals, and other performances.
Images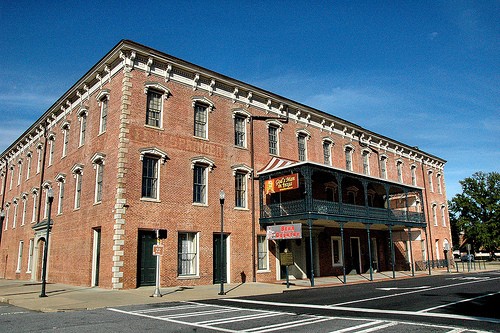 Backstory and Context
The theater began showing movies once the Great Depression hit and continued doing so until they ended for good in 1959. By this time the building was in bad shape and it was close to being torn down. However, efforts to save and renovate it prevented this from happening. It was renovated in 1964 and opened. A more extensive renovation took place in 1988. Former President (then Governor), Jimmy Carter declared it as the state's official theater in 1971.
Sources
History of the Springer House. Springer House Website. . Accessed October 15, 2018. http://www.springeroperahouse.org/history.


Additional Information