Short North Gothic Mural
Introduction
The Short North Gothic mural was painted by Steve Galgas and Mike Altman in 2002. It depicts the same figures as in the well-known American Gothic painting, but with a few changes: the farmer does not have his pitchfork, and his daughter's position is inverted. The mural was inspired by another in the Short North neighborhood that showed the Mona Lisa rotated ninety degrees.
Images
Short North Gothic by Galgas and Altman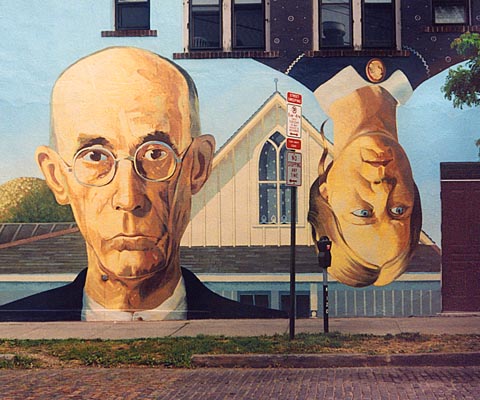 Backstory and Context
The painting the mural is based on, American Gothic, was first exhibited by artist Grant Wood at the Art Institute of Chicago in 1930. It was inspired by a farmhouse in Iowa and painted in the Flemish Renaissance style. The figures were based on Wood's dentist (the farmer) and sister (the farmer's daughter). Wood intended for the artwork to represent the strength of rural Americans during the Great Depression, but it has since been interpreted as a satire of Midwestern culture. Galgas and Atman's "spin" on the painting may bring about new discussions about the original piece as well as their own.
Sources
American Gothic, 1930. Art Insitute Chicago. Accessed September 21, 2018. http://www.artic.edu/aic/collections/artwork/6565.

About The American Gothic Mural in The Short North. Columbus Chamber of Commerce. September 06, 2016. Accessed September 21, 2018. https://columbus.org/2016/09/american-gothic-mural-short-north/.

Best Public Art: Short North Gothic mural. Columbus Alive. March 27, 2012. Accessed September 21, 2018. http://www.columbusalive.com/content/stories/2012/03/29/best-of-columbus/culture/best-public-art-short-north-gothic-mural.html.


Additional Information