Archibald Smith Plantation
Introduction
The Archibald Smith Plantation is a plantation in Roswell, Georgia. Built in 1845 by one of Roswell's founders, Archibald Smith, the home housed three generations of his family. The house features original furnishes and the historic site has several outbuildings (some original and some reconstructed), including servants quarters, barn, cookhouse, smokehouse, carriage house, well, corn crib, and spring house.
Images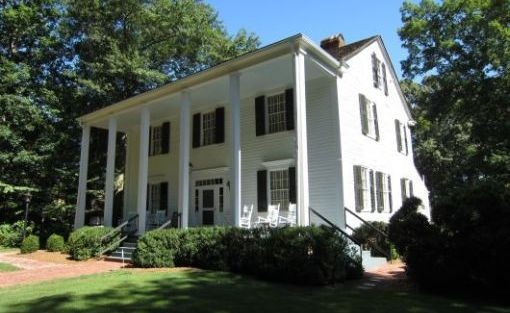 Backstory and Context
In 1838, Archibald Smith, his family, and his almost 30 slaves left a struggling, coastal Georgia plantation and settled just north of Roswell, then a small mill town. The home, built by slave labor in 1845, was soon surrounded by 300 acres of cotton farmland. During the Civil War, Smith, his family, and his slaves fled to south Georgia near Valdosta, escaping Sherman's occupation of north Georgia. When the slaves gained their freedom, they did not return to Roswell.
There are no original slave cabins on the property.
Archibald and wife Anne raised four children in the home: Elizabeth, William, Helen, and Archibald Jr. Both of their sons fought in the Confederate Army. Neither daughter married. Archibald Jr. married and had three children; his son, Arthur William Smith, and wife Mary Norvell Smith re-opened and restored the Smith Plantation in 1940, after it had been unoccupied for 25 years. Many of the family's original belongings are still in the home.
The home was sold to the City of Roswell in 1986 and opened to the public as a house museum in 1992. The plantation was added to the National Register of Historic Places in 2006.
Sources
http://www.roswellgov.com/discover-us/southern-trilogy-historic-homes/smith-plantation http://www.exploregeorgia.org/listing/210-smith-plantation http://aahgsatl.blogspot.com/2012/06/aahgs-atl-visits-smith-plantation.html
Additional Information