Historic Carson House
Introduction
The Historic Carson House, built in 1793, is one of the oldest structures in Marion, North Carolina. Colonel John Carson had the house constructed after he moved to the upper Catawba Valley region from the Irish province of Ulster. Colonel Carson turned his land into one of the largest plantations in the region. In 1841, after the death of his father, the youngest Carson son, Jonathan, inherited the house and renovated it to match the ideal Charleston- Southern plantation style. When the creation of McDowell County occurred in 1842, the house served as the temporary courthouse. Soon after, the Carson House functioned as an inn for weary travelers and even long-term boarders. After the citizens of McDowell County raised funds to repair historic Carson House, it opened to the public in 1964 as a museum and a library that still provides unique research materials and family histories.
Images
The Historic Carson House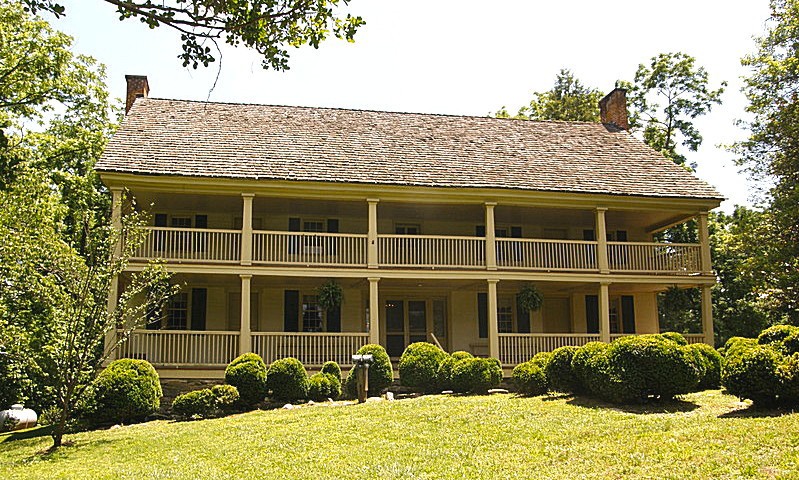 1908 view of the Carson House from across Buck Creek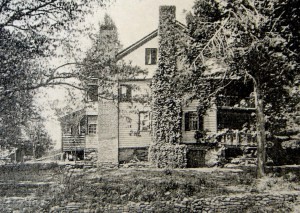 Backstory and Context
The original logs used to construct the Carson House came from the Walnut trees along nearby Buck Creeks. This helped contribute to its sturdy structure and is certainly one reason that the house is still standing today. When Jonathan Carson inherited the house, he added a unique style to the house. The Charleston Plantation styled houses influenced him, and so he added a two-story veranda and covered the logs in clapboard and Greek revival trim.
Three years after the house served as the courthouse of McDowell County during its creation in 1842, the Carson's donated a portion of nearby land to found the permanent county seat of Marion. For almost a century, the Carson home served as a roadside inn and tavern and many believe that Davy Crockett and Andrew Jackson walked through its historic hallways. In addition to being owners of the magnificent house, many of the Carson's were prominent members of society. Three of Colonel Carson's sons served in the state legislature and one became the first Secretary of State for the Republic of Texas.
The Carson House now hosts several exhibits including one on African American history, titled "Remembering Slavery and the Emergence of African American Culture in the Up-County." The Mary M. Greenlee Genealogical Research and History room provides many people with access to history found nowhere else. Today, the Carson House is a member of the National Register of Historic Places.
Sources
https://mcdowellcountyhistory.files.wordpress.com/2009/09/carsonhouseeastview.jpg?w=300&h=212 http://www.nchistorichundred.com/s/cc_images/teaserbox_938552646.jpg?t=1404147613 http://www.historiccarsonhouse.com/photo_gallery.html
Additional Information